If you're new to my blog and unfamiliar with Sugar and Spike, the short story is that they were born under my front deck,

orphaned

,

rescued

,

rehabilitated

and

released

. The longer story can be found in the above links. There are lots of photos and a few videos of them when they were just a few weeks old and very, very cute.




I have a few overdue images from the last time we saw Sugar and Spike together. Shortly after this visit back in September, Theresa spent a week up at the cottage but didn't see the two of them together at any time.

They've become difficult to tell apart in the dark, which is when they usually arrive for their feeding, and so when only one shows up, we're never certain if it's Sugar or Spike. Spike is generally bolder and more affectionate than Sugar but during Theresa's visit, the only raccoon that she saw was shy and nervous, and wouldn't accept her approach. Sugar can be skittish like that, but not usually that fearful. The worry is that something might have possibly happened to frighten Spike.

On the plus side, all of the food (and there's more than enough for two appetites) continued to disappear during that time, as well as during the following week when Frank and I were up there. By then, nights were cold and we didn't hang around much to wait for them to appear. But large quantities of food was always gone in the morning.

These images were all taken in September during a typical feeding.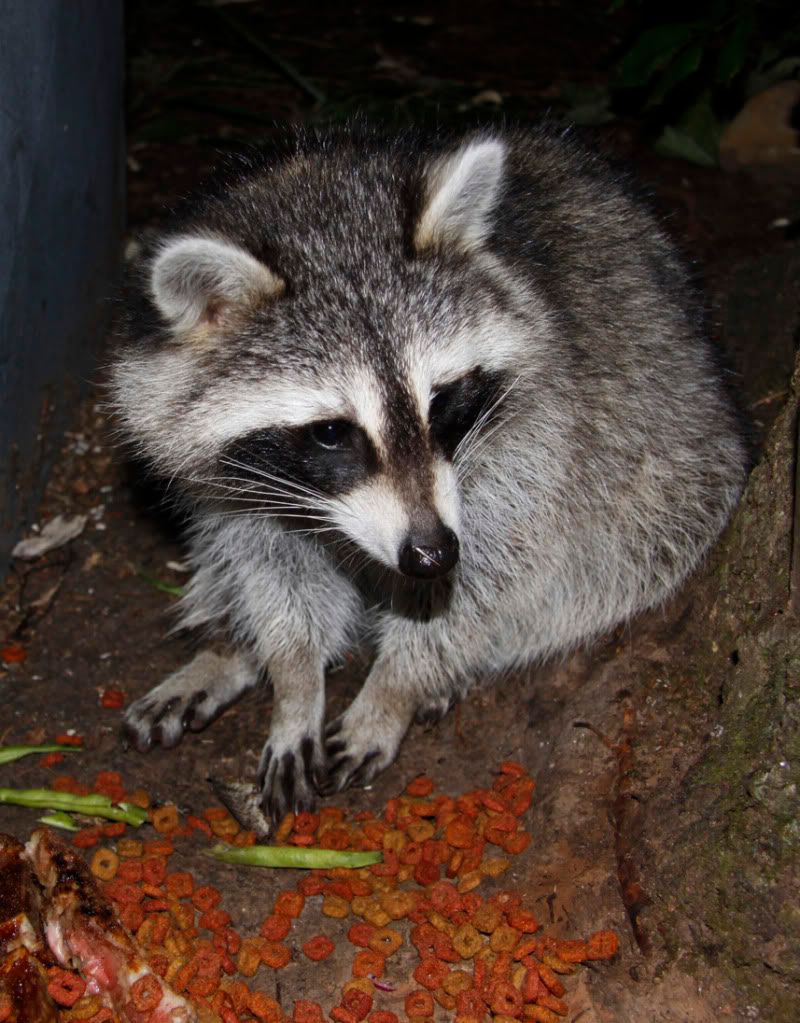 Spike tends to ignore the healthier green beans and go straight for the cat food. He's not much different than any other pre-adolescent who turns his nose up at veggies. He does love peaches though. Let me tell you about that...
In August, Theresa and family were spending some time up at the cottage. Sugar and Spike were coming around without fail every night. They were often seen hanging around the cottage waiting for a handout....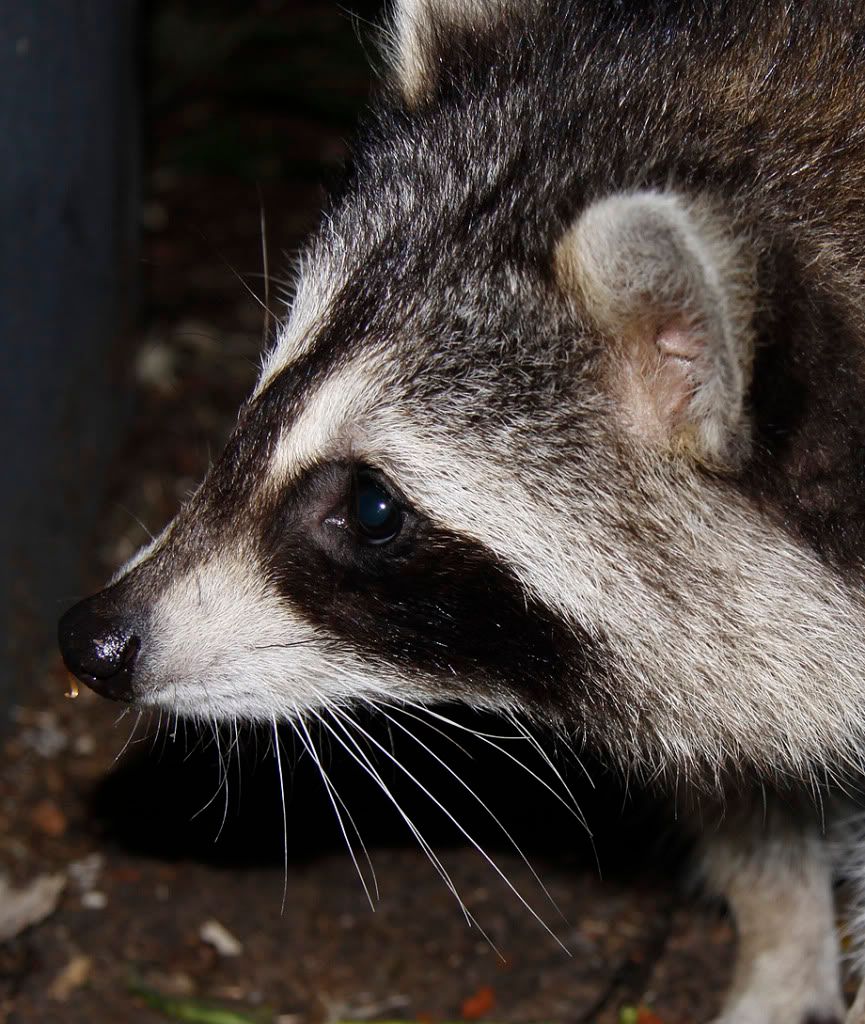 One night, someone awoke to discover that one of the kits was trying to get in through an open window. He closed the window thinking he had thwarted its attempts. However, he turned around to find the other one had already gotten inside and found the peaches which were up on the counter. He was sitting comfortably on the sofa, greedily enjoying the juicy fruit - totally unconcerned with activity around him.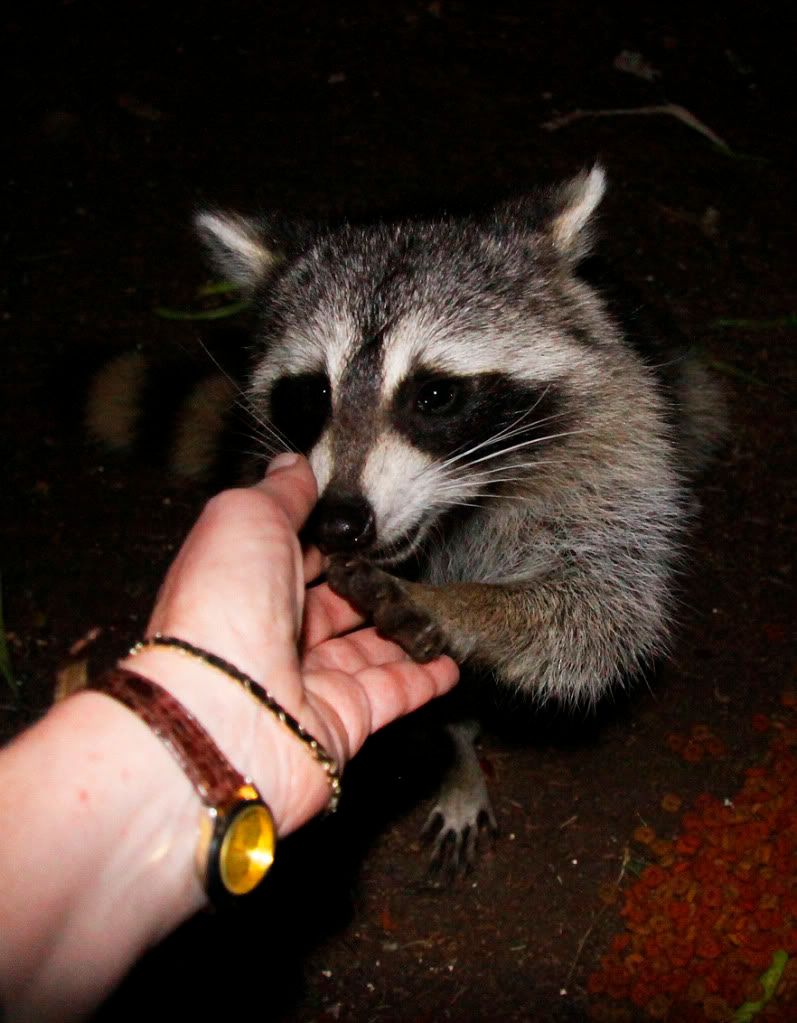 Another night, Theresa awoke to find Spike had broken in through the window once again, made his way into her bedroom, climbed up onto her bed and was gently touching her face with his paws. He just needed a bit of cuddle time with his Mom.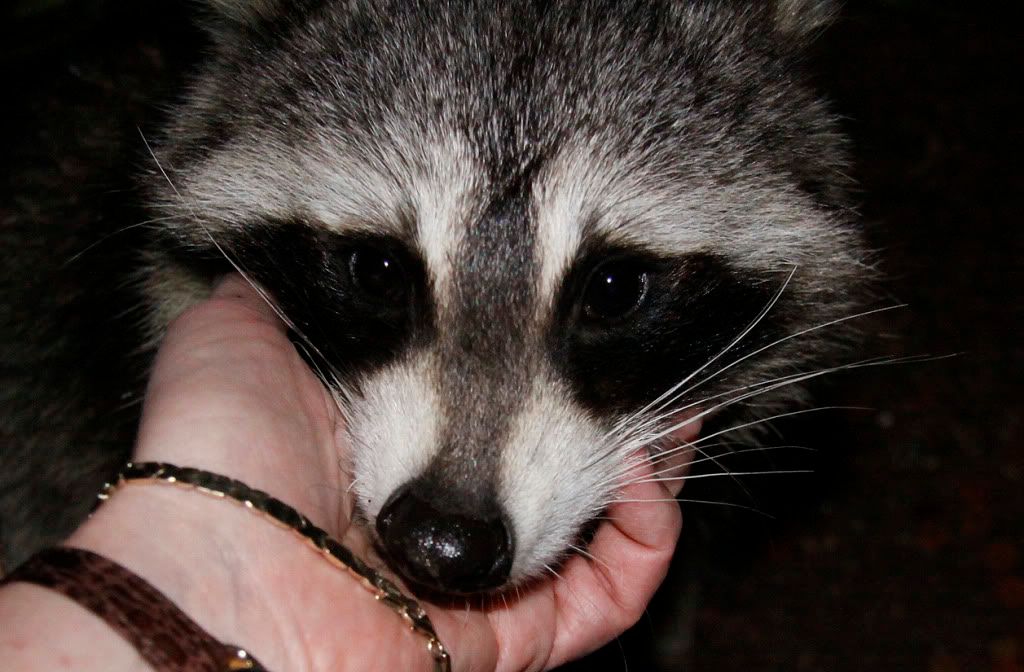 As I've mentioned in previous posts, Theresa looks after all sorts of orphaned animals and early this summer, a pair of day-old kittens came her way. She has adopted the two of them and keeps them with her whether she's home or at the cottage. Like most kittens, Luca and Sambuca can be pretty rambunctious but one particular night, their playing seemed just a little noisier than usual....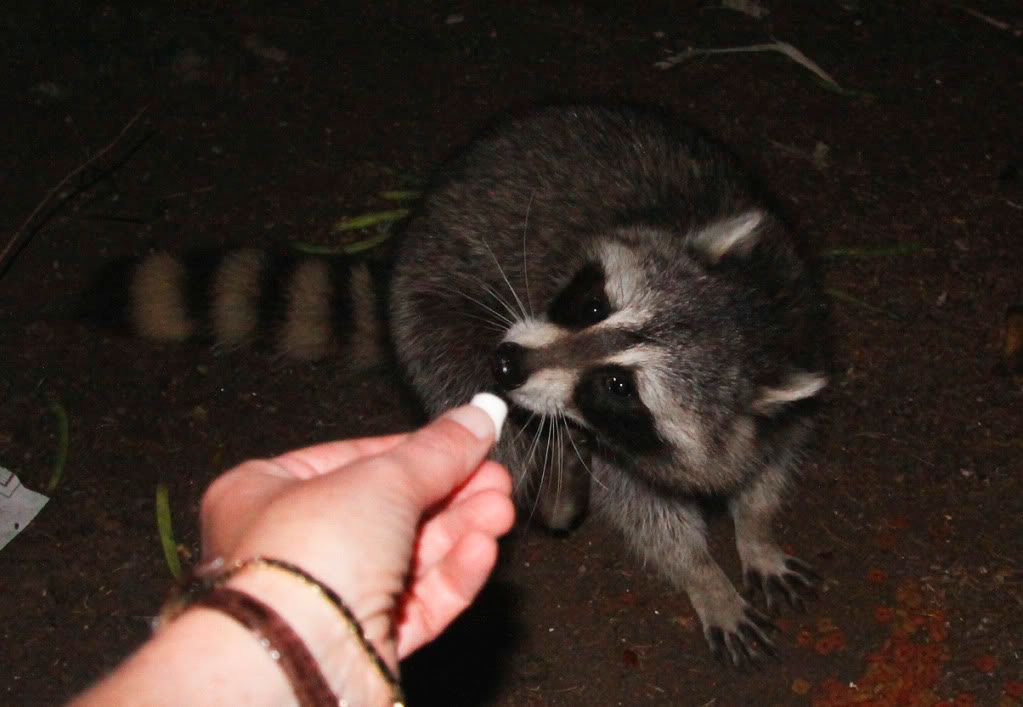 Theresa got up to find that Spike had entered the cottage yet again, and was having a great time romping around with his buddies Luca and Sambuca. The kittens were thrilled to play with Spike, and he didn't make too much of a mess this time. He was even thoughtful enough to use the cats' litter box to do his business. He had been litter trained as a tiny kit.
Of course, every time the raccoons came into the cottage, they were quickly shooed outside again. They can't remain

too

dependent on human contact. They need to learn to fend for themselves. They have been fed a lot, though. The hope is to get them fattened up so that they'll cope with the winter.
This friendly guy is Spike. As you can see, back in September, he'd eat out of my hand.. especially if it's his all-time favourite treat - marshmallows.
He's incredibly gentle and very affectionate. He would allow me to pet him while he'd eat, and one time he came around to the campfire, to sit with us briefly. He never once startled with the camera flash going off all the time. Isn't he beautiful?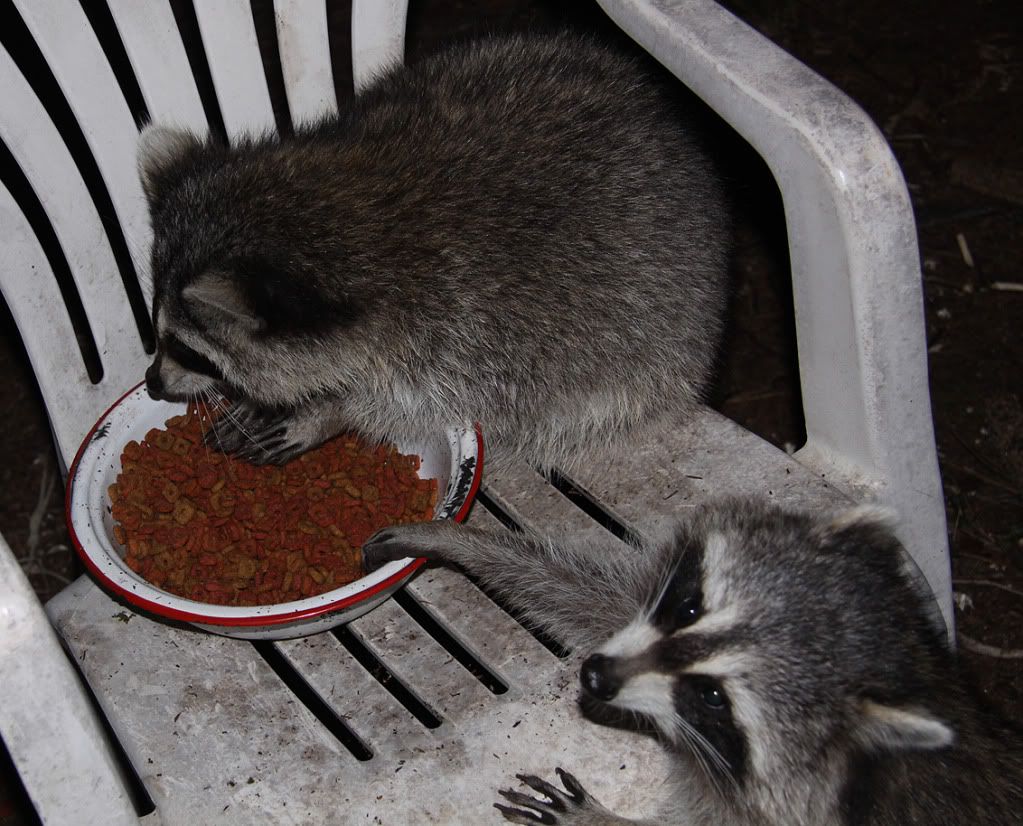 A rare photo of Sugar and Spike together. That's Sugar hogging the bowl of cat food. Spike makes sure he gets a few handfuls now and then.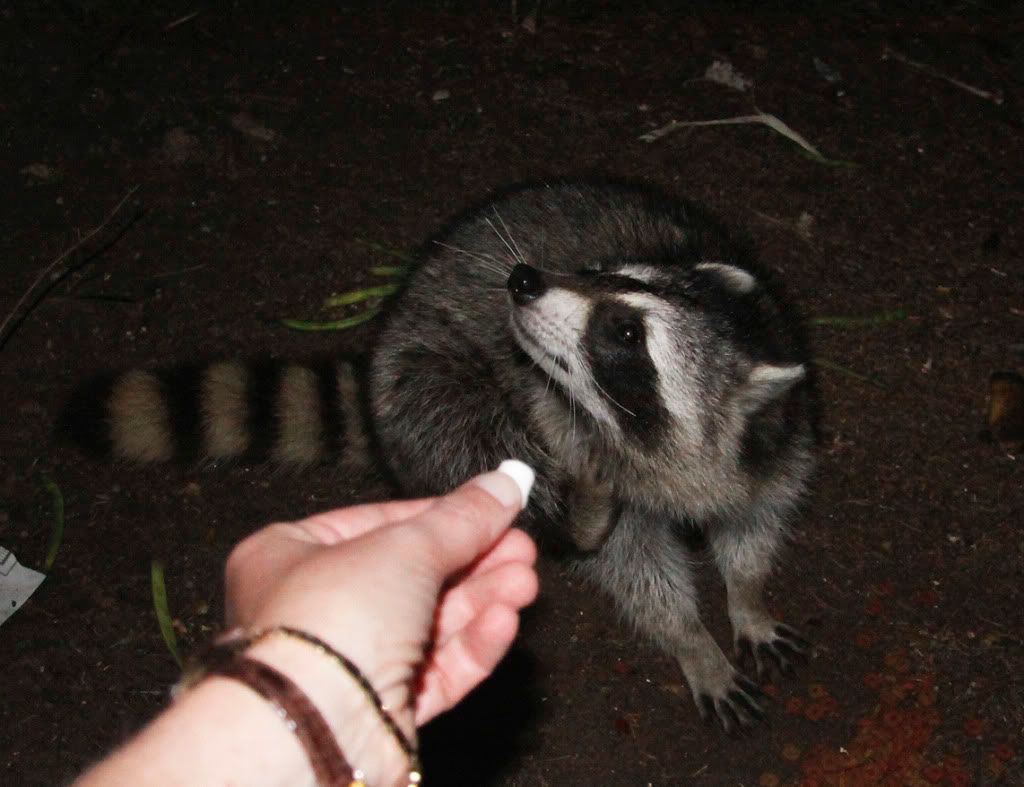 Nobody has been to the cottage for a couple of weeks now. Frank hopes to get up there for a day or two, just to retrieve a few things which we left up there last time, in hopes that we'd return soon. No doubt he'll leave a large bag of cat food out for Sugar and Spike.
That will probably be the last human handout until next spring.
If there's anything new to report, I'll be sure to let you know. Until then, please wish those critters strength to get through the winter. I hope we'll have more raccoon tales for you in the spring.