Wings...
I've always loved animals of (almost) all kinds and thought birds to be beautiful creatures, but until I got my camera a couple of years ago, I can't say that I've always noticed them the way I do now.
Sure, if one landed nearby, I'd acknowledge their unexpected company with a smile and a note to myself about how lovely it was, but I wouldn't have realized how really wonderful they are. How so many make eye contact. How they cluster in a particular berry-yielding tree. How some of them make that sound with their wings and not their voice.
They've taught me to walk slowly and softly in their presence, to wait and watch and follow their movements and to be grateful for their visit to my day, whether I manage to get a semi-decent photograph of one or not.
When Frank was busy looking down at some of the many salmon in the creek, I happened to notice this fine creature standing just across the water from us. He became skittish when he heard click of my camera...

(please click to enlarge)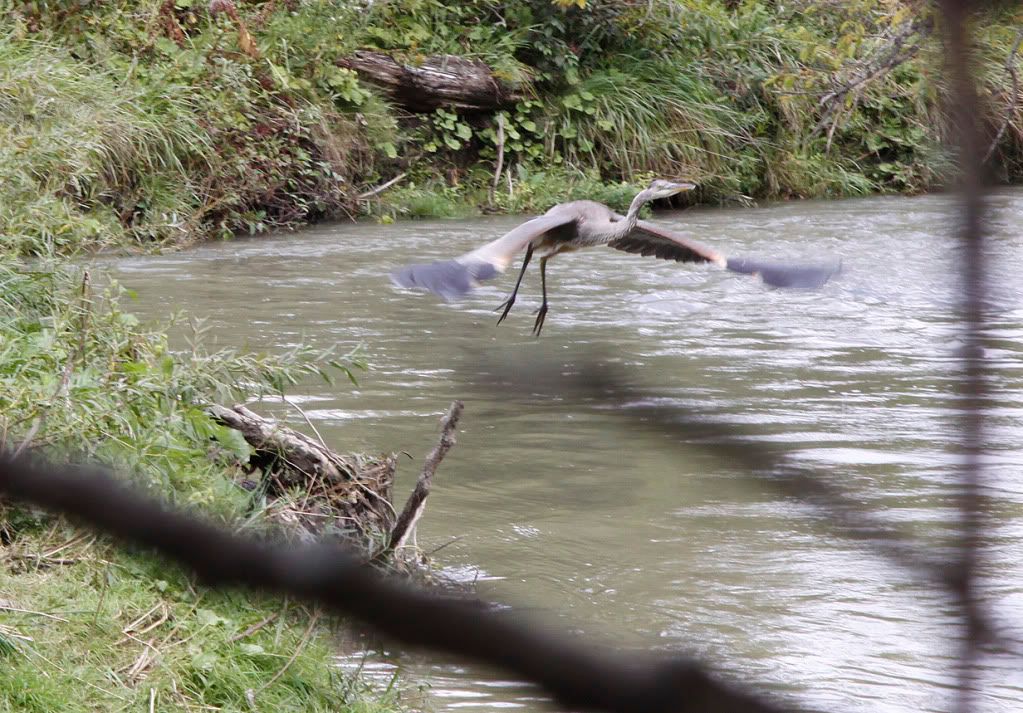 .. and flew off to a better spot where all of its inhabitants had fins and tails instead of arms and legs.
(please click to enlarge)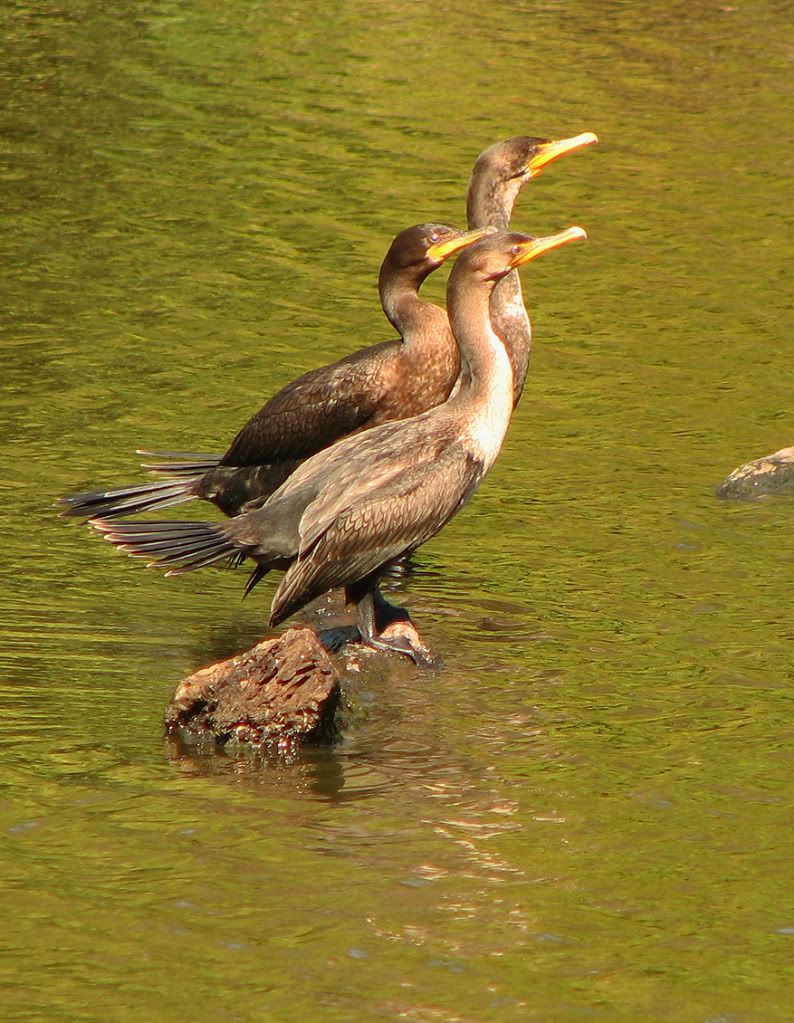 A wander around my lake revealed three Cormorants perched on a log in the middle of the pond. Their eyes were fixed at some point straight ahead and above them, as if they expected fish to fly.
(please click to enlarge)
Far less nervous than the heron, as soon as they heard the click of my camera, they all turned to glare at me. Sooorry!
(please click to enlarge)
This timid little robin peeked out at me from the safety of a tree branch.
(please click to enlarge)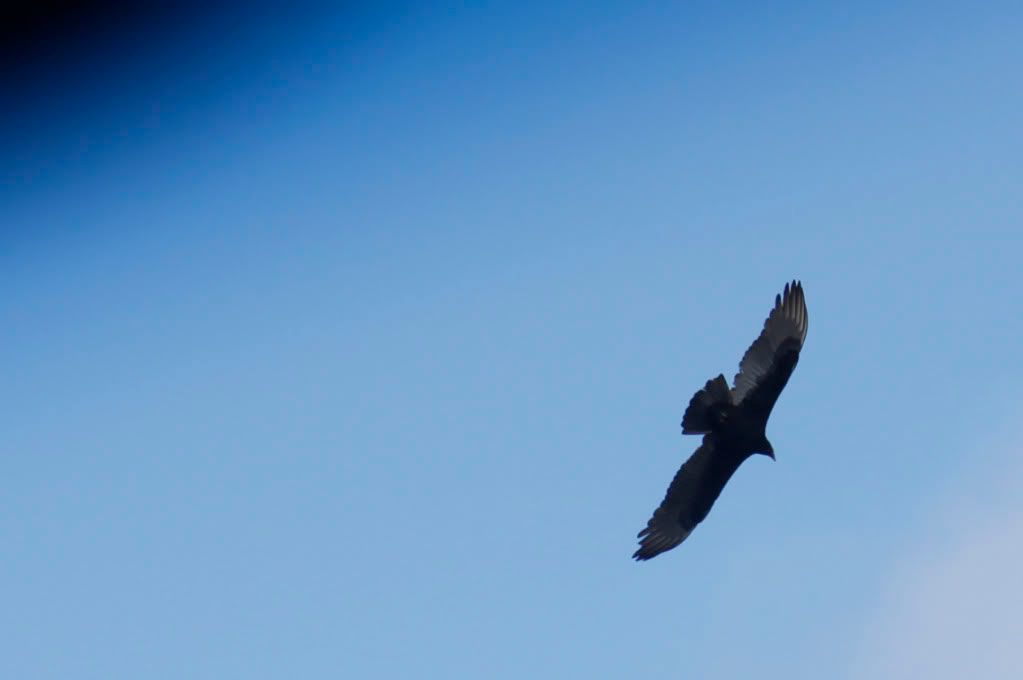 Spotted from the car, I snapped this photo of this beauty just before it disappeared beyond the edge of view. The darker blue spot on the upper left is the windshield's shaded glass.
(please click to enlarge)
... and other things.
On our recent trip up to the cottage, there were so many sights for which I would have loved to stop and take a few shots. But every time the car slows down, Benny starts his whimpering, whiny "

Woe is me - we're in the car and I don't know where we're going. We're all gonna die!

" routine, so we have to plan our stops to be as few as possible - like the grocery store, the liquor store and the place where Frank gets worms. Anything more than that and we'd have to kill Benny.
So I tried to take a few photos on the move.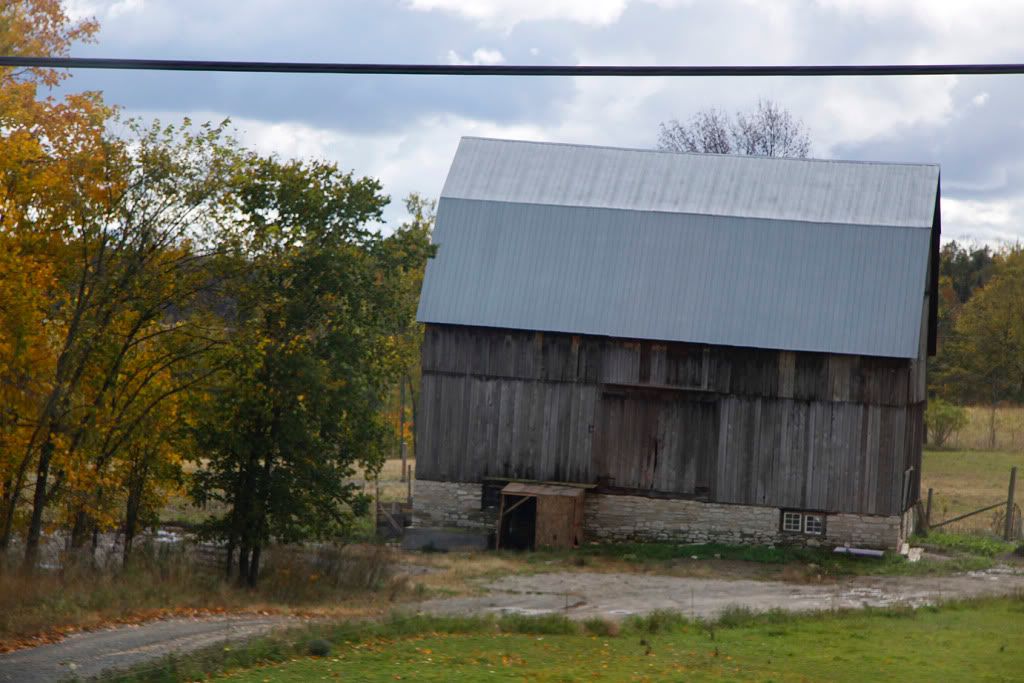 This old barn looks like it's in need of a face lift - all tilted over to one side like that. I don't even think I'd realized that when I took the shot through my window. All I thought at the moment was "charming old barn.. click!"
(please click to enlarge)
Likewise for this rusty old graffiti-covered train car. Hmmm, it too, looks like it's on a tilt. Could it be me? Maybe taking photos through the car window is not such a good idea.
(please click to enlarge)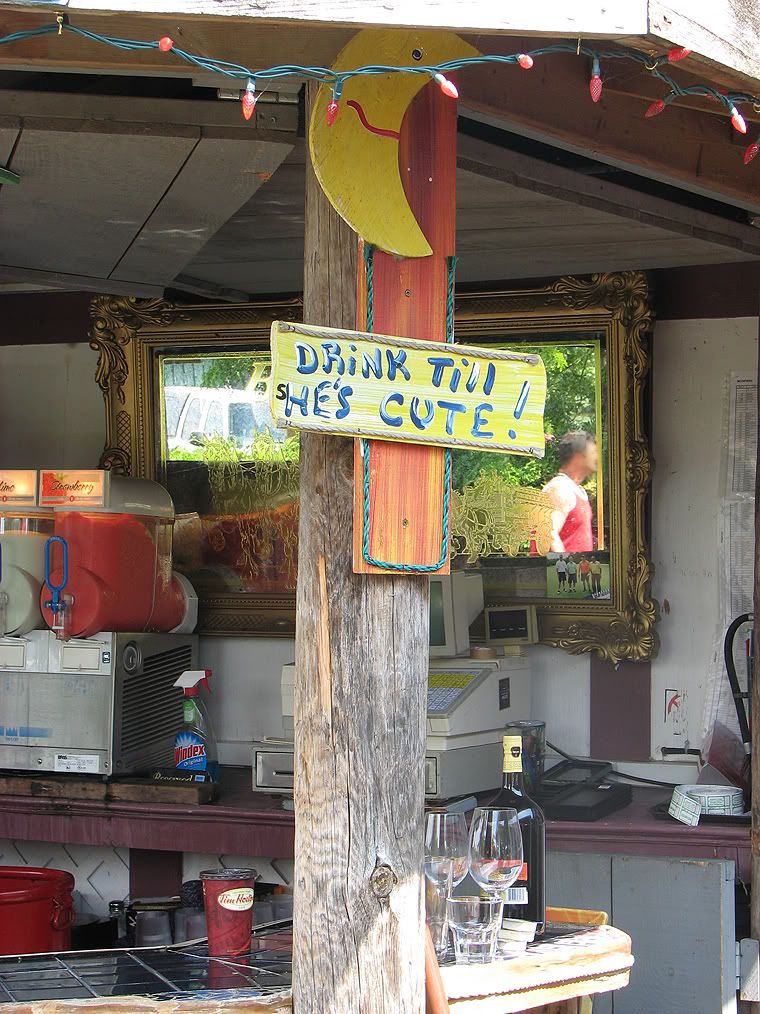 Back in July, Frank and I had lunch out at the marina near his place. On our way out, I noticed this sign on their outdoor bar. It made me laugh - not that I could

ever

relate to it. I mean really, who in the world could be cuter than Frank? (

hic!

)
(please click to enlarge)
When visiting my sister a while back, she showed me her new electric bike. Rarely have I seen a bicycle so new and shiny, and it just demanded a photo.
(please click to enlarge)
Frank's been doing some renovations at his house - some of which included a new back deck (shown in part in the last photo of the previous post). Since this deck is larger than the old one, some decorative stones had to be moved out of its way. I just liked the way they looked with a pitchfork laying on top of them.
(please click to enlarge)
Benny usually gets walked twice a day - early morning and late afternoon or early evening - depending on the season. On the latter walk, there's a spot along the creek where we'll stop to look, listen and think for a moment or two. Benny is usually off sniffing around for the last bit of trouble he can find before heading home. At this time, the sun is setting behind us, creating long shadows everywhere. I took this photo of our own two shadows which stretched across the opposite shore while we said "Goodnight" the creek.
(please click to enlarge)
Now it's time to head on back home. Thanks for joining me.