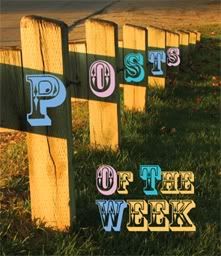 On September 25, our dear bloggie friend David McMahon of
Authorblog
said his goodbyes to blogging - at least for now. David is taking the time to concentrate on writing his novels.
Along with more than two hundred others, I wished him luck and thanked him for bringing so many bloggers together with his Post of the Day - daily postings which pointed out blogs he felt were share-worthy. If it weren't for David, I would not know many of my favourite bloggers whom I enjoy visiting regularly. I also see numerous familiar faces around the blogopshere consistently landing on the many blogs which he has recommended.
In my comment to David, I semi-jokingly suggested that I might consider perpetuating his Post of the Day. To that, David gave me his blessing. You are acquainted with me well enough to know that I don't post anywhere near daily but I do come across many fine blog posts over the course of the week, so I've decided to venture into doing a "Posts of the Week" instead. I hope you'll come to know a few new blogs by clicking on the links which I'll suggest. Also, keeping true to David's method, I'd like you to feel free to mention and link to your own favourites in the comments section of my POTW - if you wish.
I'll try to make a point of publishing the POTW each Wednesday but hope you'll all understand if I'm not always quite as organized as our friend, David. He has left mighty big shoes to fill. Speaking of which, David also had a semi-regular post called Sunday Roast in which he would shine a spotlight on, and interview fellow bloggers. It's my understanding that a blogger named Eddie Bluelights is taking over that task at his blog
Clouds and Silvery Linings
. If you're a fan of Sunday Roasts, please make sure you visit
Eddie
where he'll resume these interviews beginning this Sunday, October 11. And please check out his

sidebar where he has

placed a permanent feature showing the "ROLL OF HONOUR" of all previous and current roast interviewees which will be updated weekly.
And with that, I offer you my first "Posts Of the Week". Please be sure to click on the links and give them all a visit. You'll be glad you did. I'll have a regular photo-laden post for you in a day or two.
This week's winner is
Moannie
at
The View From This End
with her touching post
I'm So Sorry
.
In no particular order, other top posts are:
Tabor
from
Room Without Walls
Protege
from
Life Through Reflections...
Sandra
from
Add Humor and Faith... Mix Well
Erin
from
Woman in a Window
Cloudia
from
Comfort Spiral
Meredith Teagarden
from
The Things We Carried
Merisi
from
Merisi's Vienna for Beginners
Sandy
from
Writing in Faith
If time permits, please click on the links and leave them a comment.