When I was twelve, my family bought and moved into their first and only house. Having grown up on the top floor of a lovely old three-story apartment building, I was thrilled to have a front yard, a back porch and garden, and a room of my own.

Around that same time, a Portuguese family moved in next door to us, and I quickly became fast friends with Debbie and Yvonne - two of the three daughters. We went everywhere and did everything together throughout our teen years.

Two doors down from them was our friend, Evan. He was a year younger than I was and probably a bit smarter. And was always interested in gadgets. Not like pocket knives and compasses - those were too typical. Evan liked electronic toys like bugging devices and noise meters. He was a 1960's kid ahead of his geeky time, and he was always looking for ways to acquire and use these gadgets for his entertainment.
One time the four of us decided to hold a faux séance. The victim was Isabel - Debbie and Yvonne's younger sister. Evan rigged up a speaker which sat hidden behind the drapes in Yvonne's bedroom, where the seance was to be held. He had a microphone which was connected to the speaker by a long wire that led back to his own home. I was stationed outside of Yvonne's room. On the other side of that door, the three sisters sat in semi-darkness trying to conjure up the dead. As they asked questions of the dearly departed, I repeated their words to Evan over the phone. Speaking into the microphone from home, he came up with appropriate responses which he delivered in a ghoulish voice over the makeshift sound system. Poor Isabel was totally convinced that she had successfully made contact with the other side.
I can remember a time when Evan got into a bit of trouble with the police for constructing and detonating a bomb. Oh, relax. It was a pretty benign explosive, which propelled unraveling rolls of toilet paper all over an unpleasant neighbour's yard. He had been caught, and was sitting in the back of a police car by the time Debbie and I found out what was going on. His one and only concern was that he had to get rid of the package of cigarettes he had, so that his parents wouldn't find out that he smoked. This was especially important because they believed he still had the asthma which bothered him as a younger child. That regularly re-enacted condition got him occasional days off from school.
Evan came from a musical family and was a talented pianist. He loved to play, and I loved to listen to his renditions of Elton John's Border Song and Your Song. He also took pride in having figured out how to play the Charlie Brown cartoon theme - tickling both the keyboard and our fancies. He had the most incredible eyes I've ever seen. The colour - unique. Not quite green. Not quite brown. Almost golden. They were startlingly beautiful and oddly catlike. He was a fun, intelligent guy, with a wry sense of humour.
We grew apart as kids tend to do, and though our paths crossed a couple of times when we were in our twenties, we never fully clicked again. As the years went by, and online communication made the world a little smaller, I thought about what path Evan's life might have taken. I had little doubt that he would be Internet-savvy and would likely work in a computer-related field. A few years ago, a quick Google search confirmed that.
Evan was a web page designer, a computer consultant and part time techno-guru for one of Montreal's top radio stations. The world of technology had finally grown into his long-standing geekdom. I couldn't resist emailing him to catch up. He responded shortly afterward with the pertinent details of his life. He had three sons of whom he was immensely proud, and a career which gave him much joy. He still created music. He still smoked those darn cigarettes. Our exchange was brief and pleasant, and more than a tad nostalgic. I was glad I'd made contact.
That was a number of years ago. Recently, I thought I'd look for a radio station to listen to online. I immediately thought of my native Montreal's CJAD - the station where I knew Evan worked on the air occasionally. I wondered if that was still the case and decided to Google his name once again. Sadly, the first item which came up was his obituary.

Evan passed away almost two years ago of lung cancer. Just yesterday, I found this very lovely tribute by his friend and colleague. The photo of Evan on that page must have been taken when he was in his forties, yet he looked almost the same as he did when we were young teenagers - minus the braces.
Evan and I hadn't been close for decades, but it ached and tugged at my heart to learn of his passing. So many good memories and laughs were shared with this boy who had eyes like a cat.
Rest in peace, old friend.
The following images were taken last week at a beautiful, old cemetery in Port Hope. Please remember to click on the images to enlarge them.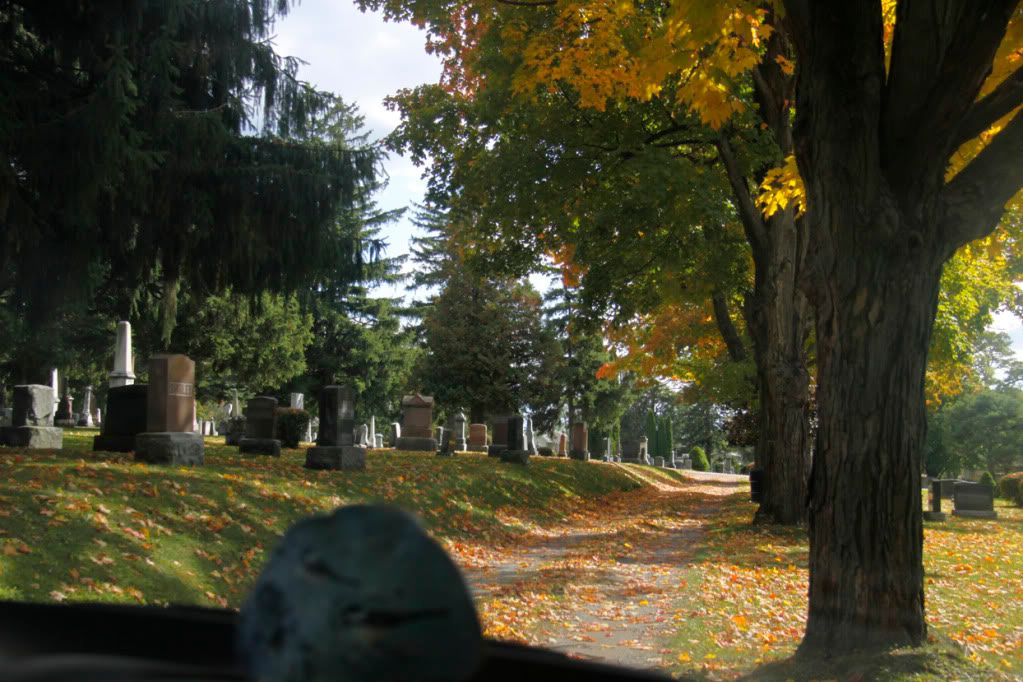 "Sweet is the memory of distant friends. Like the mellow rays of the departing sun, it falls tenderly, yet sadly, on the heart." ~ Washington Irving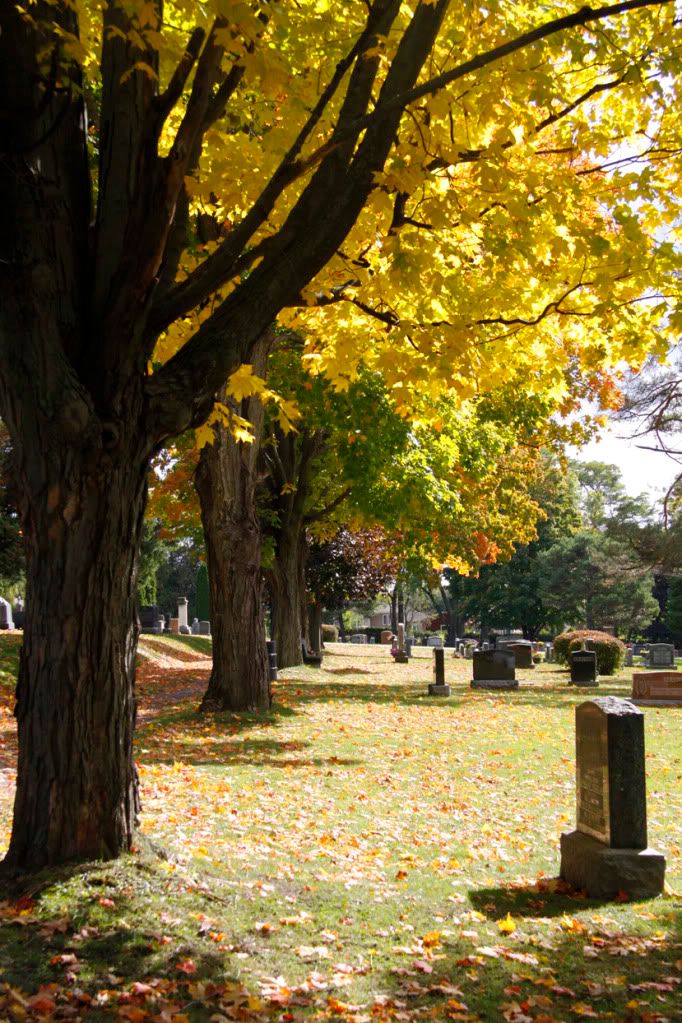 "Let children walk with Nature, let them see the beautiful blendings and communions of death and life, their joyous inseparable unity, as taught in woods and meadows, plains and mountains and streams of our blessed star, and they will learn that death is stingless indeed, and as beautiful as life." ~ John Muir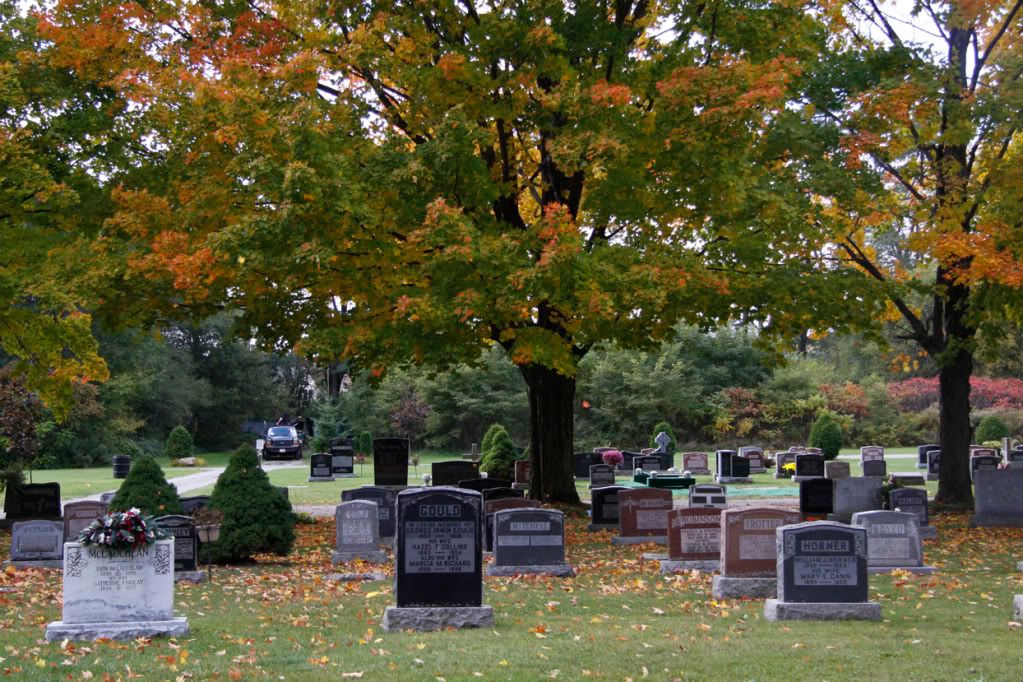 "To live in hearts we leave behind is not to die." ~ Thomas Campbell





"Our death is not an end if we can live on in our children and the younger generation. For they are us, our bodies are only wilted leaves on the tree of life."
~Albert Einstein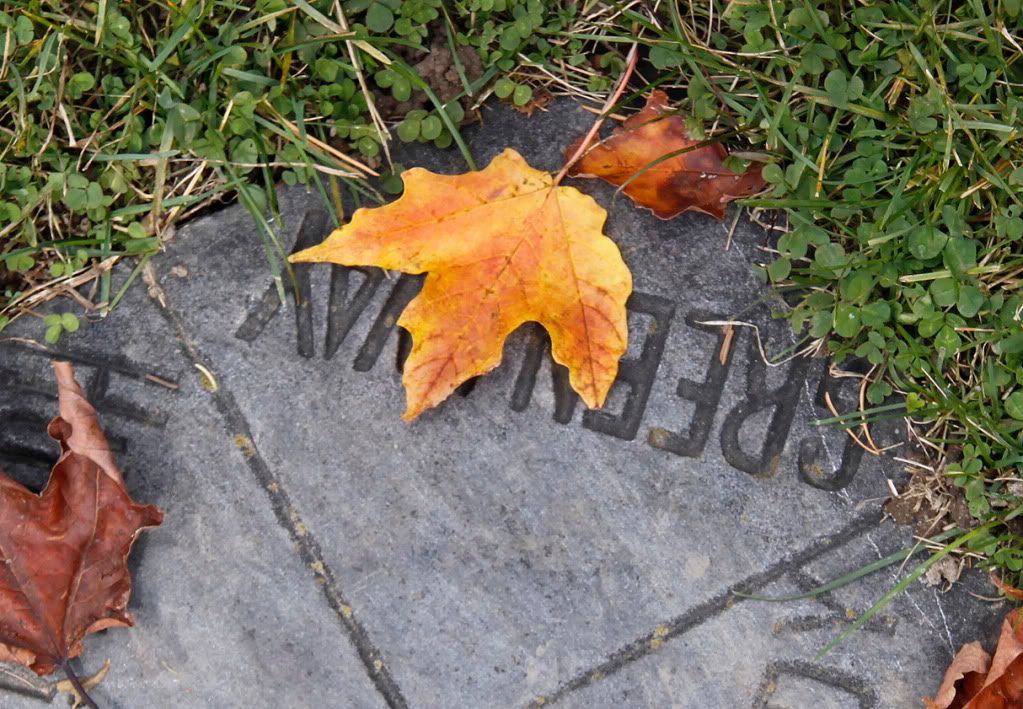 "When death occurs, death as you know it, the universe embraces you and takes you to its heart." ~ Rosemary Altea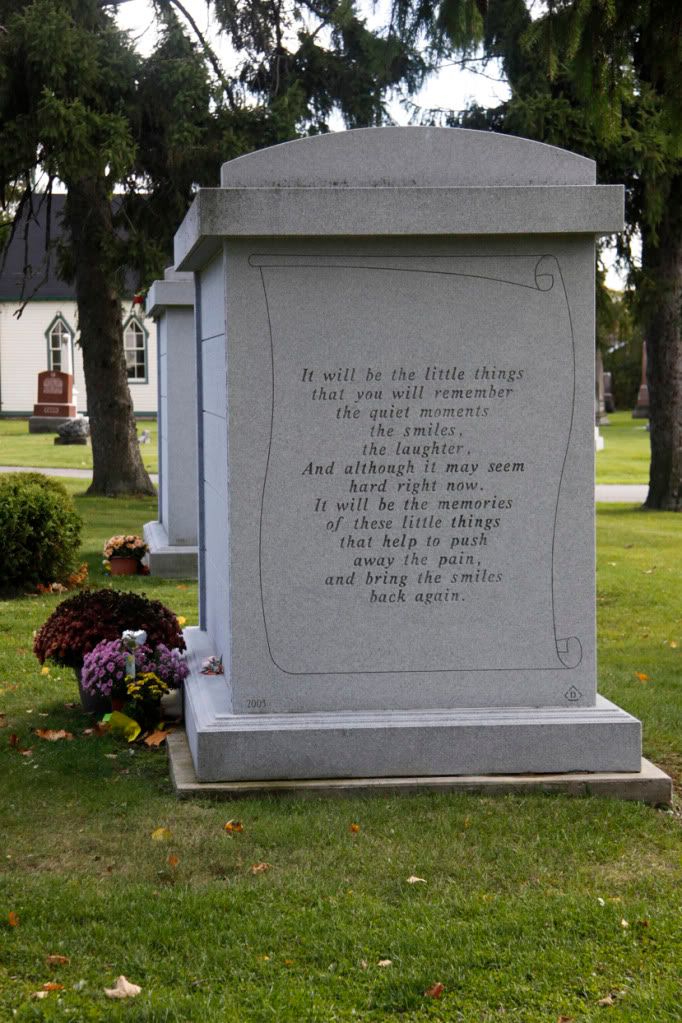 "So say it loud and let it ring. We are all a part of everything. The future, present and the past. Fly on proud bird. You're free at last." ~ Charlie Daniels