October is the golden month.

Leaves change from deep greens to yellow, gold, orange and fiery red. It's the gold tones which bring magic to the days and enchantment as the sun sets at night. Please join me for a series of golden images taken around my home, Frank's area and up near the cottage. Sit down and I'll pour you a glass of golden mulled cider to keep the chill off.
On our way up to the cottage last week, I noticed this restored railroad caboose and quickly snapped a shot through my side window - hence the glassy appearance. (please click to enlarge)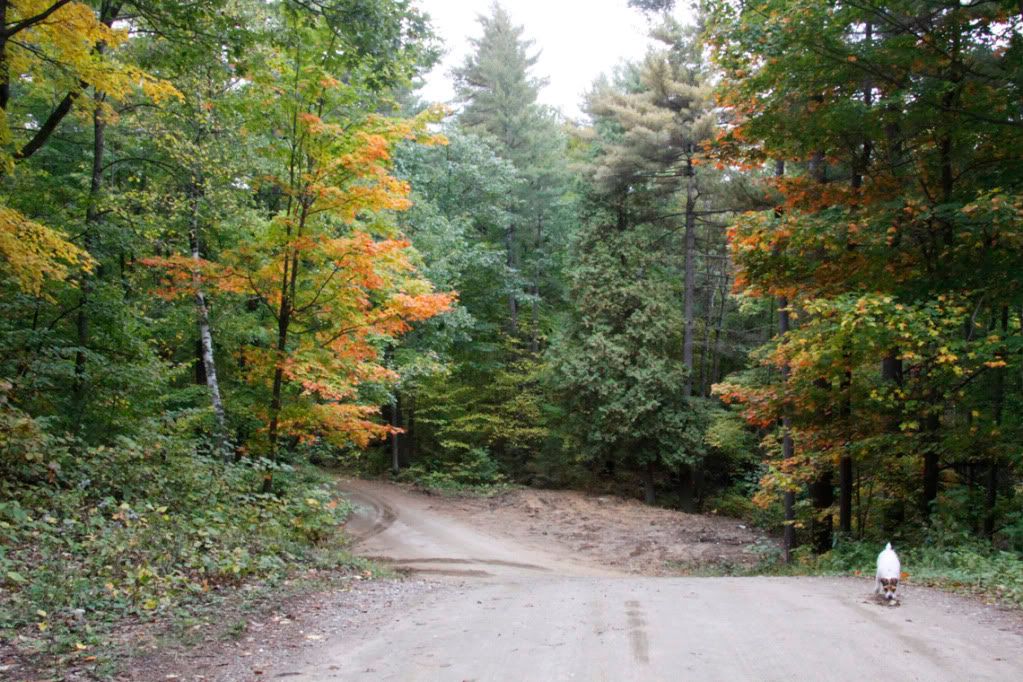 There weren't too many moments of sunshine while we were away, but occasional snippets of sunlight illuminated the trees' autumn colours. Benny and I took advantage of the cold, but dry moments and walked for a while. Rain soon forced us to head back to the cottage.
(please click to enlarge)
Back home, I discovered the last rose of the season had just bloomed on the bush in front of my house. It only produces flowers for two limited growth periods each year. In late June, I usually get about a half dozen blooms at one time, and then nothing again until September, when I often see one or two buds reappear on the plant. There was just this single, lovely rose this time.
(please click to enlarge)
A walk around the park revealed autumn's presence. This stem of Ash leaves had fallen and was resting on the bough of a Pine tree.
(please click to enlarge)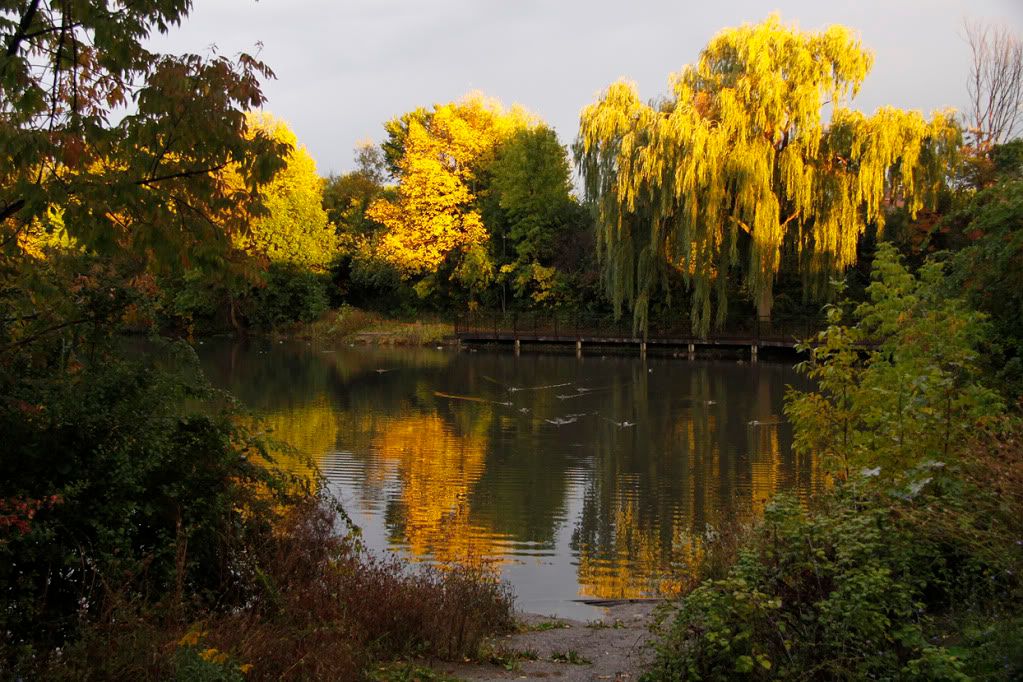 As the late day sun began to set, it gave life to the changing trees and their brilliant reflections. Hopeful ducks swam toward me, wondering if I might have some bread, but soon realized I had nothing but my camera in hand, and a sigh on my lips.
(please click to enlarge)
At Frank's place, we took our usual walks along the creek. Life is very different there through the autumn months, since the spawning salmon attract ridiculous numbers of anglers from around southern Ontario. The shores of the creeks are crowded with people trying to get their hooks into one of these huge beasts - and not always in the most ethical way.
(please click to enlarge)
The salmon leap up the ladder to return to their birthplace and die. As you can see by the carcasses in the background, many don't make it. In their exhausted state, if they land in the wrong area, they often lack the strength to return to the water to try again. Others just keep trying...
(please click to enlarge)
A few of the several thousand salmon trying to make their way upstream this year.
This is roe - eggs which have spilled out of a female while she was dragged away from the water's edge. Sometimes the salmon are gutted simply to acquire the eggs (which work well as bait for trout fishing) and are left to die and rot on the shores of the creek. It's a disgusting practice - particularly since a few eggs can often be coaxed out of a live fish. The creature can be returned to the water to resume her journey, none the worse for wear.
(please click to enlarge)
These wonderful flowers are in full bloom along the pathway. They seemed to just appear overnight, which is quite impossible because they've grown to a height of about ten feet. From what I could gather from Google, I believe they're called Sunroot, Sunchoke or Jerusalem Artichoke. Of course they're not really an artichoke nor are they from Jerusalem.
(please click to enlarge)
Even the electric light which cast a warm, amber-toned glow on Frank's back deck provided us with yet another golden moment.
(please click to enlarge)
I hope you enjoyed the tour of all things golden. More cider?