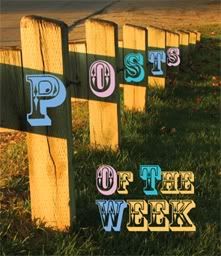 This week's top Post of the Week goes to:

There is a Season - for Perspective
by Julie at Midlife Jobhunter
Other wonderful posts in no particular order are
:
My Neighbor Jerry
by Grayquill at It's Just So Homer...
Life is Food
by San at A Life With A View
Creepy Old Guy Hates Fat Girls
by Dianne at Forks Off the Moment
Slice of Lime - Slice of Zucchini
by Lime at House of Lime
Grey Matter Management 101
by LadyLuck at Surreal Housewife of Amador County
Not Funny, Do Not Laugh
by Hilary (not me!) at Crazy as a Loom
How Big Al Got His Name
by Rochelle at Adventures in Nature
The Quest
by Wendy at Changes With Seasons
A Moment of Urgent Prayer

by Debbie at I Overcooked My Family
Leaving Las Vegas

by Kathleen at Easy for Me to Say
Also:
Recommended by
Sandi
:

In My Heart And On The Dance Floor
by Sandra at Dances With God.
Recommended by
Thumbelina
:

The Maiming of the Shrew
by Keith at Bloke in the North
Please drop by their blogs for a visit and leave a kind comment if you have the time. Also, please feel free to add your own choices for top posts in the comments section below, where others can see them.
Thanks for stopping by!