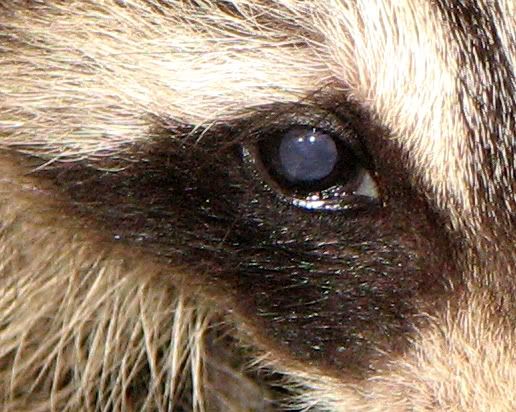 Raccoons can be pests. They raid bird feeders, get into garbage cans and sometimes find inconvenient places to nest and have their young. People often figure that they can eliminate these problems if they capture these roaming bandits and either release them, or (gulp!) destroy them. I'd like to urge you to think twice about considering doing harm to any creature, but particularly at this time of year, when so many are caring for their young.

Removing and relocating or (gulp!) killing an adult raccoon can result in a litter of young, orphaned kits experiencing a slow, painful death by starvation. Raccoons are lovely, intelligent, comical creatures who can actually do our personal landscape a lot of good by eating pests which otherwise ruin our lawns - saving us the use of dangerous pesticides. They eat carrion (my wayward son), which also helps to keep our environment safer.


If you're having a problem with raccoons getting into your trash, please consider
finding a container with a tight-fitting lid, and keep your trash secured in your closed garage until the morning of trash collection. Raccoons are rarely a problem if we don't provide them with these opportunities. It's such a small inconvenience to clean up spilled garbage occasionally, compared to the heartbreak of a tortured animal.


This spring, just like last year, a neighbourhood raccoon decided to set up her den under my front deck. A few weeks ago, we began hearing the familiar "chirrup" sounds of young raccoons from beneath the boards. I quite enjoyed knowing that she felt safe enough around here to raise her young just beneath all of our comings and goings. It wasn't long before we regularly began seeing who we believed was the mother, boldly feeding her perpetual hunger with seeds from our back yard bird feeder. She needed to nourish her body in order to nurse her demanding babies.
One windy, rainy Sunday night, I became aware of the babies' chatter, heard from two floors above them, through my closed window. This was unusual and I became a bit concerned for their welfare. I continued to hear them through the night and into the next day, but less often, so my worries ebbed some.

On the Tuesday, I discussed it with my next-door neighbour and good friend, Caroline. Shortly before the time that I began hearing their cries, Caroline and her daughter had heard what they thought was a raccoon in a bitter fight, and it sounded like the raccoon was on the losing end of that battle. Thoughts of orphaned raccoons crept into both of our minds.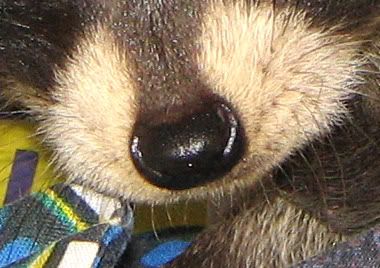 On Wednesday, Caroline informed me that she saw two raccoon kits venture out from beneath my deck the night before. This too, is an unusual sight because at that age (about 5 or 6 weeks) they should only accompany their mother on excursions. They looked weak and bewildered, and she and her husband collected them, put them in a cage with water, and covered them with a blanket overnight. By morning, she felt certain that she could still hear the sounds of a third kit from beneath my deck, so she was conflicted as to whether to turn these two over to a wildlife service, or return them to their sibling so that they could help keep it warm. She opted for the latter.

We have another neighbour, Nicky who lives about three minutes away, and who we knew to be a reputable and trusted care-giver of wild animals. I phoned her to ask her for advice. She and her equally-experienced adult daughter, Sarah came by within the hour, to try to assess the age of the kits. Of course, the babies were quiet for the first time in three days and they left none the wiser. Nicky suggested putting a dusting of flour down near the entrance to their den, to try to determine if adult paw prints appear, or just those of the young, and to call her anytime we might next see one of the babies.


Later that night, Jeffrey and I resumed hearing the sounds of babies in distress from under the deck and we tried calling to them, to encourage them to come out. After a while, I went back indoors but shortly afterward, I heard my son call to me from outside. "Mom, come see."

I opened the door to see him kneeling on my deck, with a lovely, little raccoon kit nestled in his arms.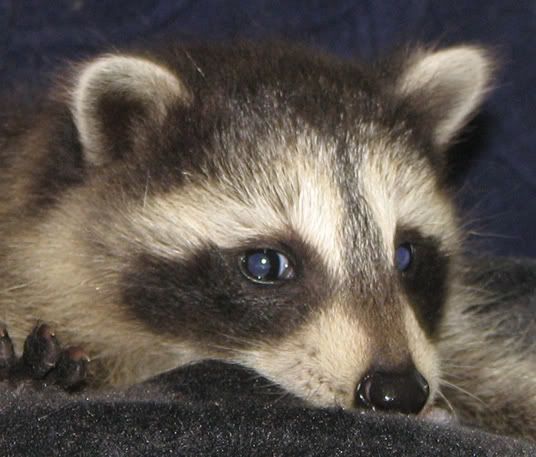 To be continued here...