This is the Easter weekend, and my older son is home from Kingston for a few days, so I'm going to take a short break from creating CD and book covers. I'll resume those later in the week, but at this time, I won't be taking any further requests. I apologize to those who are still waiting to see theirs. It won't be too much longer. Thanks for playing along.


I keep a bird feeder hanging off of the plum tree in my back yard. Usually, after it's been freshly filled, it will take anywhere from one day to one week until it's emptied by the variety of birds which come for their feast. Lately though, I've been finding the empty feeder with its lid askew, and a small pile of seed on the surface beneath the supporting branch.

I know that squirrels are notorious for emptying feeders in a hurry, but those I've seen around here had always been content to eat from spilled seed and frequently-offered peanuts, as long as the Blue Jays hadn't already beaten them to it. The only alternative that came to mind was that creature known for its bandit-like qualities - a raccoon.

I had placed a plastic outdoor table directly beneath the feeder in hopes of catching most of the overspill, resulting in less to clean up from the patio after all winter. It would seem that the table might have aided the suspected raccoon in accessing, opening and tipping the feeder.. We decided to try securing the lid of the feeder by using a couple of heavy-duty rubber bands - the kind that you can often find around stalks of store-bought broccoli. This worked for a while, but it also seemed to make the birds ill at ease. Suddenly, a week or two would go by without any reduction in the feeder's contents. When temperatures dropped to particularly cold depths, the elasticity would weaken and I'd find broken bits of the bands lying on the snow.

Eventually, the birds became used to seeing this new decoration, and they returned to feed once again. However, a more determined raccoon began visiting regularly, and the new attempts to secure the roof of the feeder were quickly thwarted by this persistent critter.

Last weekend, Frank decided to buy another style of feeder, in hopes of deterring the raccoon from gaining such easy admittance to the quickly-diminishing seed. This one was taller and narrower, and contained several perches for smaller birds. We also decided to remove the table from beneath the feeder, to eliminate at least one approach.

Not a half hour later, we saw a raccoon climb down the side of our house, walk along the fence and stroll down into the yard. She glanced up at the tree, and immediately began to climb.

Settling into the branches, she sat still momentarily while she considered her plan of attack. Slowly, she eased herself toward the branch which houses the feeder.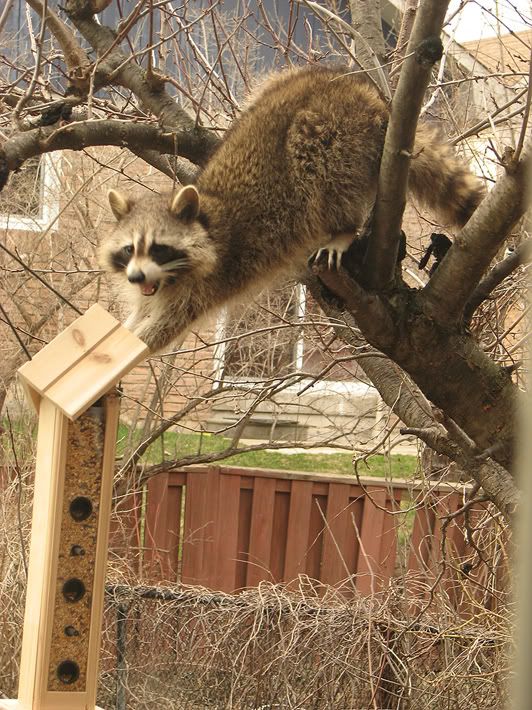 Without a care in the world she casually lifted the roof off of the feeder as if she'd seen it a hundred times before and began nourishing her belly.



On my side of the glass, Benny was barking his fool head off at this masked intruder. How dare she not feel intimidated!




Eventually, Frank held Benny back while I chased her away to the back of the yard, under the fence and to safety. As soon as I turned around to come back inside, she was practically at my heels, heading back to her interrupted meal. I tried a total of three chases - all with the same results. Finally I held Benny while Frank made menacing noises, kicked a plastic bucket with which Ben likes to play and ran straight into my lilac bush. Hours later he was still finding twigs in his hair. It seemed so unfair that I had to be holding Benny instead of my camera.

Frank decided that the new feeder was useless for my yard and ended up taking it home with him to add to his growing collection. A different, smaller raccoon has since returned, undoing elastics and tipping the feeder. I've given up.



Raccoons are clever little creatures and when they want something badly enough, they're not easily dissuaded. This Easter weekend tells me that it has been one year since Mama raccoon nested in my attic and subsequently under my deck. I figure if she wants to live near me so badly, the least I can do is feed her.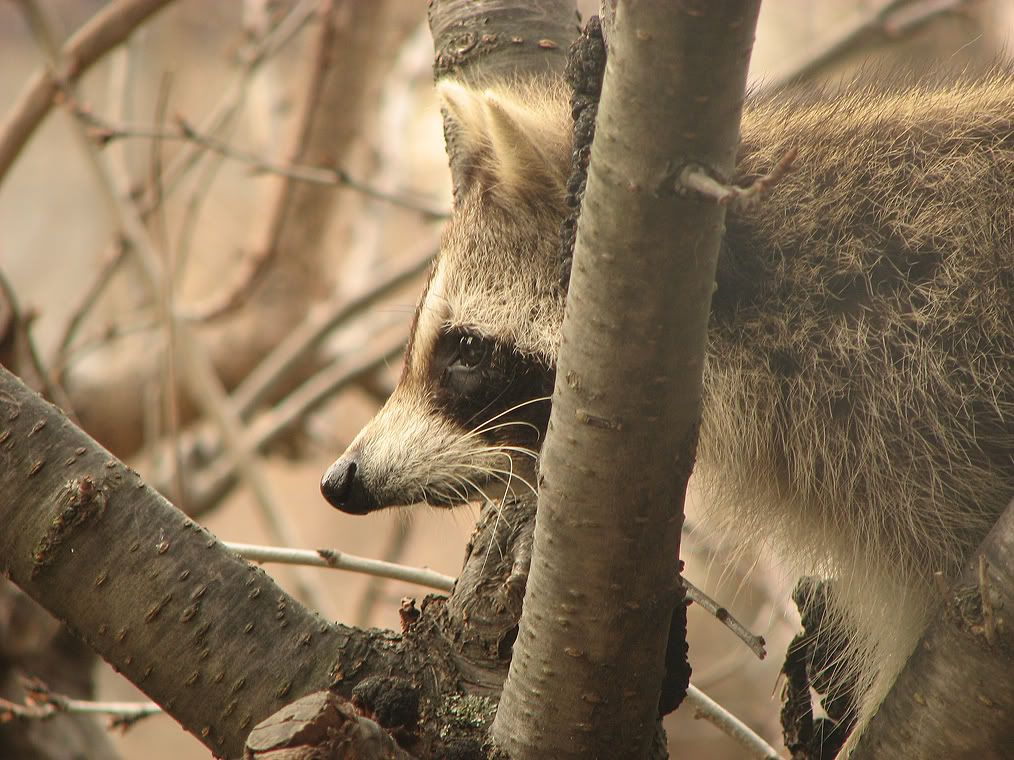 Happy Passover, Easter and Spring!


If you're relatively new to my blog and haven't read about the chaotic time that a raccoon fell through my bedroom ceiling, please click here for part one. Parts two and three follow. The tale is complete with photographs of baby raccoons and Mama clinging to my son's window.. from the inside. That family still lives under my deck a year later. I hope you enjoy the posts.