My older son is home for a few days now that his exams are over for this year. His next few weeks will keep him busy fulfilling obligations back at school and then his summer will take him back to Gagetown, New Brunswick for thirteen weeks of military training - ten of which will be spent out in the field. He won't be home again until late August at the earliest, and most likely not until mid-October. For this week, my boys and I will be together. We'll share meals, music and conversation, and for now, all will feel right in my world.


Over the past few days, I've been to Frank's place and back. Among the many photos which I took, were a few of things that somehow were wrong. It wasn't intentional, but in reviewing the images, I found myself saying "Wrong. That's wrong. That's very wrong."


Frank wanted me to see this tree which he happened upon in a small parking lot a few days earlier.


It appeared to be surviving and sprouting its spring foliage despite how damaged it actually was.

(please click to enlarge)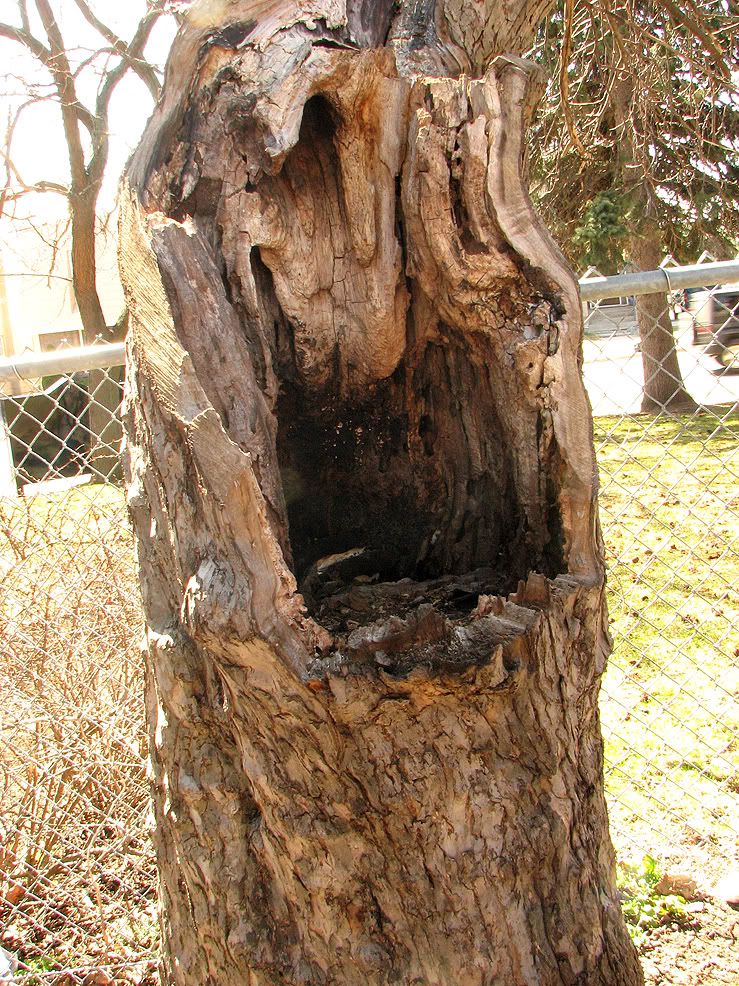 A huge segment of its trunk was hollowed out on two sides. Sheer determination alone appeared to be what was keeping it alive.
(please click to enlarge)
I photographed it from a few angles - each one showing just how much of the trunk is missing. And yet it thrives, much like some brave souls who manage to cope with whatever hand they're dealt.
(please click to enlarge)
Nearby, we happened upon this "Welcome" mat in an unlikely spot. Not on a porch. Not on a doorstep. Not outside of a store. It was simply sitting right in the middle of the road.
(please click to enlarge)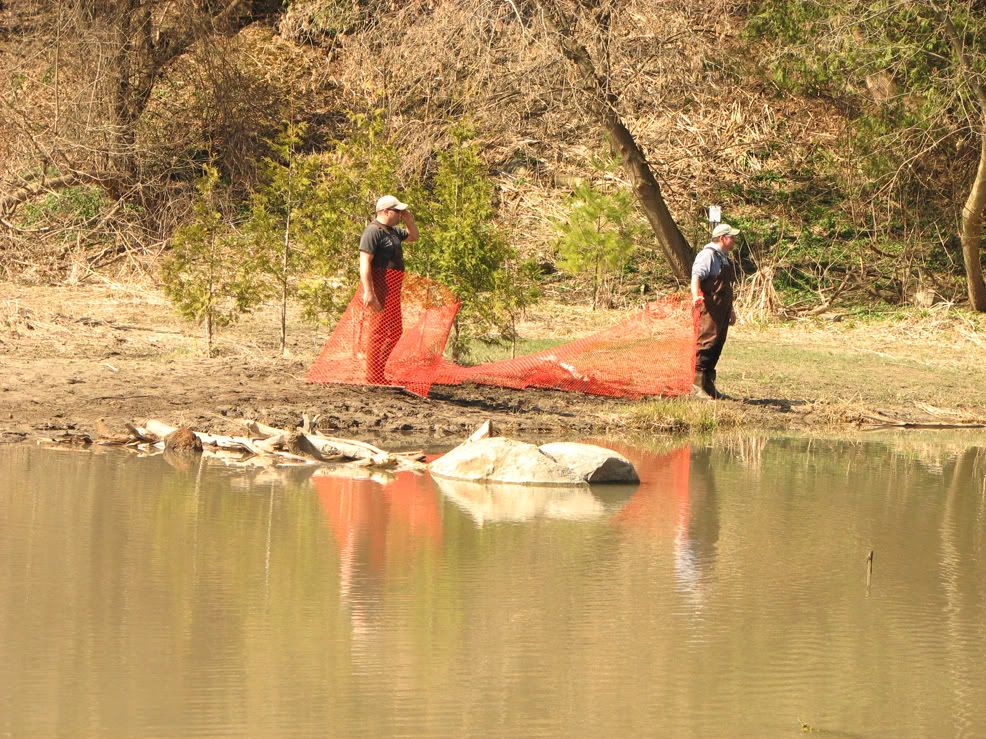 These two guys were fishing for trout, but not in the traditional way. Earlier this month, when the creek overflowed from heavy rains, it flooded over the banks, across the path, along the grassy area and into the nearby pond, and carried two to three dozen trout with it. These fish need to get back out to the creek to successfully continue their spawning process and so these two volunteers were catching the trout in nets, removing them from the pond and replacing them into the creek where they belong. Thanks to them, the fish population will not be diminished as significantly as it would have been without their help.
(please click to enlarge)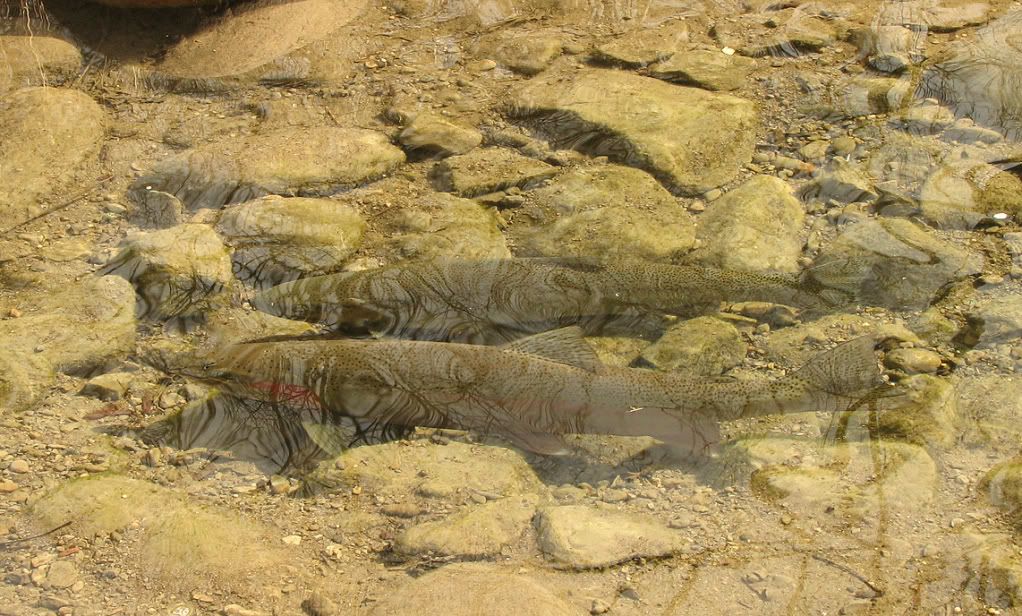 The creek is where spawning trout like this pair belong. That crazy pattern comes from the reflection of the trees which tower over the water.
(please click to enlarge)




While out walking, Frank pointed up at a tree and interjected one word into our otherwise logical conversation. "Guitar."


"Guitar?"


"Yeah, there's a guitar up in that tree."
Sure enough....
.. someone's Kawasaki Keyboom guitar was posing nicely amid the branches of a tree. It was fairly high up, and I can't imagine how it got there.
(please click to enlarge)
Of all things that were wrong (that is - not as it normally appears), this was the most heart-wrenching. Our Canadian flag at half-mast to honour our most recently fallen soldier, killed by a roadside bomb in Afghanistan. She was 21 year old Trooper Karine Blais and she was just two weeks into her first tour of duty. She was the 117th to die in the Afghan mission since it began seven years ago, the second female to die in this mission and she was her parents' only daughter.
(please click to enlarge)
As with those who passed before her, Karine Blais' body traveled the Highway of Heroes - a stretch of Highway 401 which runs between Canadian Forces Base Trenton through to Toronto. Thousands of people gather on the overpasses along the route, to pay respects, to say "thank you" and "goodbye" to our fallen soldiers as they return home. This January, 2009 article by Paul Crookall tells the story of this tradition best.
(please click to enlarge)
On November 11th, 2008, in a blog post called Remembering Our Heroes, I included the names of the 97 soldiers who had been killed in Afghanistan up to that time. Since then, we have lost an additional twenty sons and daughters. They are:
Cpl. Mark Robert McLaren, 23 • Pte. Demetrios Diplaros, 25 • Warrant Officer Robert Wilson, 37 • Cpl. Thomas James Hamilton, 26 • Pte. John Michael Roy Curwin, 26 • Pte. Justin Peter Jones, 21 • Private Michael Freeman, 28 • Warrant Officer Gaetan Roberge, 45 • Sgt. Gregory John Kruse, 40 • Trooper Brian Richard Good, 42 • Sapper Sean Greenfield, 25 • Warrant Officer Dennis Raymond Brown, 38 • Cpl. Dany Fortin, 29 • Cpl. Kenneth O'Quinn, 25 • Trooper Marc Diab, 22 • Master Cpl. Scott Vernelli, 28 • Cpl. Tyler Crooks, 24 • Trooper Jack Bouthillier, 20 • Trooper Corey Joseph Hayes, 22 • Trooper Karine Blais, 21

Thank you.