This is the last installment of CD and book covers as created for you with random components. Once again, it was a lot of fun to see how many random titles matched their photos so well. I hope you like viewing them as much I enjoyed designing them. Thank you to those who played along and to all who have left such kind comments on the previous posts.
~~~~~



Lulda Casadaga
is a blogger by day and a musician by night. Her newly-released CD They Bear No Fruit is a collection of her hits performed live with her backup band
Bitter Jester
.
Give it a listen while you visit her at her photography and fiction blog, Lulda's Lament.
"Promises that you make to yourself are often like the Japanese plum tree - they bear no fruit." ~ Francis Marion
Kcinnova

(pronounced Casanova) i
s a mom who really knows how to rock. Her popular CD Dignity of Innocence quickly rose to the top ten of the music charts. She's backed by her all-girl group, Bad Schlema. When not performing, she can be found posting wonderful photos on her blog
Kcinnova's World
.
"The world ridicules a passion which it seldom feels; its scenes, and its interests, distract the mind, deprave the taste, corrupt the heart, and love cannot exist in a heart that has lost the meek dignity of innocence." ~ Ann Radcliffe
Dave
brings a little piece of New Zealand to us through his blog,
Cimba7200's Thoughts...
Join him there to see photos of the local flora, fauna and fun. Congratulate him on his newly published
Foundation of Failure
as penned by Sylvester Forbes. It's bound to be a bestseller.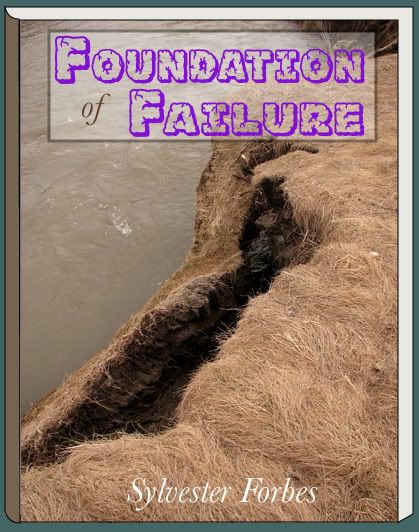 "I will not allow yesterday's success to lull me into today's complacency, for this is the great foundation of failure." ~ Og Mandino
Sandy Carlson

has been posting beautiful photographs and fine poetry on her blog Writing in Faith since 2006. She participates in many of the popular memes and often has a different slant on what would first appear to be the obvious. Sandy also writes under the pseudonym Shonda Stine. You'll want to stop by her site after you've read through her latest novel

There Before Me

.
"Everywhere I go I find a poet has been there before me." ~ Sigmund Freud




Indrani

penned her book

Something Very Special

under the name Claudia Osip. It's sure to be as popular as her wonderful blog

I Share
where she does indeed share beautiful photographs and fascinating background details about her incredible journeys. You won't regret paying her a visit.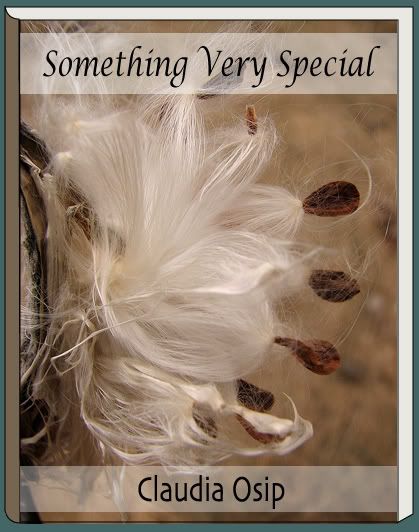 "A good head and good heart are always a formidable combination. But when you add to that a literate tongue or pen, then you have something very special." ~Nelson Mandela




Bag Lady

lives on a ranch in northern Alberta with her husband and numerous cows - many of which were named after bloggers upon their birth last spring. She has an incredibly busy life on the ranch and yet she takes time for blogging daily at

Bag Lady's Blather

. She has recently completed a book of poetry called

A Why And A Wherefore

which she penned under the pseudonym Adina Mannix. Like Baggie and her bovine friends, it's an udder delight.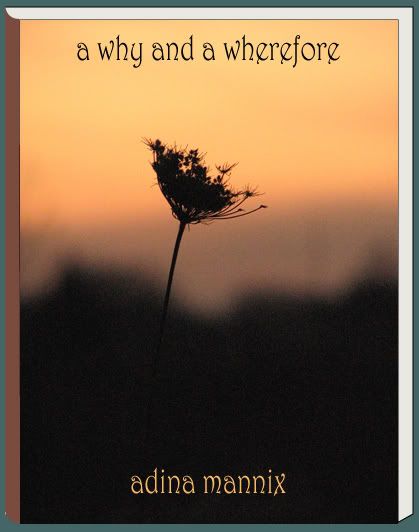 "The rain fell alike upon the just and upon the unjust, and for nothing was there a why and a wherefore." ~ W. Somerset Maugham




Pat

is a terrific lady who lives, writes, takes photographs and stamps in Arkansas. She recently celebrated one year of blogging over at

Remembrances of An Arkansas Stamper

.
Head on over there to congratulate her success at blogging, and for becoming the author of

Fruit For Their Songs

, which she penned under the name of Aubrie Sampo.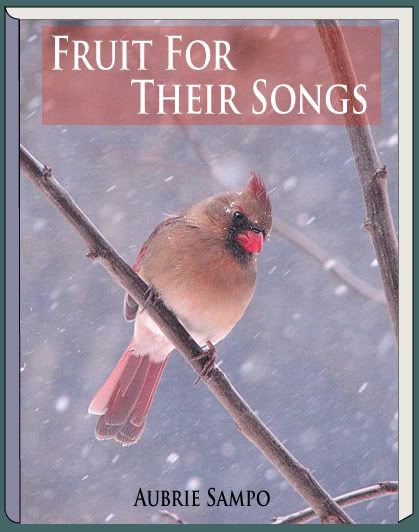 "I value my garden more for being full of blackbirds than of cherries, and very frankly give them fruit for their songs." ~ Joseph Addison
Lover of Life

is an empty nester who can be found over at her blog

Life In The Second Half
.
where she entertains us with fine writing and photography. Somewhere in her busy days, she's found the time to write

The Mastery Of His Passions

- the biography of my guitarist son, Alex.
"The happiness of a man in this life does not consist in the absence but in the mastery of his passions." ~ Alfred Lord Tennyson
~~~~~


Steviewren's

blog A Little Birdie Told Me So
contains so many aspects of her creativity. She's an artist, and you will see signs of her sketches and doodles all over her blog. Her photography and writing makes hers an interesting stop in the blogosphere.
Under her pseudonym Polina Gilbert, she has just released her latest book

Everything I Said

. Dog lovers everywhere will enjoy it.
Jo

blogs out of Vancouver about friends, family, art, news and the many interesting facts that run through her clever mind. She's also a fine water colour artist, and is the musical genius behind the band Rumba and their new CD

Doorway for the Human Spirit

. You might want to pop it in and give it a listen before you visit Jo over at A Majority of Two.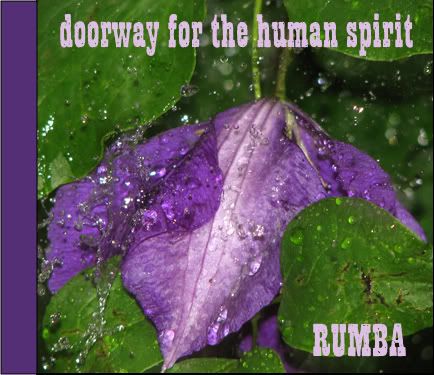 "No pessimist ever discovered the secret of the stars or sailed an uncharted land, or opened a new doorway for the human spirit." ~ Helen Keller




Shammickite

is a fellow southern Ontarian who has a busy life which is reflected on her blog

Rook's Nest

. You'll enjoy her casual and friendly writing style and her wondeful photography.She has recently become a Grandma and is patiently awaiting grandchild #2. You wouldn't think that Shammie had the time to record the CD The

Might of the Gods

but she did! She's the lead singer of the popular band Roomate. Give it a listen and then let her know what you think of it when you visit her blog.




Pouty Lips

has two blogs. The one I've known all along is a light-hearted site called

Pouty Baby's Nonsense

but I've just discovered her newer blog called

Dream Weaving

.
A quick look through its posts tells me that I think I'm going to like this one. Why not give them both a look and tell Pouty what you think of her new microwave cook book

A Moment of Time

, as penned by Othello Dexter.
"All my possessions for a moment of time." ~ Elizabeth I

Crabby McSlacker

along with her co-blogger Merry, is the genius behind

Cranky Fitness

- the place for fitness information, flab-reduction and fun. Always a clever crab, she's written a new how-to book about acquiring fame and fortune. Though written under her nom de plume, Gabriella Macey, the style is unmistakably Crabby. Please visit her and tell her what you think of her book

Waiting To Be Known




Tricia

is the clever mind behind

Shout

where she blogs about family concerns and finding her way through parenting her pre-school-aged son. Both of her own parents have been known to leave some amusing advice comments on her blog. Won't they all be proud to learn that Tricia wrote a book called

Comfortable With Yourself

under the pseudonym Laureen Brett? Please pay her a visit soon.




Clowncar

blogs over at

The Oort Cloud

where the focus is on astronomy. Occasionally his posts discuss his young daughters

(about whom we're not supposed to remind him will be dating one day)

. Clowncar recently published his story

With Strong & Active Faith

under his pen name, Maximillian Wolfe.
"The only limit to our realization of tomorrow will be our doubts of today. Let us move forward with strong and active faith." ~ Franklin D. Roosevelt