Below are a few random photos taken over the last couple of weeks. I hope you enjoy them.
Now every field is clothed with grass, and every tree with leaves; now the woods put forth their blossoms, and the year assumes its gay attire. ~ Virgil
Crab Apple trees are in full bloom at my neighbourhood park. (please click to enlarge)






"There'll be trains of blossoms.
There'll be trains of music.
There'll be trains of trust, trains of golden dust.
Come along and surry on sweet trains of thought.
Surry down to a stoned soul picnic."
~ Laura Nyro (The 5th Dimension)
A picnic table, bathed in late afternoon sunlight, sits under a canopy of blossoms.
(please click to enlarge)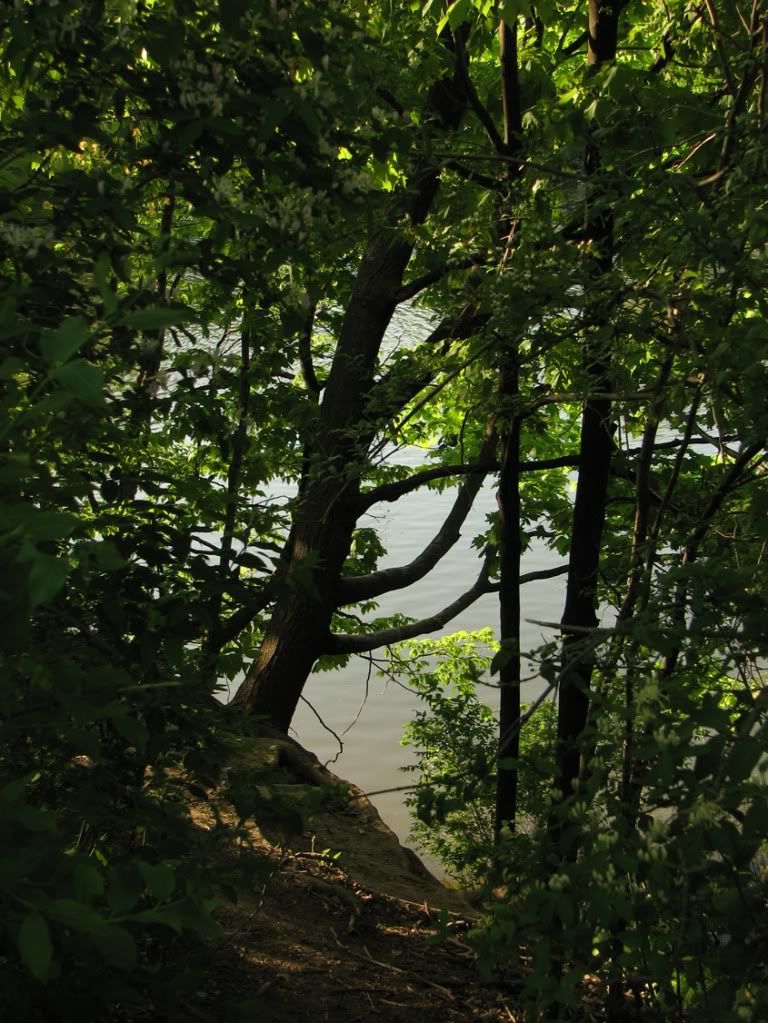 "There is pleasure in the pathless woods, there is rapture in the lonely shore, there is society where none intrudes, by the deep sea, and music in its roar; I love not Man the less, but Nature more." ~ George Byron
One of the many pretty sights along the shoreline of my local pond.
(please click to enlarge)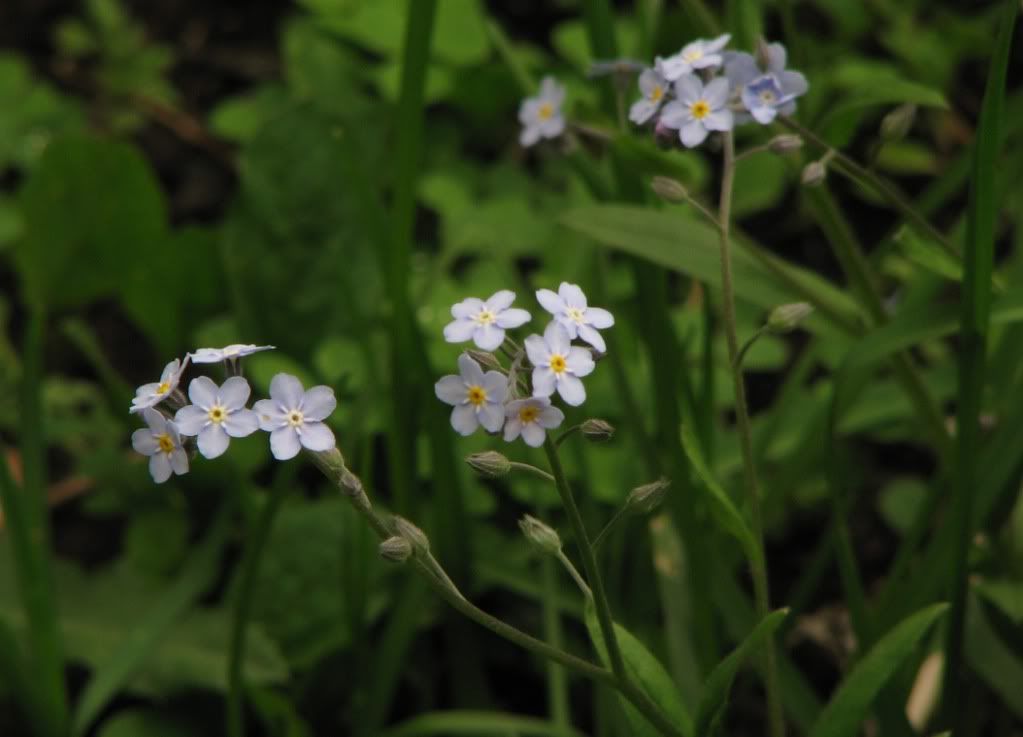 "The blue and bright-eyed floweret of the brook,
Hope's gentle gem, the sweet Forget-me-not." ~ Samuel Taylor Coleridge
The Forget-me-not -t
iny, blue wild flowers with memories.
(please click to enlarge)






We looked around at a vintage market situated in an old mill. At least one dozen large rooms housed collectibles, antiques, jewelery and crafts.
(please click to enlarge)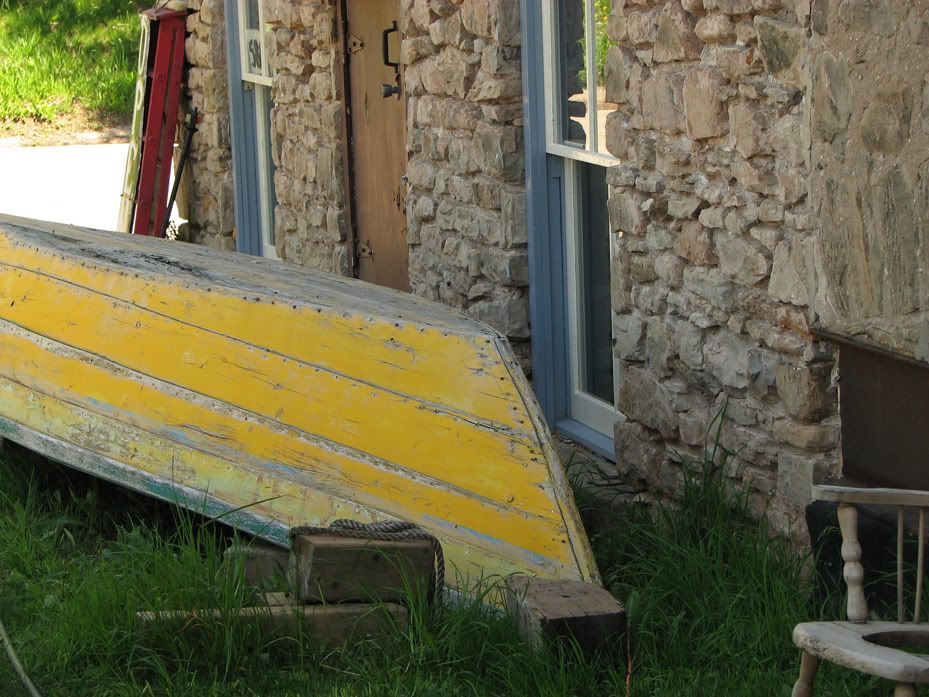 "Just an old stone house by a river, and the door without any key.
Just a friendly place for a friendly face. Just an old stone house and me."
~ Alec Wilder
I liked the colours of this weathered boat in front of the blue window frames of the old stone mill.
(please click to enlarge)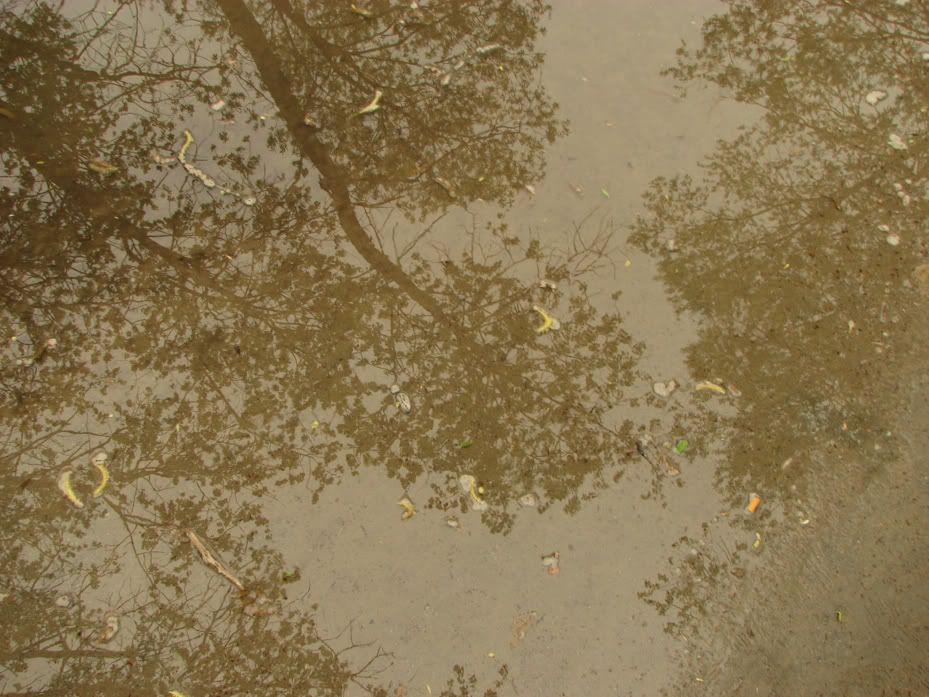 "And then, looking down into reflection, I would see my own round face and frizzled hair against a featureless blue sweep, and think instead that the puddle was the entrance to another sky. If I stepped in there, I would drop at once, and keep on falling, on and on, into blue space." ~ Diana Gabaldon (Voyager)
Looking down into a puddle, the trees were growing tall and deep.
(please click to enlarge)






"Cedars are terribly sensitive to change of time and light - sometimes they are bluish cold-green, then they turn yellow warm-green - sometimes their boughs flop heavy and sometimes float, then they are fairy as ferns and then they droop, heavy as heartaches."
~ Emily Carr
Just one week earlier, this greenery gave us Fiddleheads as a side dish for dinner one night. It didn't take them long to unfurl and grow tall beside the cedars.
(please click to enlarge)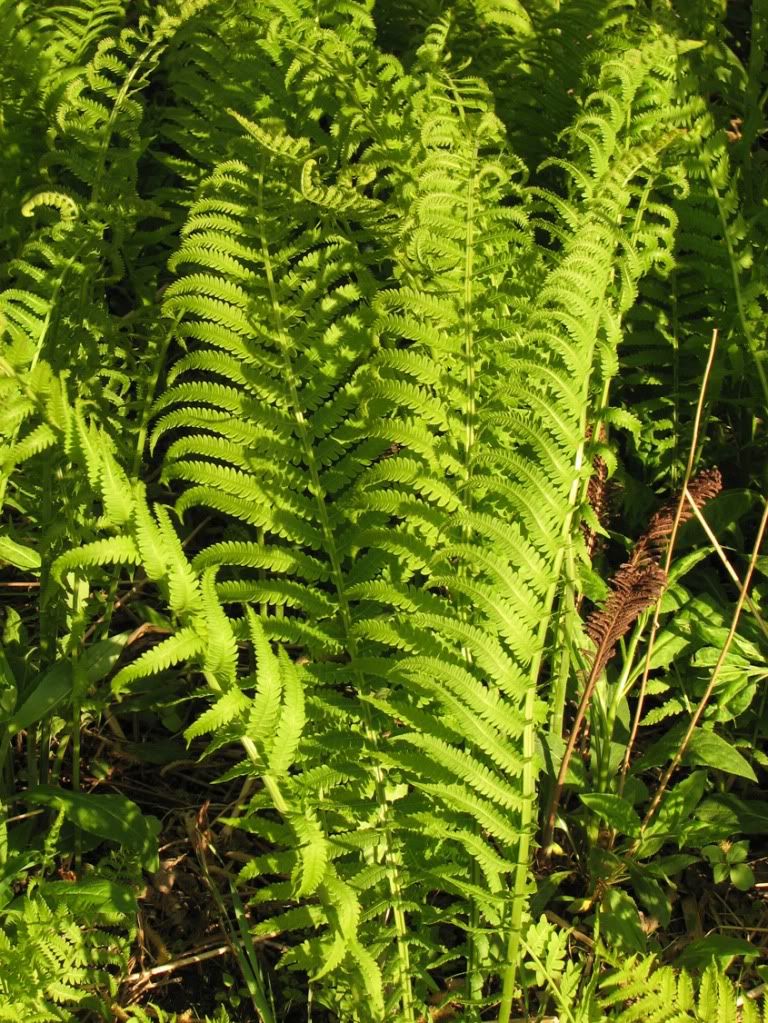 "I knew, of course, that trees and plants had roots, stems, bark, branches and foliage that reached up toward the light. But I was coming to realize that the real magician was light itself." ~ Edward Steichen
Take a closer look at how beautiful they are in the late day sunshine.
(please click to enlarge)






"Wish that I were a yellow bird.
I'd fly away with you.
But I am not a yellow bird.
So here I sit, nothin' else to do."
~ Marilyn (Keith) Bergman
A little Goldfinch watches us from the branches of a tree.
(please click to enlarge)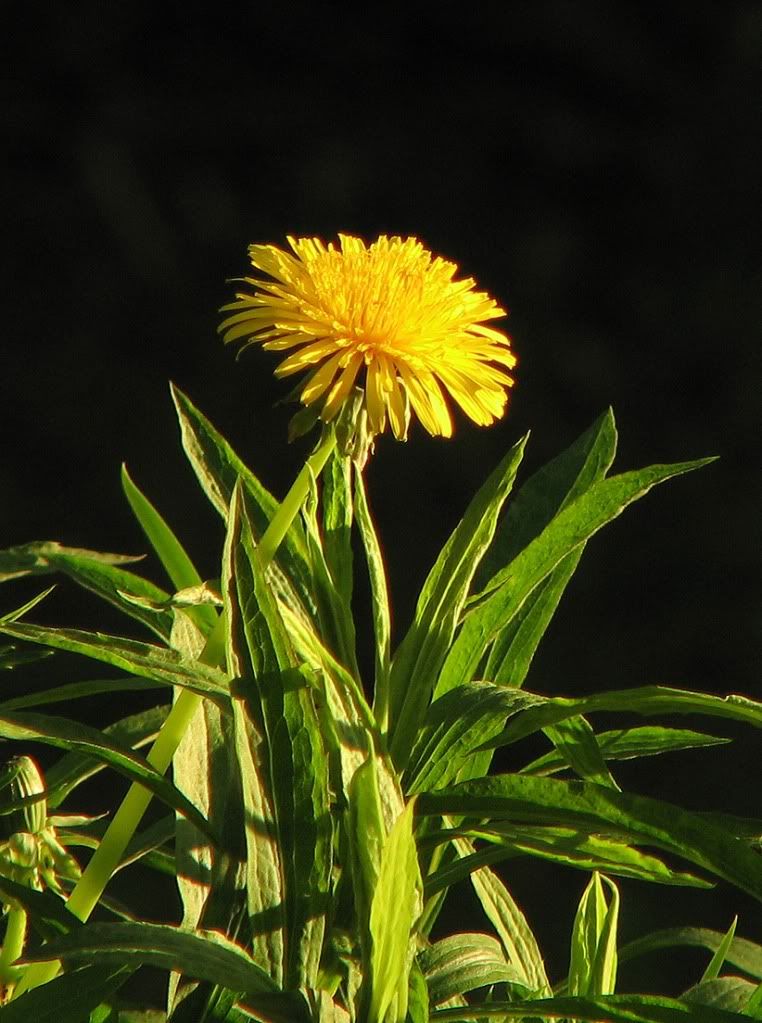 "It gives one a sudden start in going down a barren, stony street, to see upon a narrow strip of grass, just within the iron fence, the radiant dandelion, shining in the grass, like a spark dropped from the sun" ~ Henry Ward Beecher
Dandelions are much more attractive when they're not taking over our lawns.
(please click to enlarge)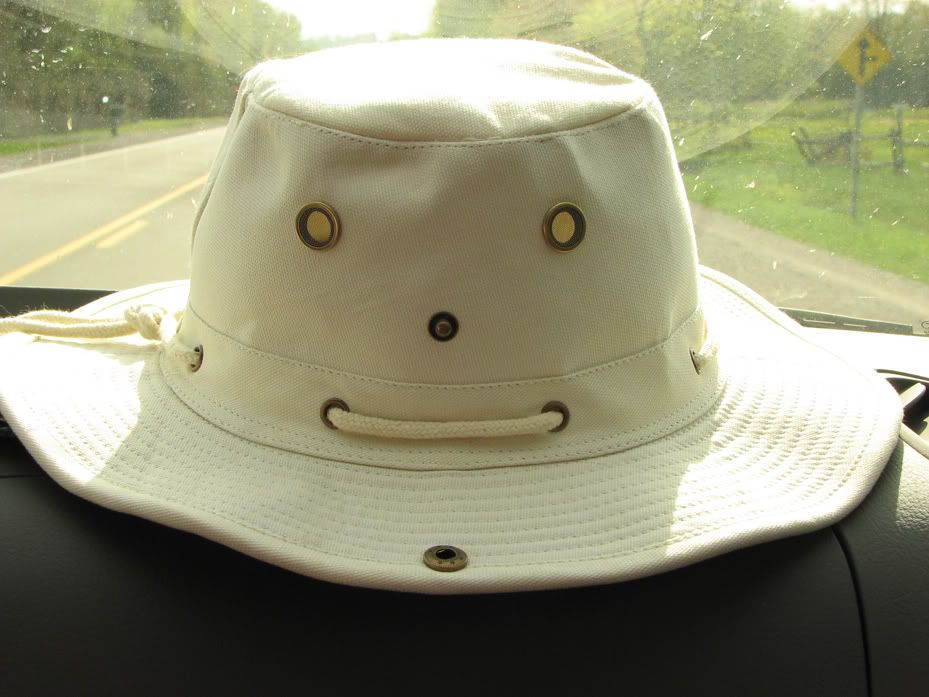 "Light up your face with gladness.
Hide every trace of sadness,
Although a tear maybe ever so near.
That's the time you must keep on trying.
Smile - what's the use of crying?
You'll find that life is still worthwhile,
If you'll just smile.
~ Charlie Chaplin
The last time we went fishing, the sun shone brightly in my eyes, so Frank bought this hat for me to wear this time. I couldn't help but notice that it had a really happy face.
(please click to enlarge)






We weren't the only one's fishing either. Click on this very short video and you'll see this Common Tern take a nosedive upon sighting a fish. It wasn't his only catch for the day. After all, one good tern deserves another...






"We have learned to fly the air like birds and swim the sea like fish, but we have not yet learned the simple art of living together as brothers." ~ Martin Luther King, Jr.
And here's this lovely bird with its catch.
(please click to enlarge)






"That golden sky, which was the doubly blessed symbol of advancing day and of approaching rest." ~ George Eliot (pseudonym of Mary Ann Evans Cross)
A lovely golden sky to end a perfect day.
(please click to enlarge)