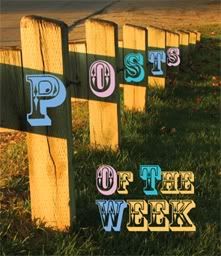 The icon/award to the left here is yours for the taking if blog post has been named as a Post of the Week - either as top post or as a runner up.



This week's top Post of the Week goes to:
Childhood Lost
by Nancy at Life in the Second Half
Other wonderful posts in no particular order are
:
Soul of Musa

by Joseph at Life in Motion
Violated

by Kevin at Blunoz Random Ramblings
Rust on the Roof

by Steviewren from A Little Bird Told Me So
What Is Your Sell By Date?

by FFF at Fat, Frumpy & FIfty
Keeping Up With Rex

by Maria at Gardening With Turtles
A Friday Bench on Saturday

by Kerri at A Little Piece of Me
Also:
Recommended by
Jane:

Noisy Nighttime Orgasm

by The Walking Man


Recommended by
Daryl:


This Week's Windmill

by Anita at Prairie Visions II
Recommended by I'm Being Held Hostage:


Write a Blog and Be Respected

by One Strangely Lush Mother


Recommended by Eddie Bluelights:


Beyond Herself

by Sande at So To Speak


Recommended by DS:
A Tiny Glimpse of Portland, Maine

by Louise at Potted Frog
Please drop by their blogs for a visit and leave a kind comment if you have the time. Also, please feel free to add your own choices for top posts in the comments section below, where others can see them.


Thanks for stopping by!