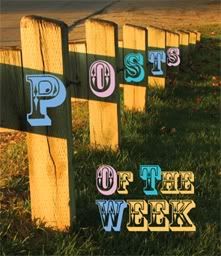 Thank you to everyone who has received my version of David's Post of the Day with such kind enthusiasm. Your support means a lot to me.

What a great bunch of people there are out here in the blogosphere. Below are just a few of the very many.
This week's top post of the week was:

A Cappella
written by
DS at Third-Storey Window
Other wonderful posts in no particular order are
:
Why a 20' Fence is a Very Good Thing
by TSannie at Tombstone Chronicler
Temple Visit
by Terrie at Kappa No He
Double Exposure
by Gary Heller at Gary Heller Photography
Day Four of Fine Arithmetic
by Imbeingheldhostage at In the Gutter
City
by Jim at Suldog
Squirrels & Sand
Maggie May at Nuts in May
Target Practice
by Tom at A Pacific View
63 Kids
by Sandy at Writing in Faith:Blog Your Blessings
Sunday in the Park
by Daryl at Out & About in New York City
Albuquerque International Balloon Fiesta
By Louise at Potted Frog
Please drop by their blogs for a visit and leave a kind comment if you have the time. Also, please feel free to add your own choices for top posts in the comments section below, where others can see them.
Thanks for stopping by!