Several hours after I posted last week's Posts of the Week, I began to wonder how long it had been since David McMahon from Authorblog passed me the torch. Looking back to my first post on this subject, I discovered that it had been exactly one year since I had begun.

So here we are one week later but I'm still going to acknowledge my first year of POTW (not to be confused with my three plus years of blogging) with a new award icon which appears below. You might notice another new feature which indicates to which category the posts belong. I'm not positive if I'll continue categorizing them each week because it's a bit more time-consuming this way. Time will tell.


Today, I'd like to thank David for trusting me with his beloved Posts of the DAY - yes

day

. He found ten posts each and every single day along with all of his other posts. I still don't know how he did it because I find it to be a lot of work to do this once a week. But I'm so glad that he did because it was through is caring efforts that I met many of the folks whose blogs I enjoy today.

So thank you, David and thanks to all of you who support my blog and the blogs of those to whom I link. You folks are terrific!

And now, without further delay, here are the Posts of the week.
The icon below is yours for the taking if if your blog post is named as a Post of the Week - either as top post or as a runner up.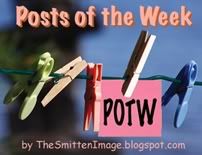 This week's top post is an important reminder by a brave and beautiful lady. It goes to:




Other wonderful posts are categorized below (they may well fit into more than one category but I'm only selecting one for each):
Don't Bug Me While I'm Driving
by Dianne
at Forks Off the Moment
Wee Wisdom
by Fragrant Liar
at Fragrant Liar
Go Play
by Cricket
at Cricket and Porcupine
The Grammies
by Lime
at House of Lime

Little Drops
by Kerri

at A Little Piece of Me
A Man on the Move

by Daryl

at Out and About in New York City
Model Skies

by LadyFi
at On a Quirky Quest With Lady Fi
Green Water

by Steve

at Take A Look Around
The 10/10/10 Challenge

by Keith

at Holdingmoments
Hoodoo That Voodoo That Yoodoo So Well?

by Tabor

at Room Without Walls

On Meeting Adalina
by Pauline
at Writing Down the Words
What's Cooking?

by Jinsky
at Napple's Notes
Beth, She Made My Teeth Hurt
by Brian
at WayStationOne



M.E. and Me
(don't miss page 2!)

by Carolyn
at Busted Halo
recommended by Cricket

Tapestry
by Mrs. Mediocrity
at That's Mrs. Mediocrity to You

recommended by Country Girl
Please drop by their blogs for a visit and leave a kind comment if you have the time. Also, please feel free to add your own choices (for any blog except
this
one) for a specific blog post in the comments section below, where others can see them.