The problem with spending so much time at the cottage is that I come back with far too many photos. OK, so it's not a serious problem. I know what to do with them - post them here, of course.
What? You've never seen a marshmallow tree before? They only bloom at night, and only by the glow of the campfire. By day, the mallows mysteriously disappear shortly after the young raccoons begin exploring.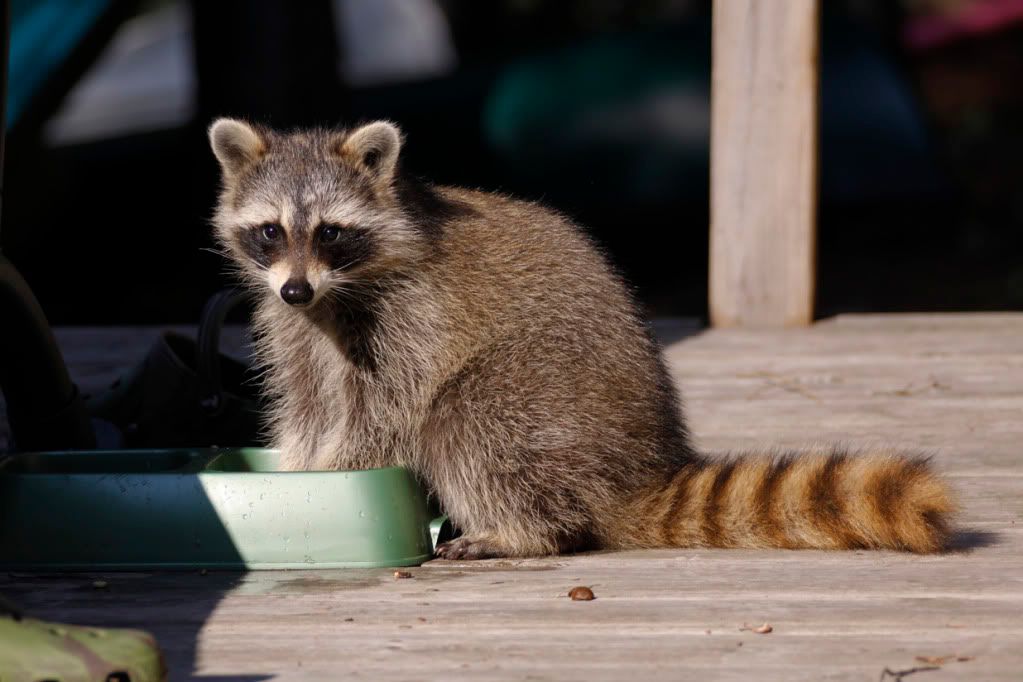 Speaking of which, remember
Bubbles
? She's maturing nicely, don't you think?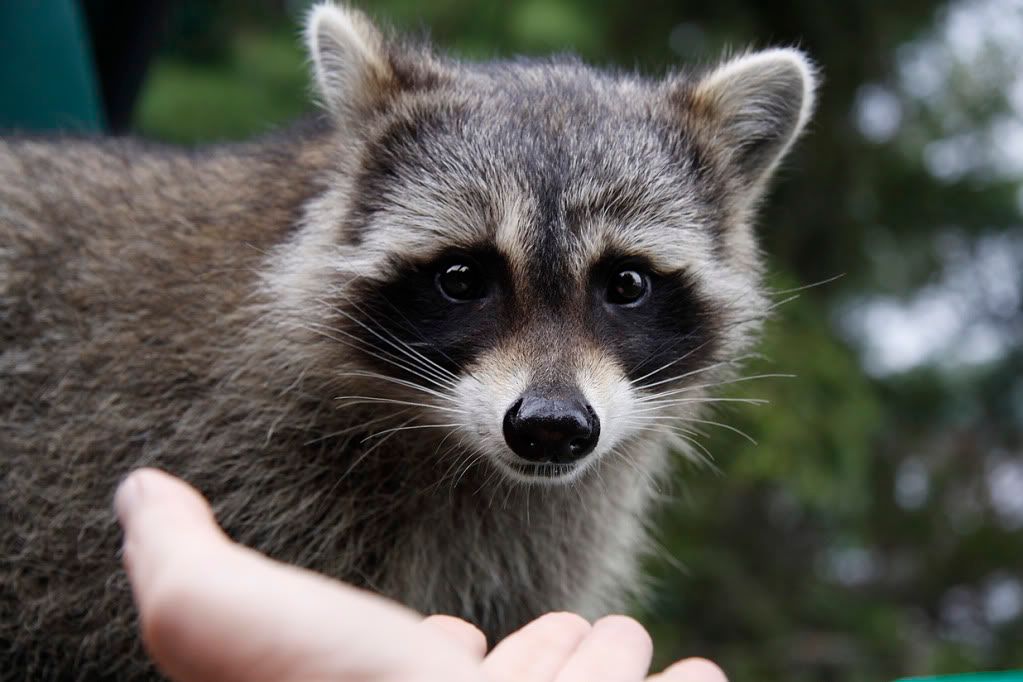 She's a little bit shy, but as gentle as can be with her human friends. She now spends her full time up at the cottage (no more going home when Theresa departs for a few days or a week) and all night out on her own to forage for food. She still comes around to the deck for occasional muchies and a bit of socializing. She allows us to hand feed her if we wish, taking cat food from our hands very gently, and she'll accept petting while she eats. She's become a lovely little lady.
Sadly, her banana-eating baby brother Bayley disappeared a few weeks ago, never to return. He was much too young to survive on his own and I'd like to think that some other kind soul found him and cared for him. He was such a sweetie and sorely missed.
About a week after his disappearance, Theresa acquired a new kit named Binky. She's much younger than either of the other two but she thinks she's top dog in the raccoon world. She's a wild little hellion who is part Tasmanian devil and part angel. Binky loves to bite - not aggressively but more like a puppy needs to gnaw on things. Those things happen to be hands and faces.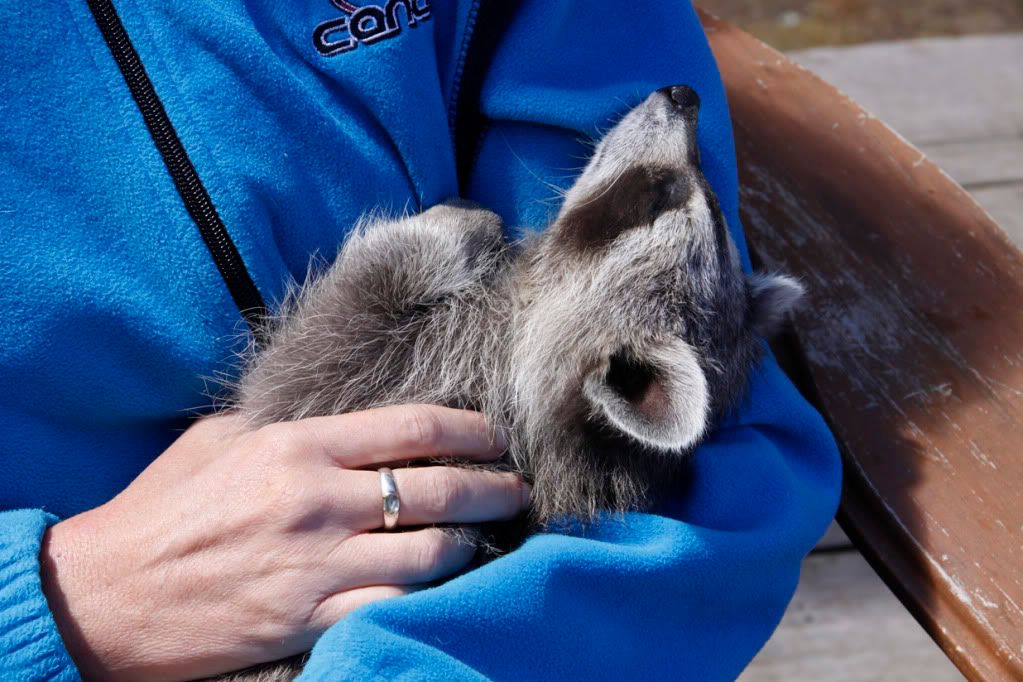 She's also very dependent on her humans right now, and almost always seeks out a lap in which to settle, groom and fall blissfully asleep. (Photo credit goes to
Frank
)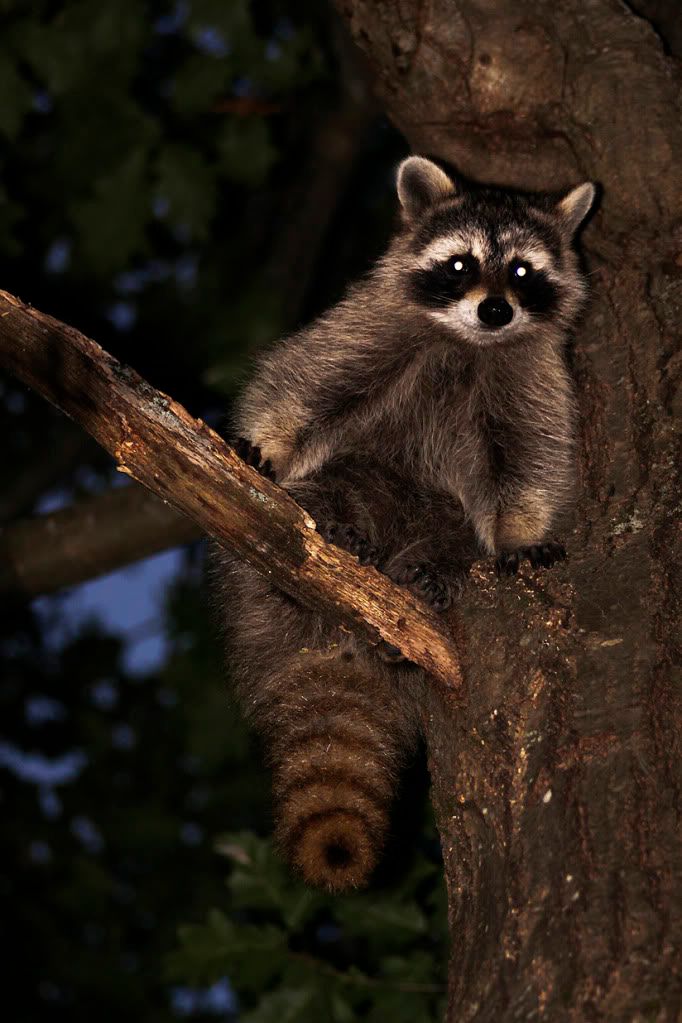 She also likes to climb, as any self-respecting raccoon would.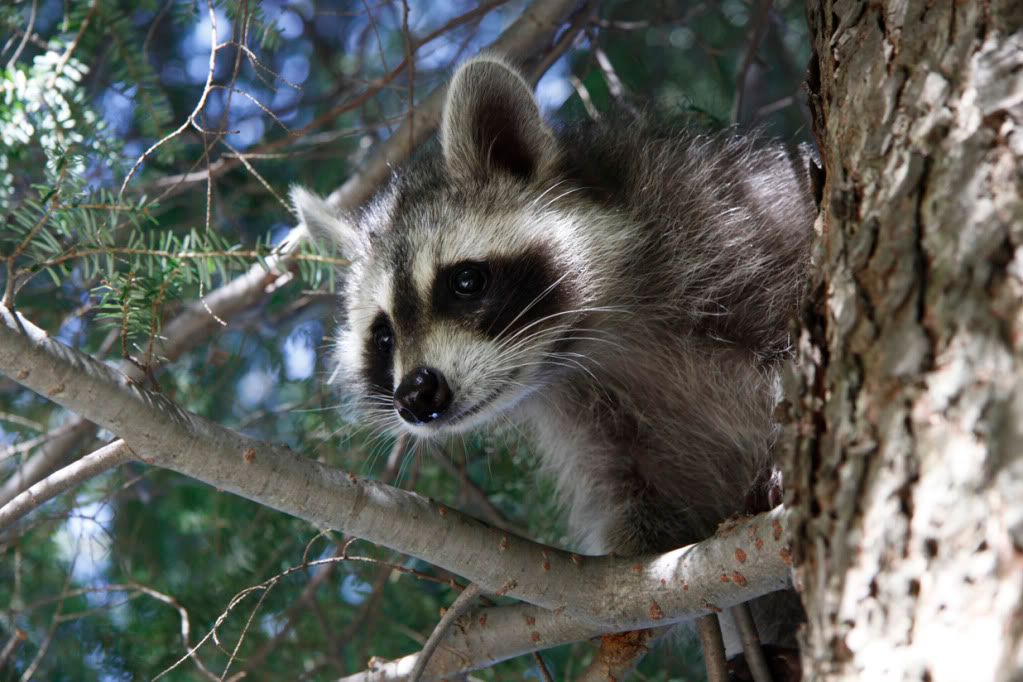 But until recently she was afraid to come back down and needed coaxing. The first time she climbed a tree, it took her at least a half hour to climb down - inch by inch. Once she was finally close enough to grab, she nuzzled into my arms and fell deeply asleep on my lap. That's when I fell deeply in love with her.
One morning, I decided to go for a walk. Theresa's sheepdog, Duncan and Benny tagged along willingly. This was in September, after most folks were no longer up in cottage country - at least not during the week. Benny isn't very road smart and I'm always nervous that someone will drive around one of the curves or over the top of a hill when the dogs are trotting up ahead, so I keep a steady eye on them. We had already walked the long road which leads from the cottage to the main dirt road, when I turned away from the dogs to look glance behind me. I saw something in the middle of the road and it was moving our way...
Not one to be left behind, Binky had followed us up the hill and was trailing behind us on the main road. This photo was taken the next day on the side road when she followed us yet again. And again, every time we attempted to take a walk. If she wasn't so tiny, I'd just let her trot after us but she's much too small to be easily seen by a driver coming over a hill or around a bend. She just as readily followed us back to the cottage each time. Really, this little girl is going to have to learn that she's actually a raccoon.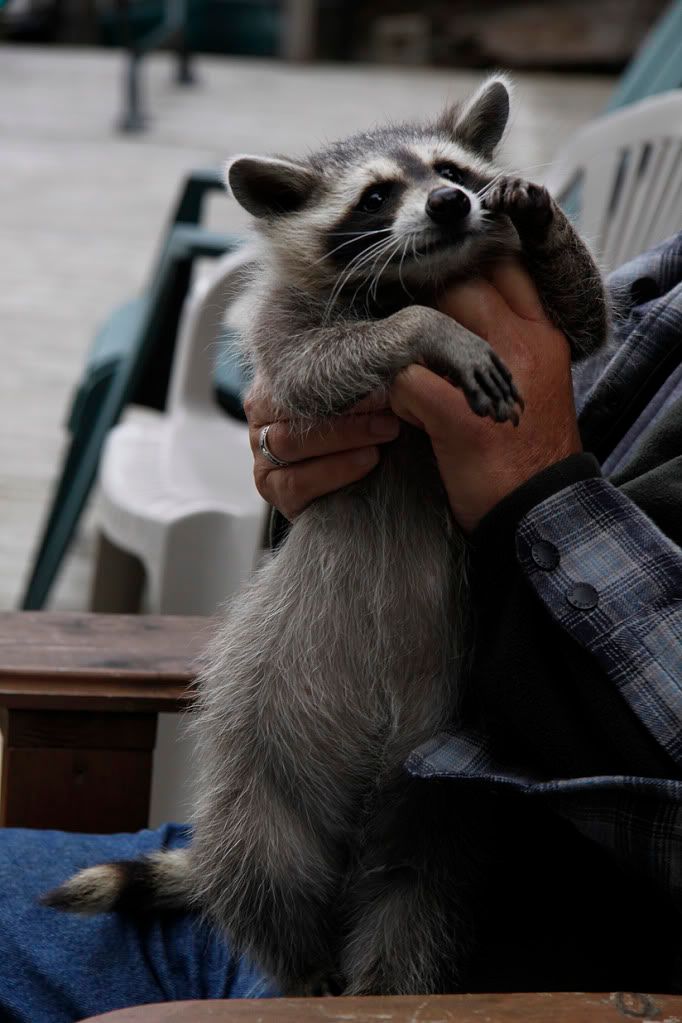 But for now, we're more than happy to offer her food, warmth, comfort and love. There's plenty of time to grow up and learn the harsh realities of being wild.
Binky won't be released this year. She was hand raised for the few weeks before Theresa got her and she's still much too young to make it on her own. When Theresa brings her home, she settles in with her cats. They all sleep on the same bed. It looks like it's going to be a cozy winter for Miss Binky.