Breathe deeply and smell the intoxicating fragrance of autumn - the heady scent of fallen leaves, a smokey wood fire, the spicy perfume of mulled apple cider. Fill a thermos and come with me. Let's enjoy this season's palette of vivid hues.
"There is something in October sets the gypsy blood astir: We must rise and follow her, When from every hill of flame She calls, and calls each vagabond by name." ~ William Bliss Carman
By the side of a road, beautiful shades of autumn as seen from the bridge above.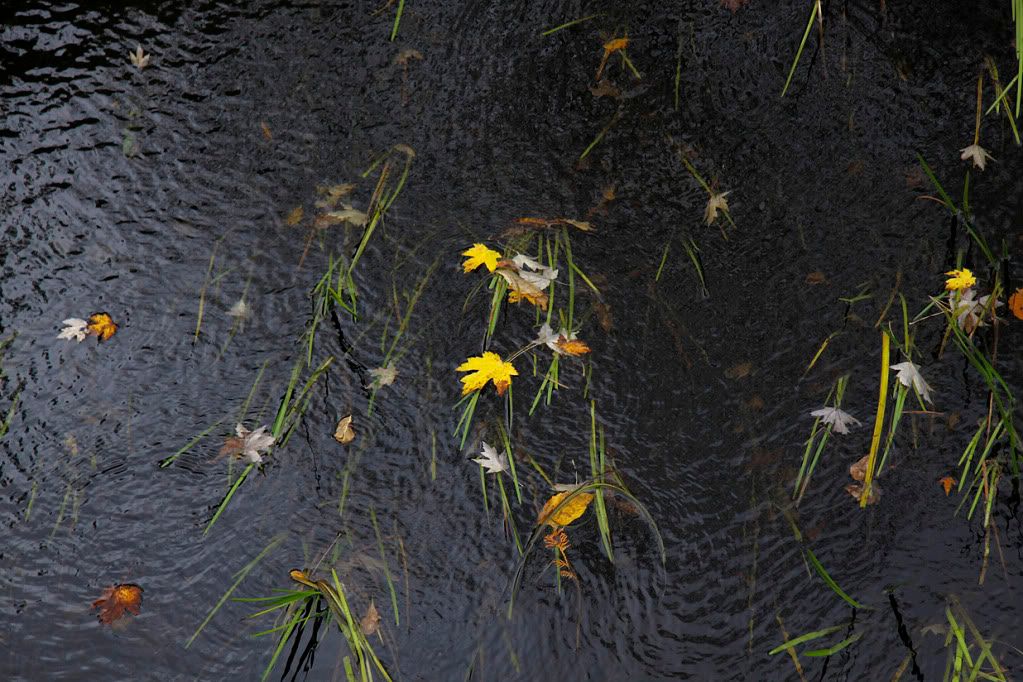 "Autumn is a second spring when every leaf's a flower." ~ Albert Camus
Have a look down into the water. Brilliant leaves dot the meandering creek.
"Climb the mountains and get their good tidings. Nature's peace will flow into you as sunshine flows into trees. The winds will blow their own freshness into you, and the storms their energy, while cares will drop off like autumn leaves." ~John Muir
Watch your step along the water's edge. Fallen leaves blanket the shore in shades of yellow, orange and red.
"Now Autumn's fire burns slowly along the woods and day by day the dead leaves fall and melt." ~William Allingham
A pile of firewood is aglow with the saturated sunlight of late afternoon.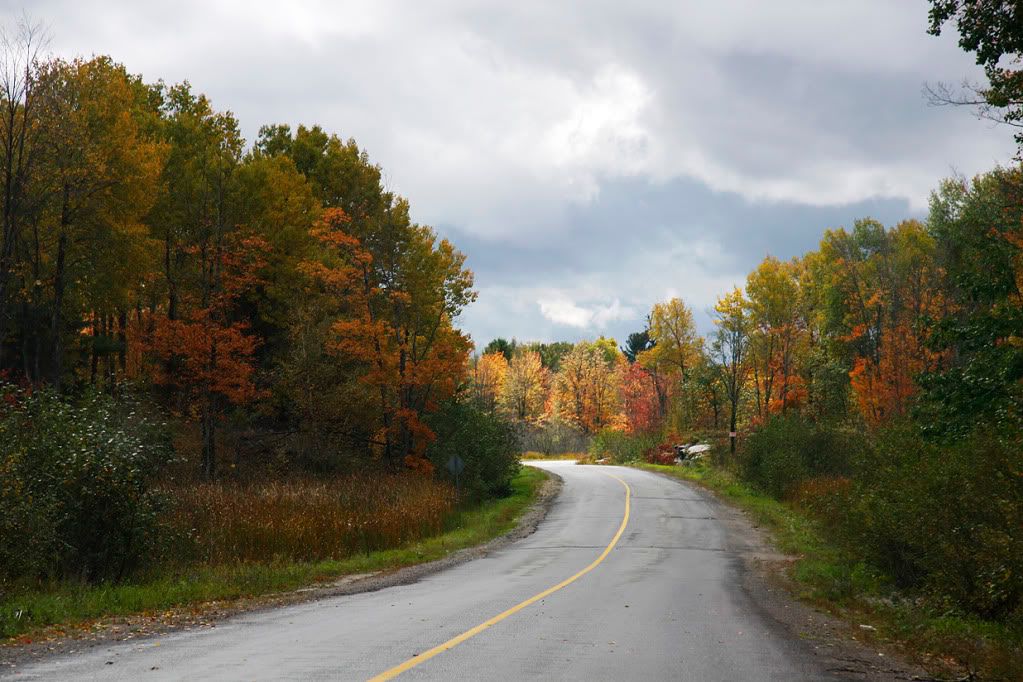 "There is a harmony
In autumn, and a luster in its sky,
Which through the summer is not heard or seen.
As if it could not be, as if it had not been!"
~ Percy Bysshe Shelley
A never ending road lined with brilliant colour.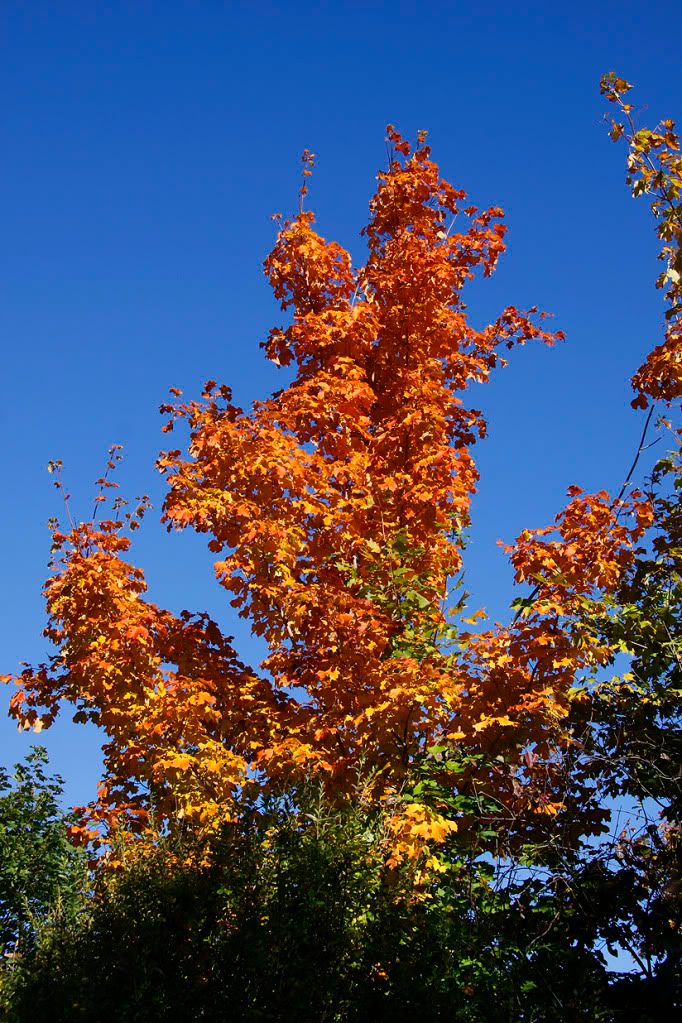 "Autumn burned brightly, a running flame through the mountains, a torch flung to the trees." ~ Faith Baldwin
I think the above quote says it all. This tree reminds me of a torch against a sky of most intense blue.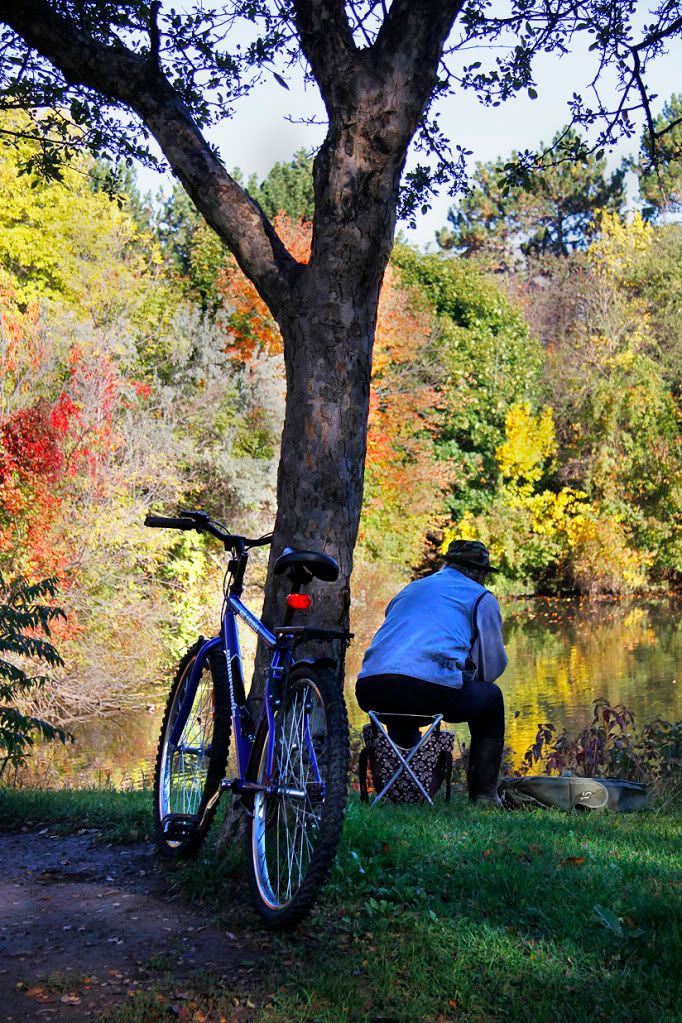 "Often, while sitting on a log or a rock, mentally adrift in that limbo between bites, I begin to fancy that I'm starting to belong there, that roots are about to spring from my boots and moss may start to form on my arms and legs. I feel I am becoming a part of where I am. " ~Frank P. Baron
This angler reminds me of my favourite fisherman and author - hence the above quote is his from his own book
What Fish Don't Want You to Know
. I think we should leave him to fish in peace. Besides, I'm ready for a refill of apple cider. Let's add some spiced rum to it this time, shall we?