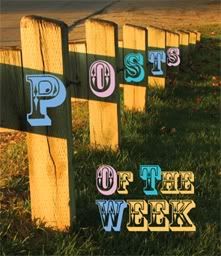 The icon/award to the left here is yours for the taking if your blog post has been named as a Post of the Week - either as top post or as a runner up.


This week's top Post of the Week goes to:
Call It Love

by Sandy at Writing in Faith
Other wonderful posts in no particular order are
:
Fighting for Love

by Lakeviewer at Sixtyfivewhatnow




Alex...

by Grayquill at It's Just So Homer
Book Title Contest

by Angie at Gumbo Writer
I Thought Those Clouds Seemed Vaguely Familiar

by Lime at House of Lime


Gratitude Monday -- Zip A Dee - Yay!

by Leah at The Goat's Lunch Pail.
Trust Me On This

by Ellen at Stuff From Ellen's Head



Milestones

by EthelMaePotter at The Adventures of Fred and Ethel
Rather My Daughters Not Consider the Latest Teenage Accessory

by Margo at Life in the Short Lane


A Head of Collards and a Hunk of Cornbread

by Sandi at Holding Patterns


ABC Wednesday - Letter P

by Sue at Photowannabe

Please drop by their blogs for a visit and leave a kind comment if you have the time. Also, please feel free to add your own choices for a specific top post in the comments section below, where others can see them.




Please note that next week's POTW will probably appear on Tuesday, rather than Wednesday.



Thanks for stopping by!