Last week, Frank and I drove up to the cottage for a quick overnight stay. The purpose was to retrieve a few things left over from our last visit, in the hope that we'd be back for a few more days before season's end. That didn't work out as we had wished, but we did spend a lovely few hours enjoying the sights, sounds and smells for one last time this year. Join me, will you?
We arrived to a blanket of autumn leaves. This was the view of the cottage as seen through the windshield. It had been rainy and cool, and a fire would have been nice, but the wood was too wet for that.

(please click to enlarge)
We decided to go exploring along the shoreline. The lake was far more shallow than it was during the summer. Most of what you see here is usually well under water.
(please click to enlarge)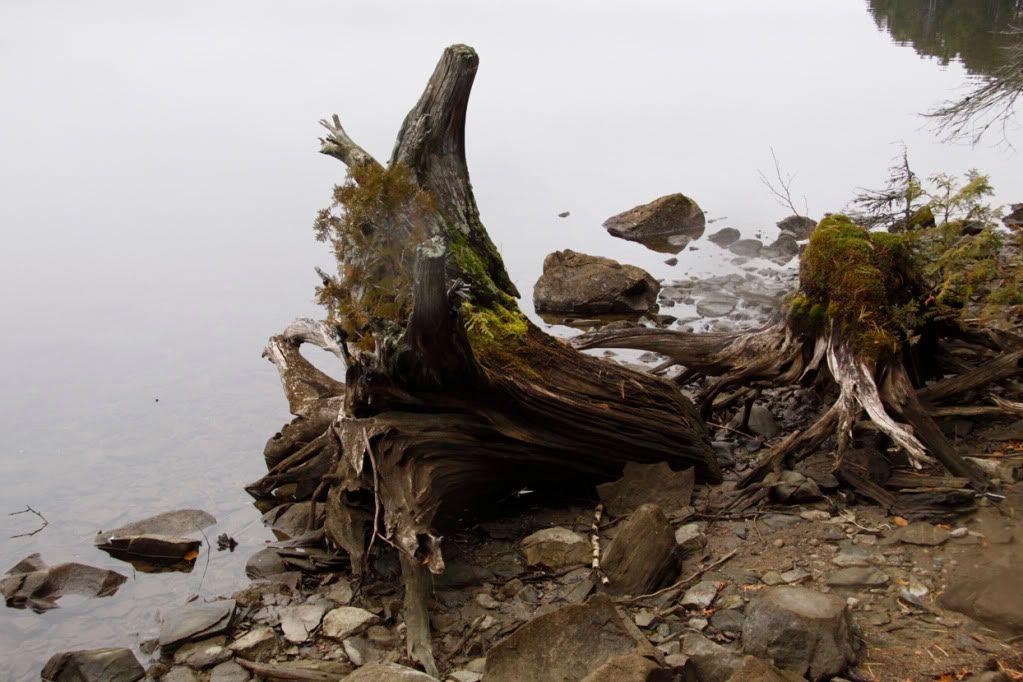 This beautiful hunk of wood helped decorate the rugged shoreline.
(please click to enlarge)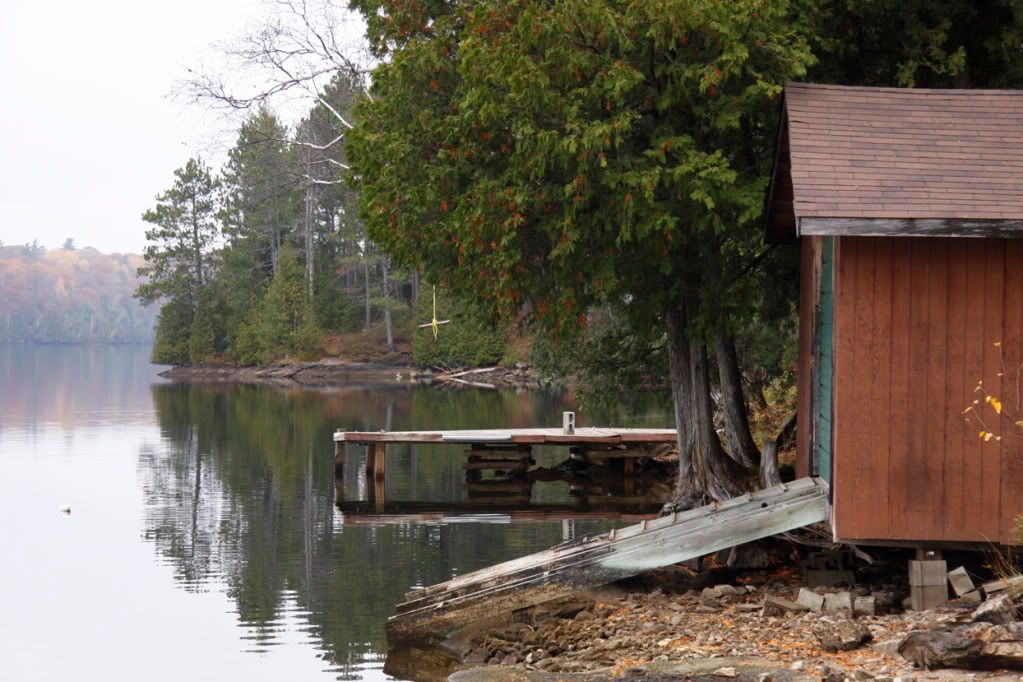 From the other side of the property, you can see that the boathouse ramp scarcely touches the water now, and the dock would require us to make quite a jump if we were to tie a boat to it.
(please click to enlarge)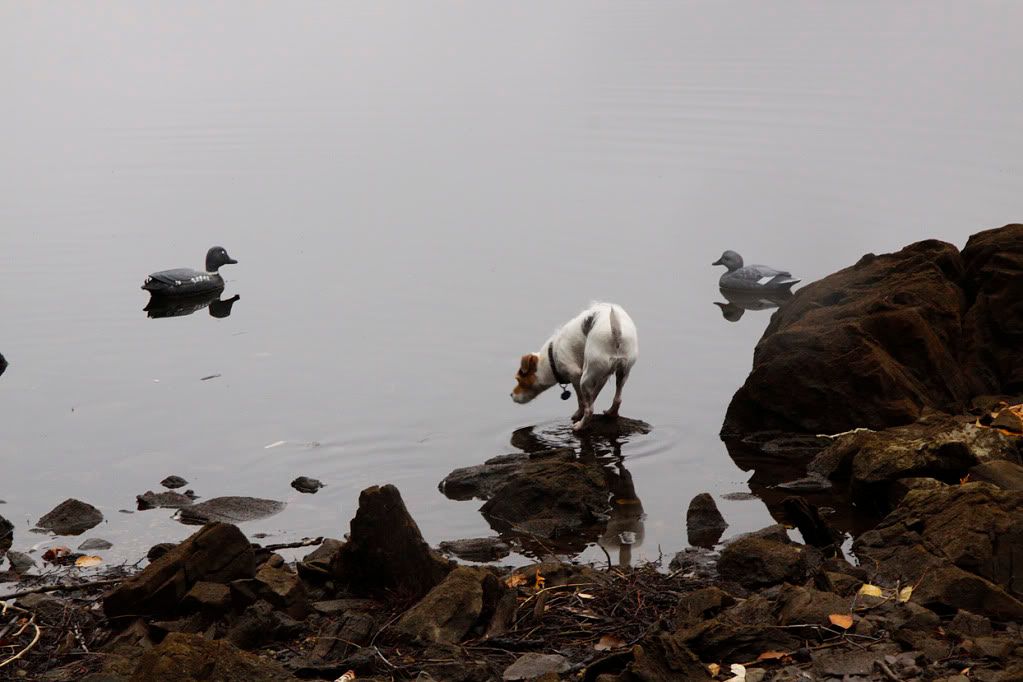 On a neighbouring property, Benny teetered on a rock and wondered why he wasn't frightening the faux loons. He figured it out eventually.
(please click to enlarge)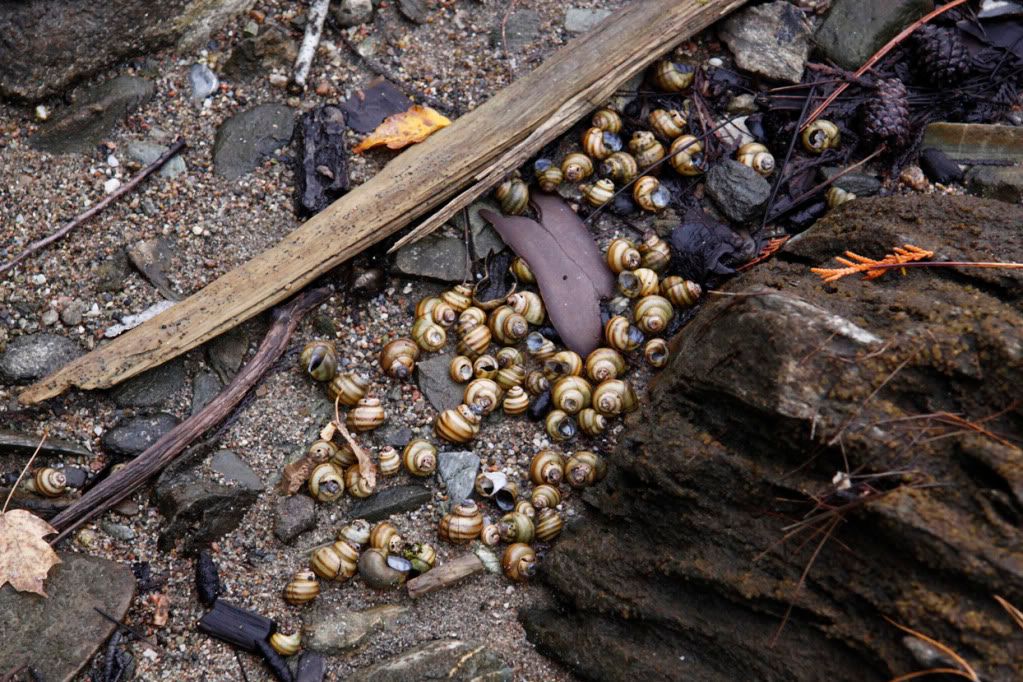 Frank noticed a multitude of snail shells all along a small bay area. There were also hundreds of feathers to be found nearby and for long stretches of shoreline. We were thinking that it might be a popular killing area for a hawk or other predatory bird. Maybe even our eaglets which I saw for one last time when they perched on a semi-distant tree. Like last time, we didn't see the raccoons, but by morning all of the food that we left for them had been eaten.
(please click to enlarge)
Since there was no longer any running water, we had to use the outdoor facilities. The leaves made for a lovely, swishy walk over to the outhouse and back. Don't bother to bring anything to read - it's rather dark in there. A couple of candles and a book of matches made for a good nightlight though.
(please click to enlarge)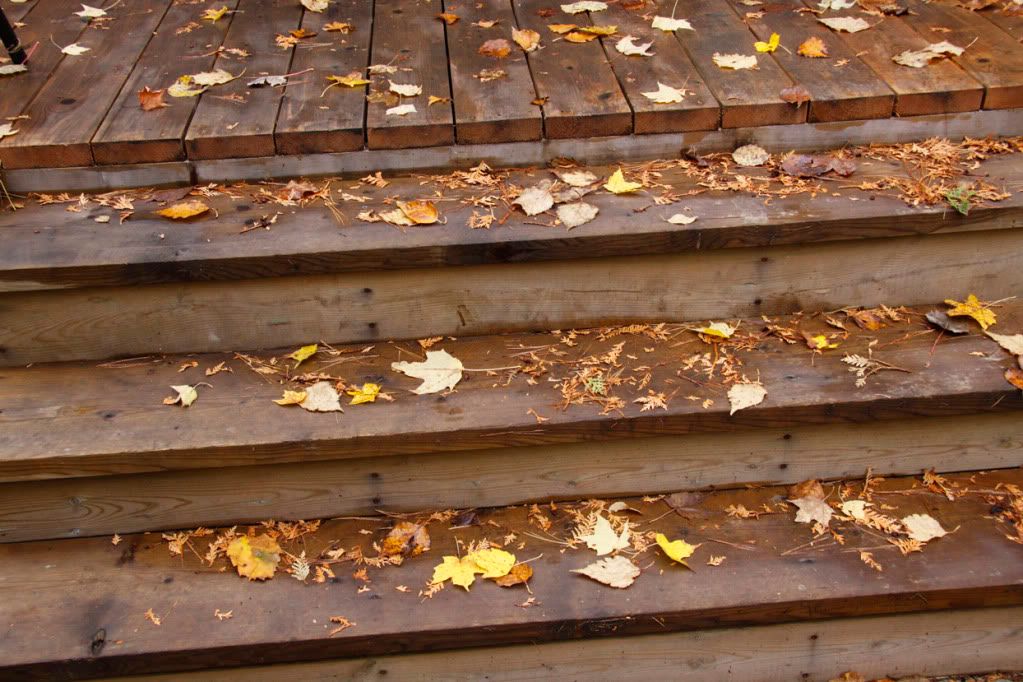 Be careful not to slip on a wet leaf on your way back to the cottage.
(please click to enlarge)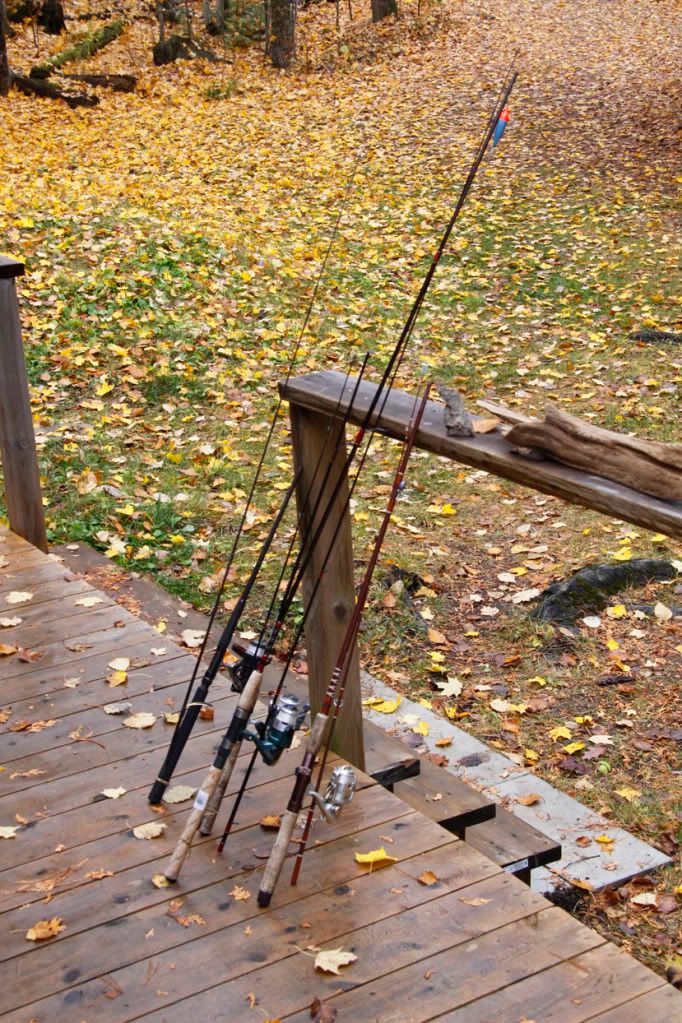 Early the next day, we started packing up for the drive back home. A few of Frank's beloved fishing rods will help get him through trout fishing this autumn.
(please click to enlarge)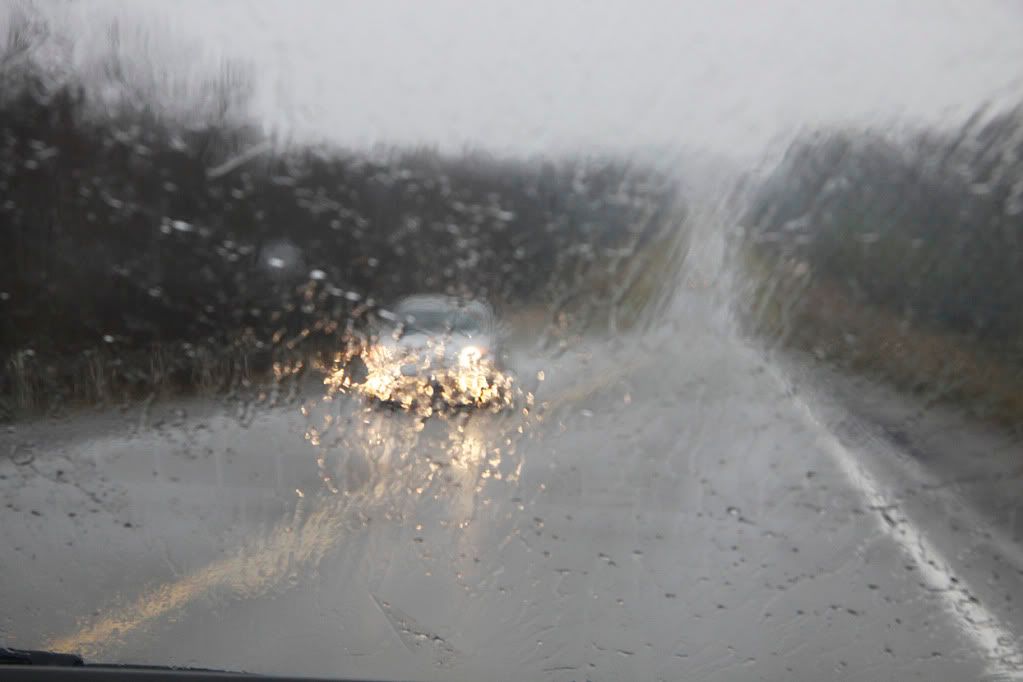 The drive back home took us through heavy rain showers at times.
(please click to enlarge)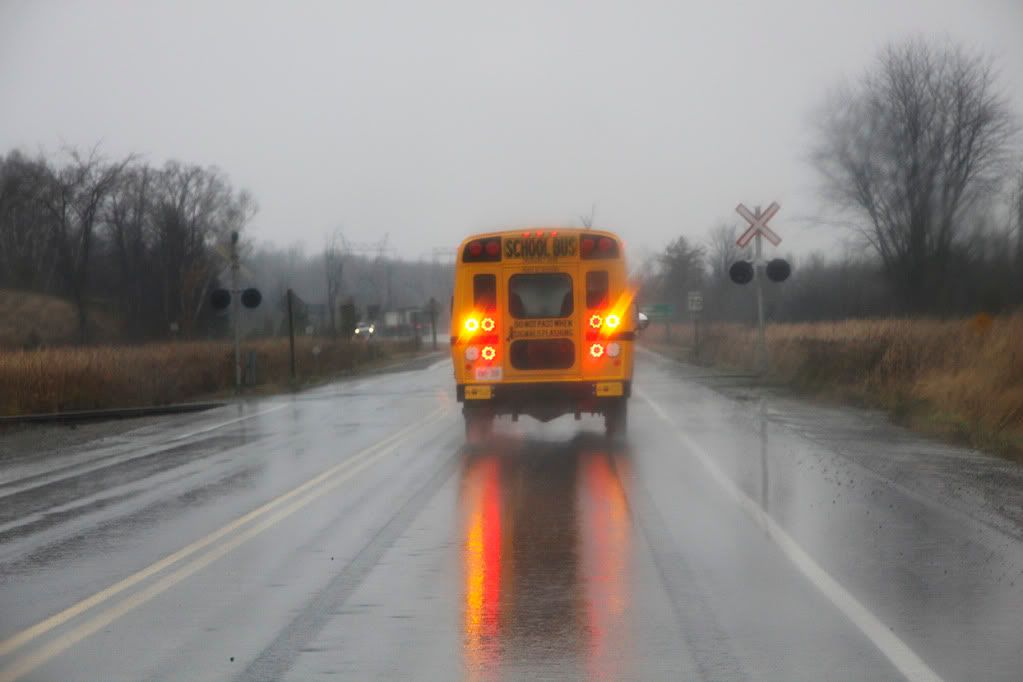 The school bus up ahead of us was sure to stop at every set of railroad tracks. I liked the bright reflection of his lights on the wet road.
(please click to enlarge)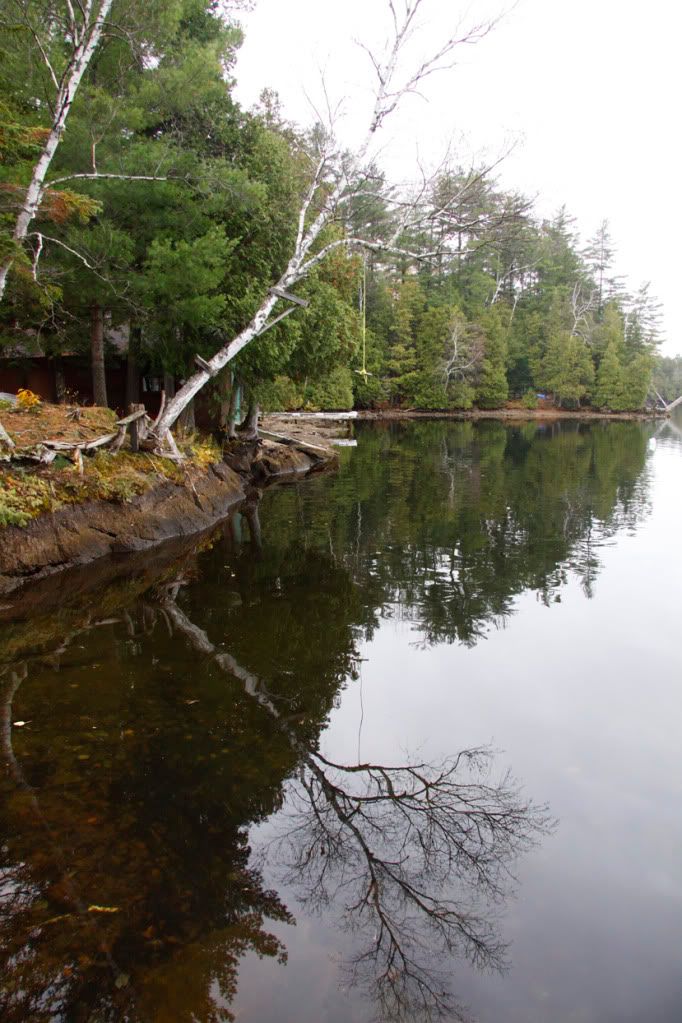 It was a short visit - less than 24 hours but this past season provided many fine memories upon which we'll reflect fondly through the winter.
(please click to enlarge)
Thanks for joining me! I'll have more autumn photos in just a few days.