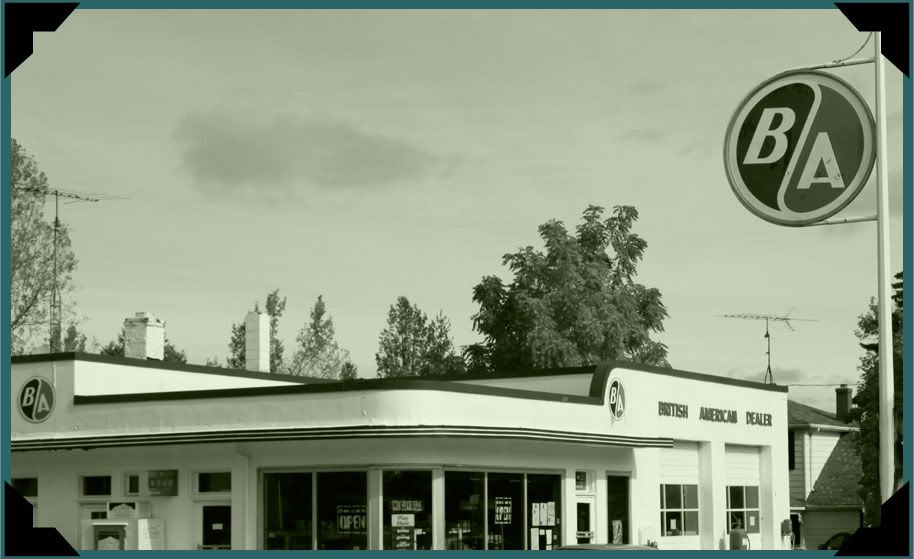 "The beauty of the days gone by
It brings a longing to my soul
To contemplate my own true self
And keep me young as I grow old."
~ Van Morrison - from The Beauty of Days Gone By
When Frank and I decide we're going out, we hit the road early - at the crack of noon. After Benny was walked, critters fed and various bird feeders tended, we were soon on the highway, with open roads ahead and cameras at hand.


Outside my window, rolls of hay reminded me of children playing on a hillside, preparing to roll down the grassy slopes. This photo was taking while we were driving by - hence the blur.
(please click to enlarge)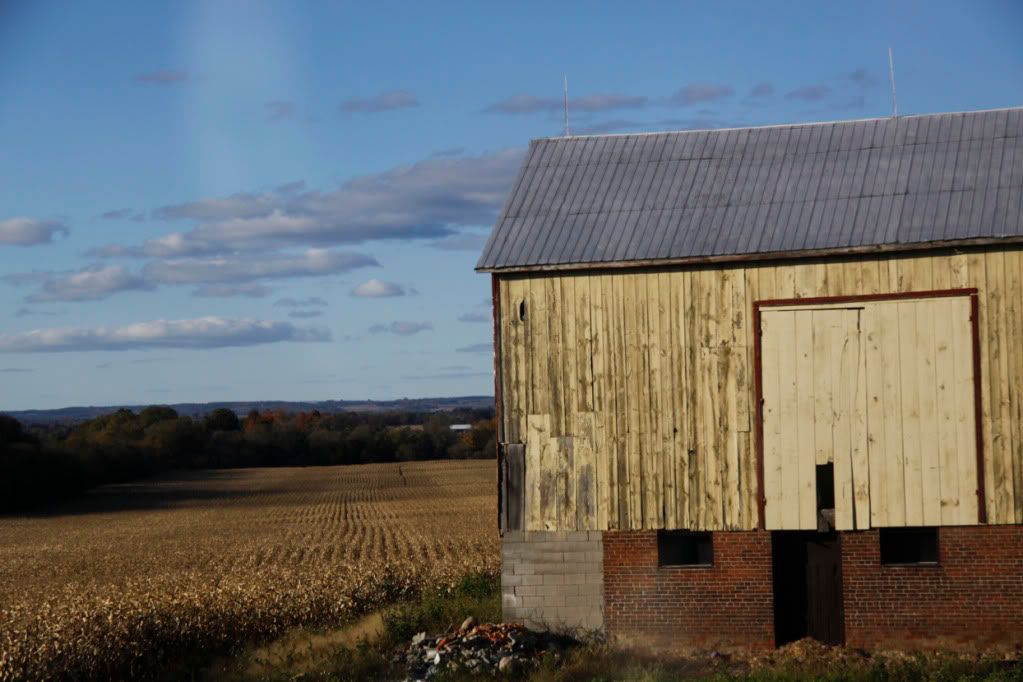 Another drive-by shooting of a barn that caught my eye. Its odd mismatched placement of wood and brick only became apparent to me after viewing the photos. Primarily, I just liked the soft warmth from the wood against the harvested field and the cloudy sky.
(please click to enlarge)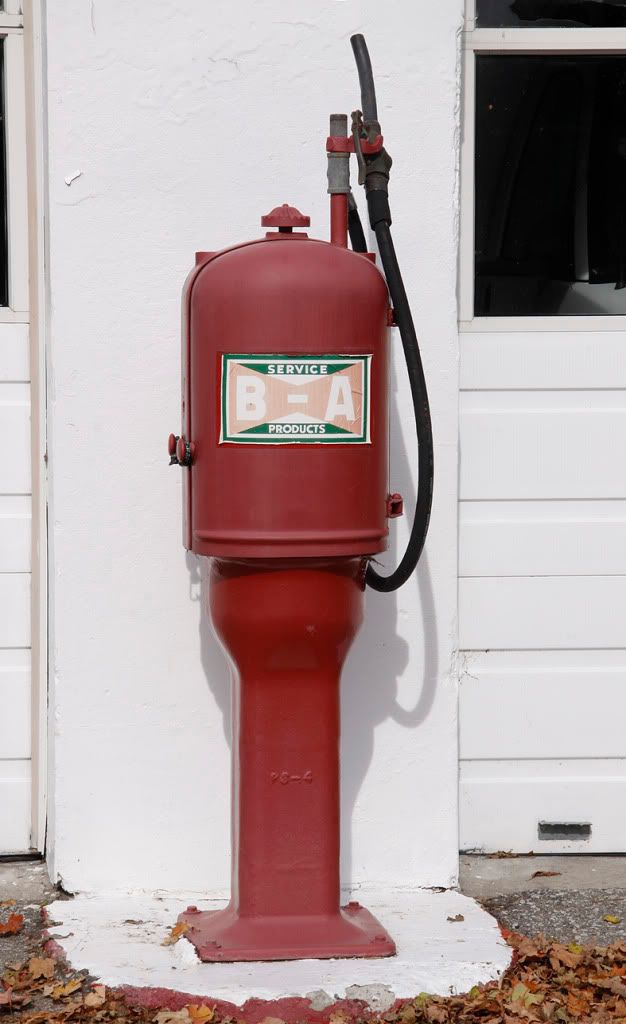 When I was a child, it seemed that the gas stations all had different names than those of today. I'm sure some have merged or have been bought out, and names were changed but I remember seeing rotating signs which belonged to BP (British Petroleum), Shell, Texaco, Gulf, Esso and Sunoco - all which may still exist somewhere in the world but just not in mine for the past several decades.
(please click to enlarge)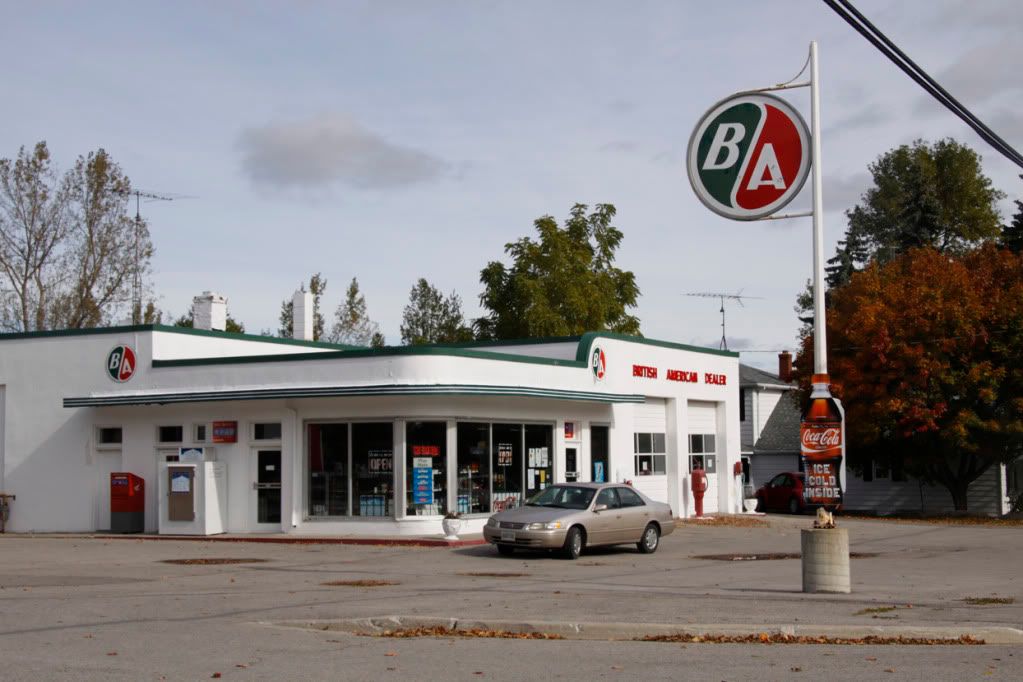 BA (British American) was another one which used to operate a few blocks from where I grew up but I haven't seen their pumps in operation since the 60s. This one no longer functions as a gas station though it kept the name, the building and the old pump shown in the previous photo, and does business as a convenience store. I love the rounded edges of the old gas stations.
(please click to enlarge)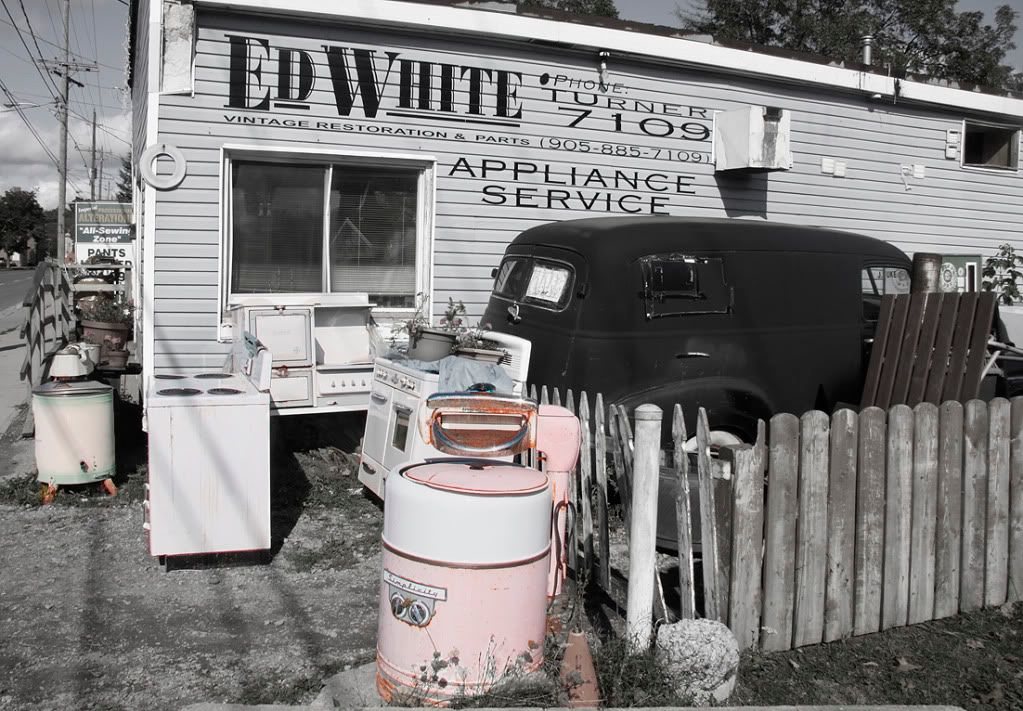 Further along, we spotted this vintage appliance restoration shop with its old washers and stoves out back. I played with the colours in this image a bit, reducing the saturation of everything but the appliances.
(please click to enlarge)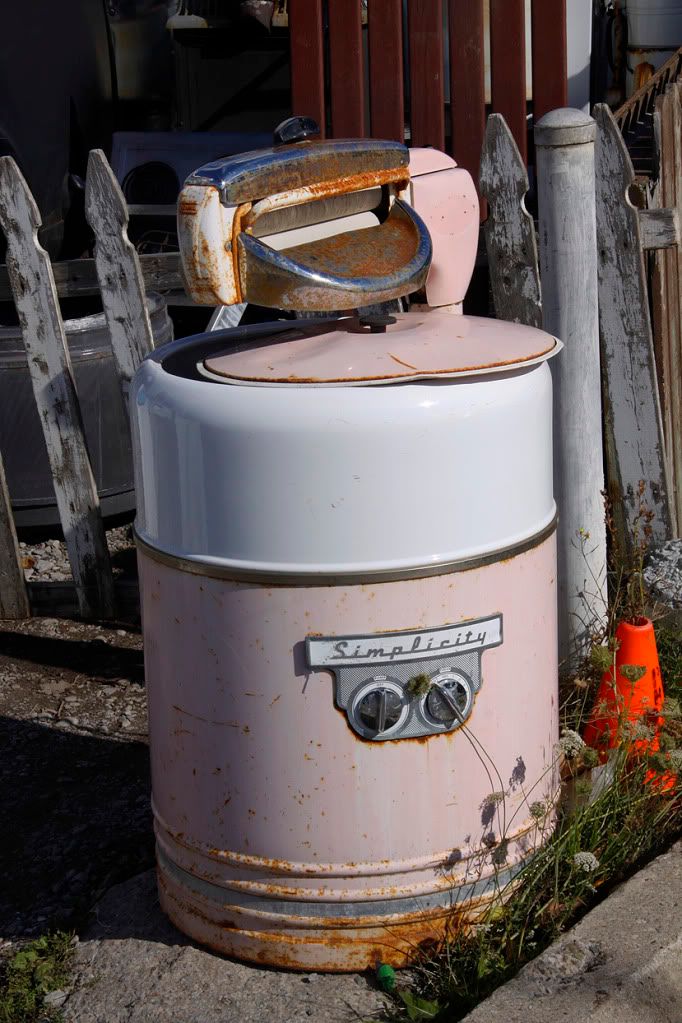 I'm sure some of us still remember these old wringer-washers. Not YOU, of course. You're way too young for that.
(please click to enlarge)
This old rusty stove stood nearby. It appears to be living out its final years as a planter.
(please click to enlarge)
Eventually, we became hungry and found a pub where we had a light meal. The chairs nearby caught my eye. Even here, the bar and wooden floor had an old-style appearance.
(please click to enlarge)
A short while later, the road home stretched out ahead, carrying us to the end of a perfect, old-fashioned day.
(please click to enlarge)
For those of you who made it to the end of this post, it was my 200th. Thanks for joining me!