I've still been in slow-mode when it comes to visiting your wonderful blogs. I get to most of them eventually but by the time I do, you've posted two, three or even more.

So I suppose it shouldn't have surprised me to find a number of snails slooooooowly making their way up a tree.



I don't know what they hoped to find there but whatever it was, it couldn't have been anywhere near as rewarding as climbing my way to the top of the blog pile occasionally. Thanks for your understanding about my fewer than usual blog visits.

And now, without further delay, here are the Posts of the week.


The icon below is yours for the taking if if your blog post is named as a Post of the Week - either as top post or as a runner up.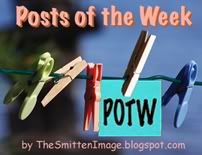 This week's top post goes to:


Other wonderful posts are categorized below (they may well fit into more than one category but I'm only selecting one for each):


Memory Class
by Joanna
at Joanna's Daily Musings
Afternoon Delight
by Sandra
at Absolute Narcissism



A Calming Memory


by Sandra
at Add Humor and Faith



Facing the Morning


by Brian
at WaystationOne





Listening to the Subtle Voices


by Tammie Lee
at Spirithelpers



Decisions


by Barb
at One Good Thing



Thank you and Today's Photos


by Ruth
at Ruth's Photo Blog




Two in Tandem
by Elizabeth and Jinksy
at Alias Jinksy
The Boy
by Fiona
at On A Quirky Quest With Lady Fi
My Husband, the Feminist
by Unknownmami
at Unknown Mami
Please drop by their blogs for a visit and leave a kind comment if you have the time. Also, please feel free to add your own choices (for any blog except
this
one) for a specific blog post in the comments section below, where others can see them.