There's only one thing crazier than a high-energy Jack Russell Terrier. And that's more than one high-energy JRT. Here, Benny met up with one of his own, and a bit of blurry silliness ensued.



Your mission is to provide a caption for this photo. I'll turn off the moderation for the next day and a bit, but I'll publish all of your captions with tomorrow's post. Have fun with it!



And now, without further delay, here are the Posts of the week.
The icon below is yours for the taking if if your blog post is named as a Post of the Week - either as top post or as a runner up.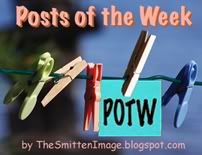 This week's top post goes to:

Magic
by Pauline
at Writing Down the Words

Other wonderful posts are categorized below (they may well fit into more than one category but I'm only selecting one for each):



Yakity-Yak.. Don't Come Back
by Jillsy
at Jillsy Girl Studio

Phoenix Rising
by Zuzana
at Life Through Reflections

Where We Should Invest
by Rosaria
at SixtyFiveNowWhat

One Never Knows What Blows in With the Breeze
by Tabor
at Room Without Walls

One + One = Three
by Beth
at Be Yourself

A Mama's Babies
by Elizabeth
at One Magical Moment Per Day

Emergence
by Kerri
at A Little Piece of Me

Sunset Sunday
by Scott
at Just Used Pixels


Missy Was Found!
by Robin
at Robin's Nesting Place




Why Are We Not Somber?
by Michelle
at House of Lime
Recommended by:
Dave
Please drop by their blogs for a visit and leave a kind comment if you have the time. Also, please feel free to add your own choices (for any blog except
this
one) for a specific blog post in the comments section below, where others can see them.