One of my cats was sick this past weekend. Zephyr, is a really sweet, gentle cat who loves his people dearly but I have to be honest - we come in second, after his first passion - food. So when he forlornly turned his nose up at his typically much-anticipated meals, we knew something was wrong.
And there was also that other thing. Any cat person knows the "whooka, chucka, hucka, hucka huckahuckahucka.. SPLAT" sound of a feline emptying its stomach of food, fur ball or bile. You probably also know what it's like to try and locate it in the middle of the night, only to do so with your bare foot.
Anyway, he began to show signs of recovery shortly before bringing him to the veterinarian, and did continue to improve after emptying my wallet of a small fortune which led to his eventual diagnosis of pancreatitis. He's on meds now, and doing well.
Frank was sweet enough to stick around an extra day past his usual weekend visit so that we could bring Zephyr to the vet. After all was done, Frank left for home. It was a rainy day, and after he pulled out of my driveway, I happened to notice that the dry spot left behind, from underneath his car, appeared to be in the shape of a seated cat.
Can you see it? It's upside down from this viewpoint.
Here's a closer look, rotated to give you a better view. I think it was Zephyr's way of saying "Thanks!"

And now, without further delay, here are the Posts of the week.


As I've mentioned, I've been spending less time visiting and commenting on blogs lately, so it stands to reason that my POTW list might be shorter.. and it is. That's probably fine for those of you who also need to spend less time visiting blogs.

The icon below is yours for the taking if if your blog post is named as a Post of the Week - either as top post or as a runner up.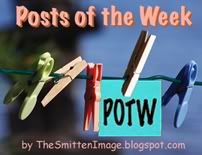 This week's top post goes to a most tender tale:


Other wonderful posts are categorized below (they may well fit into more than one category but I'm only selecting one for each):



Oh, the Life of a Supermodel...
by TexWisGirl
at The Run*A*Round Ranch Report

Kids Say the Darndest Things
by Linda
at To Behold the Beauty

Patterns
by Betty
at Bossy Betty

L is for...
by Ellen
at Stuff From Ellen's Head



Contrast
by Adrian
at Adrian's Images

The Fog Come In On Little Cat Feet
by Kate
at Chronicles of a Country Girl

Bryce Canyon, Utah
by Moi
at Not By A Long Shot




Spunky Redux
by Daryl's Ray
at Out and About in New York City
Please drop by their blogs for a visit and leave a kind comment if you have the time. Also, please feel free to add your own choices (for any blog except
this
one) for a specific blog post in the comments section below, where others can see them.