Today's and tomorrow's posts have both been scheduled. I'll be away from the computer for a couple of days. I'll catch up with blog visits and comment replies when I'm back home.
On the day I saw this smattering of oak leaves, I had a few questions tumbling about in my mind. Somehow, the leaves' position on the pavement vaguely reminded me of a question mark. Can you see it?
And now, without further delay, here are the Posts of the week.
The icon below is yours for the taking if if your blog post is named as a Post of the Week - either as top post or as a runner up.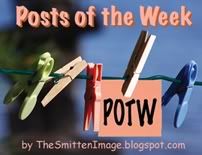 This week's top post is a very touching read which will warm your heart. It goes to:


Other wonderful posts are categorized below (they may well fit into more than one category but I'm only selecting one for each):



105 Years Old Today
by Jim
at Suldog


The Second Rate Santa...
by Travis
at One Word, One Rung, One Day

Lime's Gift Guide for the Disturbed
by Lime
at House of Lime

Captain Jack Awakens
by Dianne
at Forks Off the Moment



JP and Picasso: A Sorry Tale
by Moannie
at A Pyramid of Piffle

The Exuberance of Youth
by Mami
at Unknown Mami


Parchment Crisp Petal
by Tabor
at Room Without Walls

Portovenere
by Indrani
at I Share

Night Photo
by Dawn
at Puzzle Pieces




This Day Began...
by Pauline
at Writing Down the Words

How Do You See, What Do You See?
by Steviewren
at A Little Birdie Told Me So



Remy Broussard's Christmas
by Kittie
at The Block
Recommended by Jane at Gaston Studio
Please drop by their blogs for a visit and leave a kind comment if you have the time. Also, please feel free to add your own choices (for any blog except
this
one) for a specific blog post in the comments section below, where others can see them.