This bowl of Mandarin oranges and one lemon sits in my kitchen. The colours caught my eye one morning, and so I decided to share them with you. Enjoy the oranges but please save the lemon for tonight's fish dinner.


And now, without further delay, here are the Posts of the week.
The icon below is yours for the taking if if your blog post is named as a Post of the Week - either as top post or as a runner up.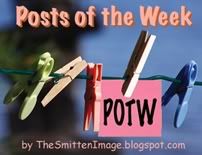 This week's inspiring top post goes to:
Hope
by Wendy
at Changes With Seasons

Other wonderful posts are categorized below (they may well fit into more than one category but I'm only selecting one for each):



Remembering Emily
by DJan
at Djan-ity
The Walk Down Ornament Ally Ends
by Betty
at Bossy Betty

Humor
by Joanna
at The Fifty Factor


Christmas Eve at Home
by Friko
at Friko's Musings

& the Line Moves
by Brian
at Waystationone



Just Life and Light
by Daryl
at Through My Eyes


Holiday Magic
by Kat
at Seeking Sanity


Angels Today
by Tabor
at Room Without Walls



The Magic of Christmas
by Travel Nurse Extraordinaire
at Goin' to Cali

The Sound of Christmas
by DS
at Third-Storey Window



Scent
by Living in the Land of Nod
Recommended by: Joanna at The Fifty Factor
Please drop by their blogs for a visit and leave a kind comment if you have the time. Also, please feel free to add your own choices (for any blog except
this
one) for a specific blog post in the comments section below, where others can see them.