This little guy worked very hard to get at the last bits of suet on this sunny, but cold morning. This was taken from a friend's house, through the two panes of glass of her upstairs window, one yard over. He spent such a long time at the feeder just begging me to go get my camera - so of course I did.
After he worked the last bit of suet from the cage, he relaxed atop a nearby fence post to finish it off. He earned that treat.


And now, without further delay, here are the Posts of the week.
The icon below is yours for the taking if if your blog post is named as a Post of the Week - either as top post or as a runner up.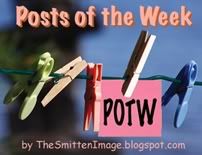 This week's inspiring top post goes to:



Other wonderful posts are categorized below (they may well fit into more than one category but I'm only selecting one for each):




Character on Display
by Slamdunk
at Slam Dunks


Slappin' Leather
by Daryl's Ray
at Out and About in New York City

Penny Goes on Bad TV
by Dianne
at Forks Off the Moment



The Great Sled Race
by Pauline
at Writing Down the Words



Into the Weekend
by Keith
at Holding Moments


Life Boats
by Dawn
at Puzzle Pieces


A Giant "Sand" Box
by Kathleen
at Easy for Me to Say

Sparrows
by Christine
at Christine's Blog




A Legend on the Trail
by Linda
at To Behold the Beauty

A Picture's Not Always What It Seems
by Karen
at What Karen Sees

Blanket of Snow
by Elizabeth
at One Magical Moment per Day

Fall Romance
by Tabor
at Room Without Walls

Please drop by their blogs for a visit and leave a kind comment if you have the time. Also, please feel free to add your own choices (for any blog except
this
one) for a specific blog post in the comments section below, where others can see them.