"And all the night's magic seems to whisper and hush. And all the soft moonlight seems to shine in your blush"
The above lyrics are from the song Moondance by Van Morrison. It ran through my head the other night as I walked around the lake, full moon up above. The sky was cloudy, but there were clear patches and every so often the moon would come into focus. Below are a few photos taken around the nearby park paths and pond.


The fresh-fallen snow helped to reflect the light. This light source is a nearby lamp post. I just like this tree and tend to photograph it fairly often.
Moon and clouds worked together to tease and delight.
High above the pond, the moon made a brief appearance before disappearing to await the approaching blue sky.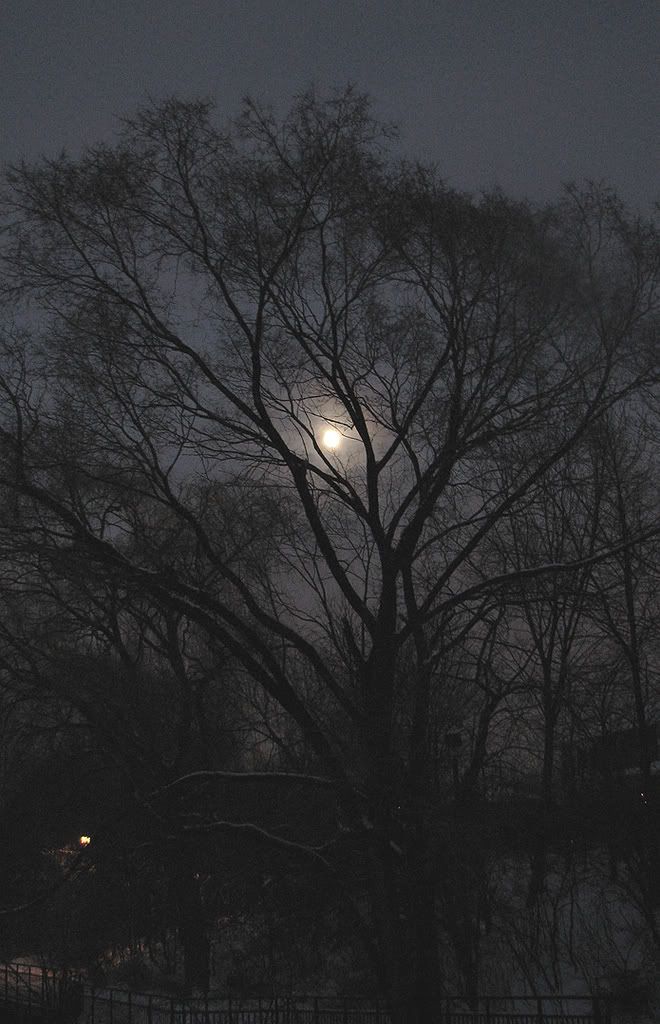 As the wispy clouds threaded their way across the sky, the misty moon peeked through the branches of the trees below.
A lovely golden orb balanced on delicate tree fingers.
There were times I felt that I could reach out and touch it.
Along the tree-lined path, I was interested in capturing the moon's light, but discovered that lights from the homes across the pond were perfectly lined up to appear at the left of each tree.
As my walk neared to a finish, I paused to watch the geese swimming in the amber light of the lamp post.



It was a marvelous night for a moondance.


This post was a repeat from January, 2009.