Benny doesn't always get what he wants but that never stops him from trying.
Benny is watching baby Lily very intently. What could he possibly want?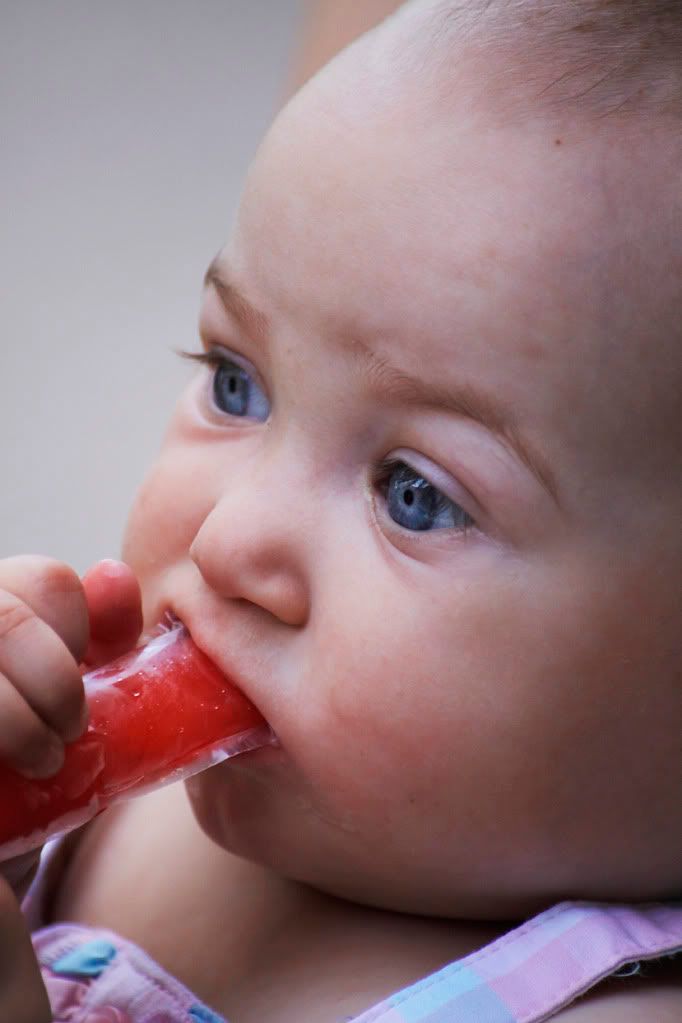 He thinks that unopened freezie is some sort of stick and he'd like to fetch it. Never mind that she's already gnawing on it to ease her gums while teething. Benny thinks that it's his turn to chew it to bits.
What could possibly cause Benny to make this ferocious face? I mean, aside from his crazy Jack Russell Terrier brain?
He likes to bite the bubbles. The previous photo was taken in mid bite. The bubble had already disappeared but his mouth was still open.
What do you suppose it is that Benny wants in this photo? He's in the back seat of the car, inside his crate. His eyes are on Frank, who is driving to the cottage.
He wants the drive to be over so that he can get on with his summer activities - like surfing.
What does Benny think he'll get by jumping up at the cottage screen door like that? Look up at the top left corner of the doorway to get an idea.
Never mind, it's come down into full view. Yup, Bayley
*
the raccoon kit. Benny figures it would be fun to have just a little nip at his tail. By the way, that duct tape you see is not covering a hole made by raccoons. I know you were thinking that but you were wrong. Raccoons have not done any damage to this screen - yet. It was actually caused by a red squirrel. Bayley
*
just wanted to come in out of the rain and sat there crying for Theresa.
What does Benny believe he's missing out on as he looks into the camera from the dock?
He wanted to come along on this fishing trip but we knew better. Benny spends his time on the boat running back and forth from stern to bow, jumping on laps, biting rods, narrowly escaping hooks and going into manic mode if we catch a fish. So he waits impatiently on the shore until we get back.
And finally, what does this crazy dog think he's doing in this short video (just over a minute)? He actually spent about five minutes working at splashing the water out of the container. There really was a method to his madness though. Watch and find out.
He simply wanted to play with the empty container and it was just too heavy to lift with all that water in it. He's crazy, yes. Crazy like a fox.
* Sadly as of this post, sweet Bayley has been missing for five days. He and Bubbles escaped their overnight crate and though Bubs came home the next evening, Bayley never did. He has the sweetest character and Theresa is quite in love with him (as am I). Best thoughts for wee banana-loving Bayley, please?