So we were driving back from the cottage last month, and this water bottle was resting on its side in the little compartment between the car's two front seats. The sunlight was hitting it in such a way that it created little blue hieroglyphics in the waterless gap created by an air pocket. The truth is that I was just bored and snapping photo of silly stuff but I did notice these designs in each of the three separate sections of the bottle when I uploaded the image.


1 - A comic book or cartoon portrayal of a headressed native chief dancing and playing drums.


2 - An elephant or American buffalo charging.


3 - A cartoon dog wearing a bandit's mask.


What do you see?
If you enjoyed looking for images in the photo above, you'll love Jillsy Girl's post

Things That Go Bump in the Night

listed below.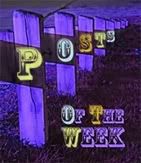 This week's issue is also a bit larger than usual. I'll be heading up to Frank's family cottage later today and probably won't be back in time to collect new posts for next week's POTW. I hope these will hold you until the next time.


The icon to the left here is yours for the taking if your blog post has been named as a Post of the Week - either as top post or as a runner up, today or in past weeks.

Without further delay, this week's top post is a tie between: