Who doesn't love spending time by the water at this time of year? Whether it's a lake at the cottage, a coastal beach, a lazy river, a babbling brook or a local pond, animal life is a wonder to watch. Come join me to take a look at what I've seen in and around the water recently.





While out for a drive near Frank's place, we were kind of on the lookout for families of geese, knowing that they were nesting in the area. Frank pulled over abruptly having caught sight of this crew about to make their way across the road. By the time I got out of the car and raised the camera to my eye, they were well on their way.






These traffic-stoppers reminded me of kids on their way to school, negotiating the busy road with the aid of a crossing guard.






Down near the marina, we saw about a half dozen of these beautiful Mute swans. They were a bit nervous as I approached the shoreline, so I stood back and let my zoom lens find one.






In the waters of Lake Ontario, this mother and her two gosling went for a swim. It was a dull day, and my distance from them did not allow for a good photo, so I decided to play with them in Photoshop instead.






One of the many beautiful waterfront views in Frank's lovely part of Ontario.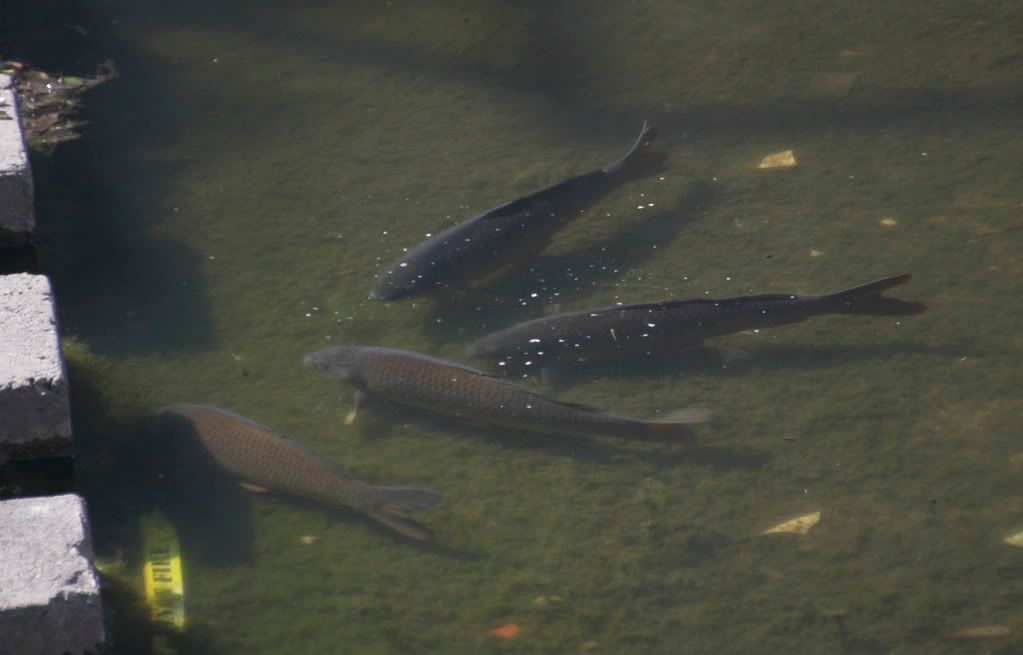 Back home, life is waking up in our ponds. Walking near the dam one day, I heard and saw a tremendous splash. Then another and another and still more. All in different spots. It turns out it was carp getting all frisky and ready to mate with their lovely carp-ettes. There were so many of them all over the lake - like wall to wall carp-etting.






In a different pond, a fifteen minute walk from home, these little cuties were all around the shoreline. Frank tells me that they're Pumpkinseed Sunfish, but then again, what would

he

know about fish?






Even cuter than the fish, were the goslings which shared the shore with me. Isn't this a friendly looking little guy? He's practically smiling.






Less amused was Mother Goose who kept a wary eye on me. I kept a respectful distance from her young and she soon relaxed.






At one point, she looked off into the water and I felt a sadness wash over me.






Stop destroying our planet.