This video is an oldie but it's too cute not to share - just in case you've never seen it. Prepare to say "awwww."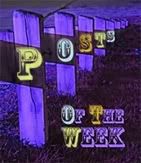 The icon to the left here is yours for the taking if your blog post has been named as a Post of the Week - either as top post or as a runner up, today or in past weeks.


This week's top post is about a little guy who could use our help. It goes to:
Other wonderful posts in no particular order are:
Please drop by their blogs for a visit and leave a kind comment if you have the time. Also, please feel free to add your own choices (for any blog except
this
one) for a specific blog post in the comments section below, where others can see them.