The mystery image above was taken a few days ago. It's either going to be really obvious or it might possibly have you stumped. I'm going to moderate comments just for today. See if you can guess what the mystery image is. I'll post the answer tomorrow.
And now, without further delay, here are the Posts of the Week
.
The icon below is yours for the taking if if your blog post is named as a Post of the Week - either as top post or as a runner up.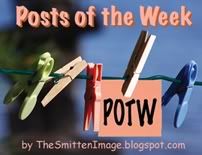 This week's POTW goes to..
More wonderful posts are categorized below (they may well fit into more than one category but I'm only selecting one for each):

Sock it to Me
by Betty
at Bossy Betty

Great British Advertising: CATS
by Imbeingheldhostage
at In the Gutter

Repopping
by Travis
at One Word, One Rung, One Day

Wee Wisdom
by Fragrant Liar
at Fragrant Liar


F is for...
by Ellen
at Stuff From Ellen's Head

My Kind of Town
by Moannie
at The View from This End

Destiny
by Zuzana
at Life Through Reflections

Why I Won't Be Catholic - One Reason, At Least
by Wide Lawns
at Wide Lawns and Narrow Minds

Proof of Time
by Kat
at Seeking Sanity





Sea Eagle
by Bob
at Birds and Nature in the Forest of Dean

Silhouettes
by Daryl
at Through My Eyes

No Messing With This Character
by Sandy
at Writing in Faith

Passion
by Tammie Lee
at Spirithelpers


Guitars Bigger Than the Players
by TechnoBabe
at TechnoBabe's Adventures

Snow Sculptures
by The Retired One
at The Retirement Chronicles



In Silence
by Cricket
at Cricket and Porcupine

Recommended by: DS
Who Knew?
by Deb
at Talk at the Table

Recommended by: DS
The Day Mother Nature Made Me Smile
by Beth
at Be Yourself
Recommended by:
Teri
Please drop by their blogs for a visit and leave a kind comment if you have the time. Also, please feel free to add your own choices (for any blog except
this
one) for a specific blog post in the comments section below, where others can see them.