No photos today but I do have an incredibly touching, heart-tugging and inspiring video for you. You might want to grab a tissue first. Thanks, Frank for sending it my way.
More inspiring posts can be found under the appropriate header below.
And now, without further delay, here are the Posts of the Week
.
The icon below is yours for the taking if if your blog post is named as a Post of the Week - either as top post or as a runner up.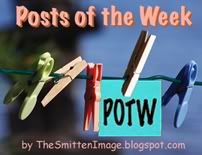 Today's POTW would be classified as funny crazy hilarious. Heed the warning that the title suggests, guys - lest you blush. Enter at your own risk.

This week's POTW goes to..



No Boys Allowed!
by EthelMaePotter
at The Adventures of Fred and Ethel

More wonderful posts are categorized below (they may well fit into more than one category but I'm only selecting one for each):


Guilty
by Susan
at Wild Life in the Woods


It's Wednesday
by Brian
at WaystationOne

Is Crises a Catalyst
by Nancy
at Life in the Second Half

Have You Felt It?
by Bonnie
at Original Art Studio

We're Changed
by Rosaira
at Sixtyfivewhatnow



A Scene to End the Day
by Robin
at Madder in Mada

Pendulum and Penduline
by Adrian
at Adrian's Images

Prayers
by Thrviewfinder
at Photographs: Digital Imprints of Life





Volunteer Courage
by Cheryl
at Lake Mary Musings

"What If" Up and Down
by Cloudia
at Comfort Spiral

My Husband, the Paper Doll
by VM Sehy
at Nature's Details

Over 90
by TechnoBabe
at Technobabe's Adventures



1000 Cranes for Japan
by MaggieGem
at This Life Through the Lens

One Day
by Tabor
at One Day at a Time


Bound by the Same Humanity
by Marion
at Joy and Wonder

Recommended by:Dianne
The Immigrant Experience
by Lynette
at Immigration Lane

Recommended by: Jillsy
Please drop by their blogs for a visit and leave a kind comment if you have the time. Also, please feel free to add your own choices (for any blog except
this
one) for a specific blog post in the comments section below, where others can see them.