This image was taken earlier in the winter. It was a rather close up view of a frozen droplet clinging to a pine tree.
And now, without further delay, here are the Posts of the Week
.
The icon below is yours for the taking if if your blog post is named as a Post of the Week - either as top post or as a runner up.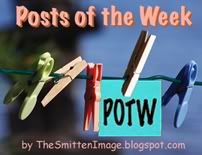 You may or may not have noticed but I didn't get around to as many blogs as usual this week, which means that there are fewer Posts of the Week than I normally list. For that reason, I haven't selected one as the top post, this week. Consider them all winners!

Wonderful posts are categorized below in no particular order (they may well fit into more than one category but I'm only selecting one for each):




You're on Speaker Phone
by Unknown Mami
at Unknown Mami

Just a Story
by Hilary
at Crazy as a Loom



Lessons Given, Lessons Learned
by Betty
at Bossy Betty

My Mother Was a Dancer
by Moannie
at The View From This End

Places of Tranquility
by Zuzana
at Life Through Reflections


Something Fishy Going On
by Ellen
at Stuff From Ellen's Head
Dog Sled Races: Part 3
by The Retired One
at The Retirement Chronicles


Transition
by Twain12
at Through the Lense



Flaunt Your True Colors
by Barb
at One Good Thing

Recommended by:
Lady Fi
Please drop by their blogs for a visit and leave a kind comment if you have the time. Also, please feel free to add your own choices (for any blog except
this
one) for a specific blog post in the comments section below, where others can see them.