Monday was sunny but cold. The icicles which formed from the previous day's snowfall were melting rapidly in the late morning sunshine. I saw this one while waiting for a bus and I noticed that it dripped about once every five seconds or so. I was determined to catch it in mid drip. That wasn't easy for me. I held my camera to my eye and focused up on the icicle.
About ten minutes and thirty shots later I finally captured a drop, though it came out pretty blurry. Still, after all those shots, I've deemed it blog-worthy.



And now, without further delay, here are the Posts of the Week
.
The icon below is yours for the taking if if your blog post is named as a Post of the Week - either as top post or as a runner up.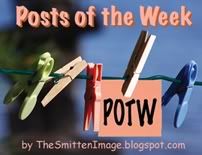 This week's POTW goes to..
More wonderful posts are categorized below (they may well fit into more than one category but I'm only selecting one for each):

Dog-Gone Wrong
by Sandra
at Add Humor and Faith


Today
by DS
at Third-Storey Window





ABC Wednesday: Letter H
by Sue
at Photowannabe

Into the Weekend
by Keith
at Holdingmoments

Color Your World
by Kerri
at A Little Piece of Me



Roads for Threshing Harvest
by Indrani
at I Share

Finding Joy No Matter What the Circumstances
by TechnoBabe
at Technobabe's Adventures

Whoa!
by Joanna
at The Fifty Factor



Bright Spark
by Lady Fi
at On a Quirky Quest with Lady Fi

Recommended by: Kcinnova
Please drop by their blogs for a visit and leave a kind comment if you have the time. Also, please feel free to add your own choices (for any blog except
this
one) for a specific blog post in the comments section below, where others can see them.