Winter is well and truly over in my neck of the woods. We may still get some snow. Temperatures may still dip below freezing. The wind may once again cut through us like a knife before April is done. But winter's back is broken and spring has arrived, bringing with her the music of our feathered friends.
Please walk around the pond with me and I'll point out the birds I've seen the last few days. If you click on the audio files beneath each photo, you'll also experience some of the sounds of spring. Any of the photos can be enlarged a bit by clicking on them.
Robins are known as the first sign of spring but this winter, I continued to see the odd one here and there throughout the season. Still, it's wonderful to see and hear them out in full force. They're beautiful, aren't they?
To me, the Red-winged blackbird is the true harbinger of spring. This year, Frank and I each waited anxiously to hear its familiar "Bdleeeeeeeeeeet," signaling that winter had finally moved along for another year. Its song is such a welcomed sound.
For a couple of springs and summers, I've heard these little "meep meep" sounds and had no idea which bird it vocalized this way. I'd look around and never find the source. Just last week, while Frank and I were walking, we heard it again, and Frank informed me that he'd recently noticed that a Nuthatch was the little bird responsible for this call.
Starlings are all out in full force. They're a rather bland bird much of the time but when the sunlight catches them just right, their lovely colours appear. Much like the Grackle...
I haven't managed to snap a photo of a Grackle yet this year but I've seen several of them around the pond and at my back yard feeder. I love their iridescent colours which appear with the sunlight.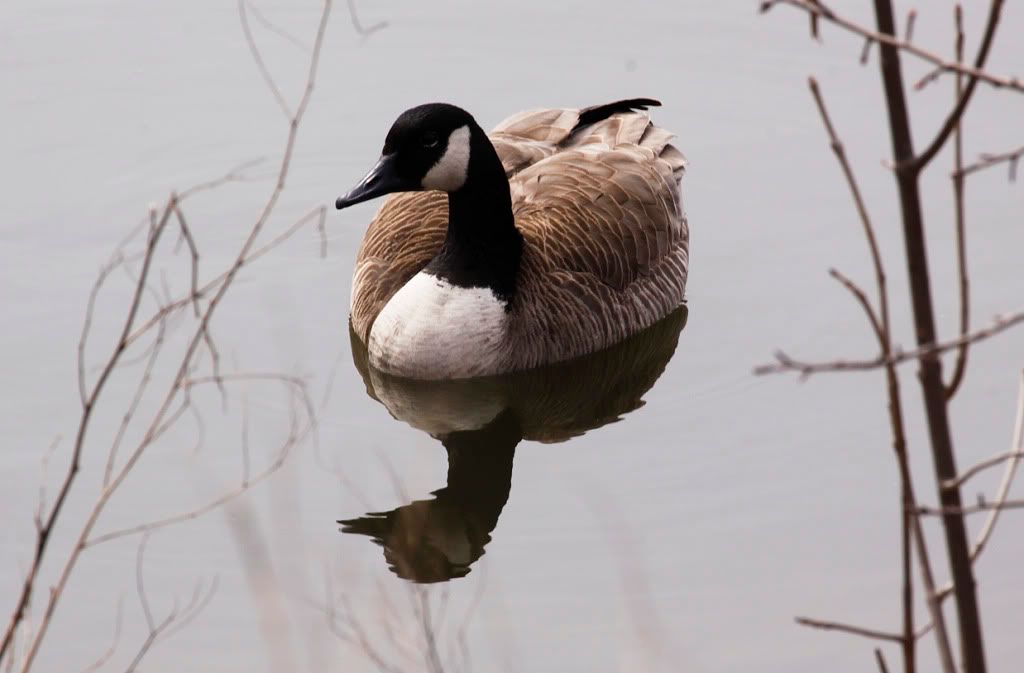 The Canada geese have been returning to the pond since last month's
oil spill
. It's good to see and hear them come home again. I haven't heard anything further about that situation but I'll be sure to let you know when I do.
Beautiful Canada flying in their V formation. They announce their arrival and departure with a beautiful chorus.
This photo was taken in my back yard last week. It appears rather flat because it was shot through double glass doors. While walking today, I heard a Blue jay calling from the bushes. I stopped for the longest time and tried to locate him but could not. He must have moved along and I decided that I would too. A few steps further and I saw what I thought was a Mourning dove on a branch. I moved a bit closer and found a clearing where I had a good view of the bird whose back was turned toward me. I realized by its size that it was a bit too large to be a dove. It turned to look at me...
.. and I found myself looking right into the eye of a beautiful, young Sharp-shinned hawk. It made my day.
Thanks for joining me on my walk. It's always nice to have company when taking in the wonderful sights and sounds.