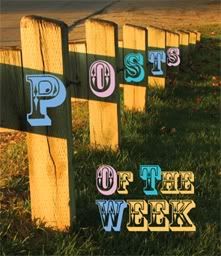 The icon to the left here is yours for the taking if your blog post has been named as a Post of the Week - either as top post or as a runner up, today or in past weeks.


This week's top post goes to:
the very talented Dianne (aka Hope's Nana)
for her day-making post entitled
which was also recommended by the lovely

Lady Fi
Other wonderful posts in no particular order are:
by Brian (aka Cabo's cousin)
by Imbeingheldhostage
In the Gutter


Lady Bug


by EthelMae Potter
at The Adventures of Fred and Ethel

Please drop by their blogs for a visit and leave a kind comment if you have the time. Also, please feel free to add your own choices (for any blog except
this
one) for a specific blog post in the comments section below, where others can see them.