I thought I'd add an extra element to this week's POTW. A "mystery object" photo.

Please look at the image below. It's a close up view of part of a larger object which I saw on my way to Frank's one day. Do your best to guess what it is in the comments section. I'll publish the full image, along with other photos in tomorrow's post. Thanks for playing along!
Without further delay, here are this week's Posts of the Week: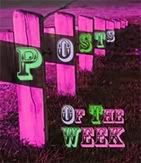 The icon to the left here is yours for the taking if your blog post has been named as a Post of the Week - either as top post or as a runner up, today or in past weeks. I've decided to start mixing up the colours each week. Take whichever one appeals to you.

This week's top post goes to:
at TechnoBabe's Adventures

Other wonderful posts in no particular order are:
Please drop by their blogs for a visit and leave a kind comment if you have the time. Also, please feel free to add your own choices (for any blog except
this
one) for a specific blog post in the comments section below, where others can see them.