This past weekend was a time of celebration. It was Easter, Passover, Spring, the beginning of a week long holiday from school for my son, Alex and it was my older boy, Jeffrey's twenty third birthday. For the first time in the four years that he's attended RMC (Royal Military College), his birthday coincided with the long weekend. We were happy to have him home with his family.
Jeffrey likes to cook but doesn't get the opportunity to do that when he's away at school. This works out well for us because it means that he looks forward to cooking when he's at home. On Friday night, he made a delicious curried pork for Frank and me.
It was an unplanned dish since stores were closed due to the holiday. He pulled a few items out of cupboards, fridge and freezer and before we knew it, dinner was served.
On Sunday night - Jeffrey's birthday, he cooked a delicious feast for his Dad, brother Alex and me. First on the menu was salad with lettuce, watercress, basil, tomatoes and green onions with a dressing made of fresh grapefruit juice, lemon juice, olive oil and seasonings. It was followed up with lamb, peppers and mushroom kabobs, maple glazed salmon barbecued on a cedar plank, and if that wasn't enough, gigantic meatballs cooked with onions, tomatoes and wine. How many people do you know who consider it a luxury to cook for others on their own birthday?
Earlier that afternoon, we had a lovely brunch at our most gracious hosts Amanda and Colin's home. Amanda and my boys are second cousins which would make her wee ones second cousins once removed. Her adorable kidlets are featured in some of the photos below.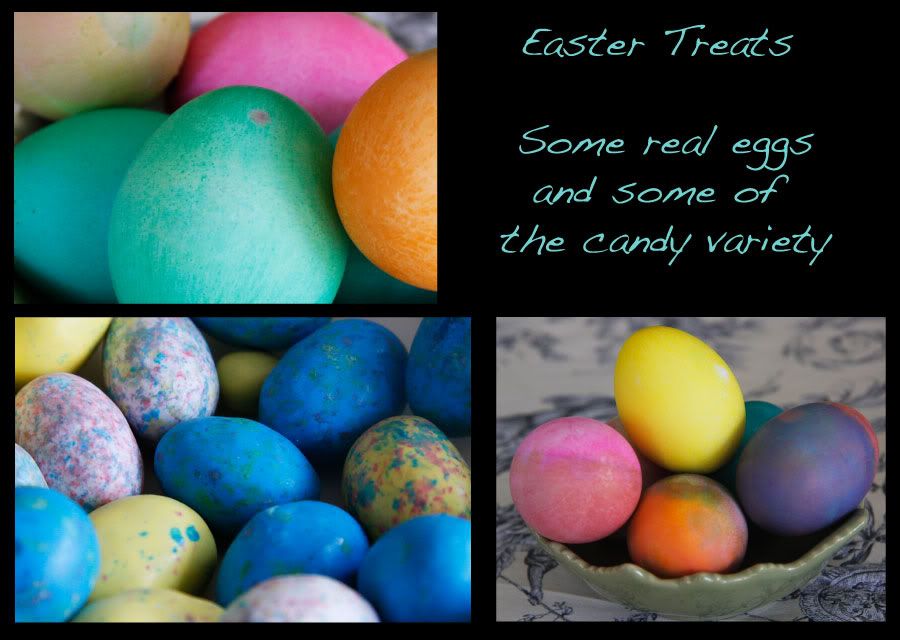 Easter eggs, both real and chocolate decorated the dining table.





And decorated this face. "No, I didn't eat any chocolate. Why do you ask?
"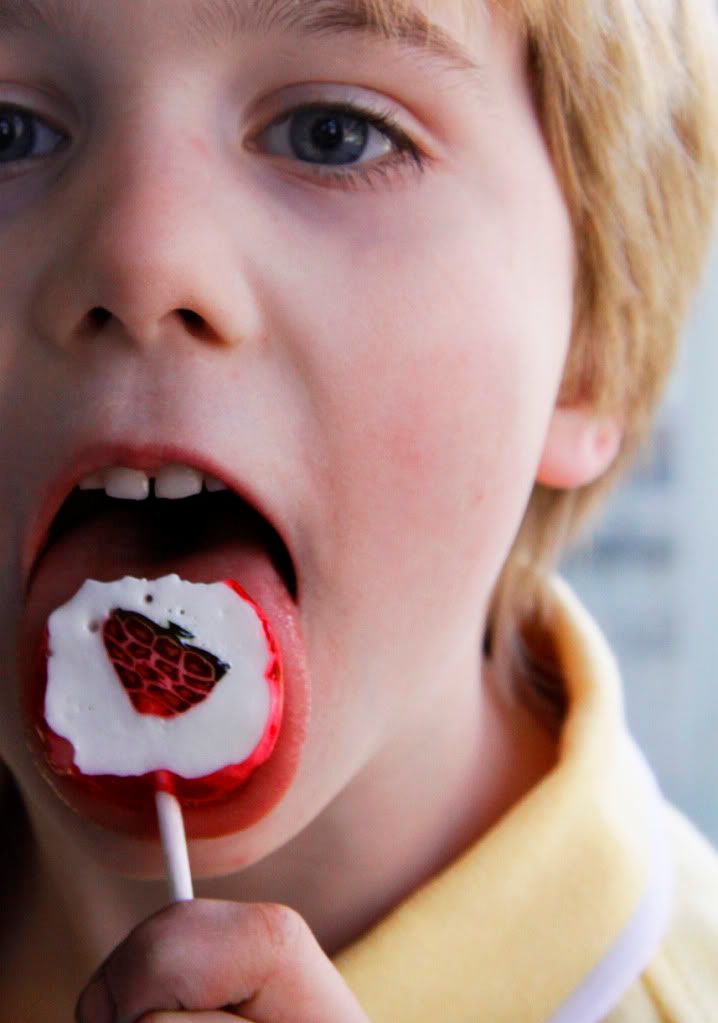 Her brother seemed more interested in this sucker - after all there's one born every minute.
The birthday boy, guy, man - my older son, Jeffrey.
His handsome brother, Alex in a pensive moment.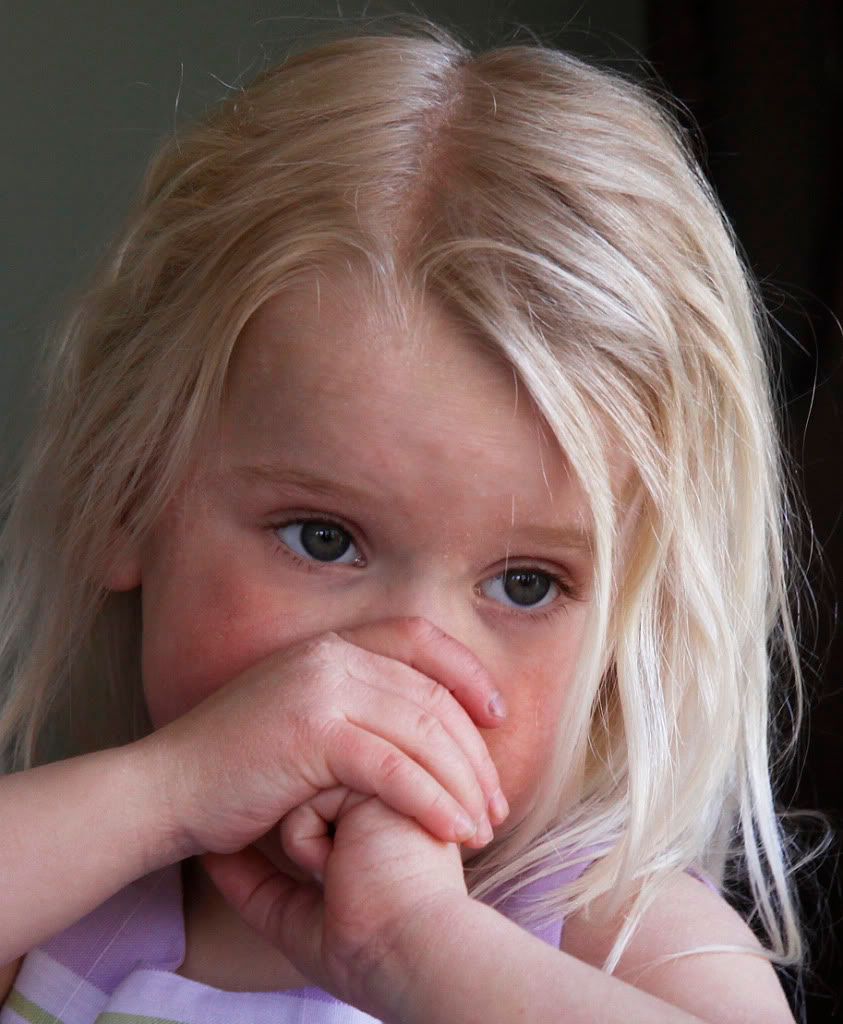 And speaking of pensive moments.. what a face!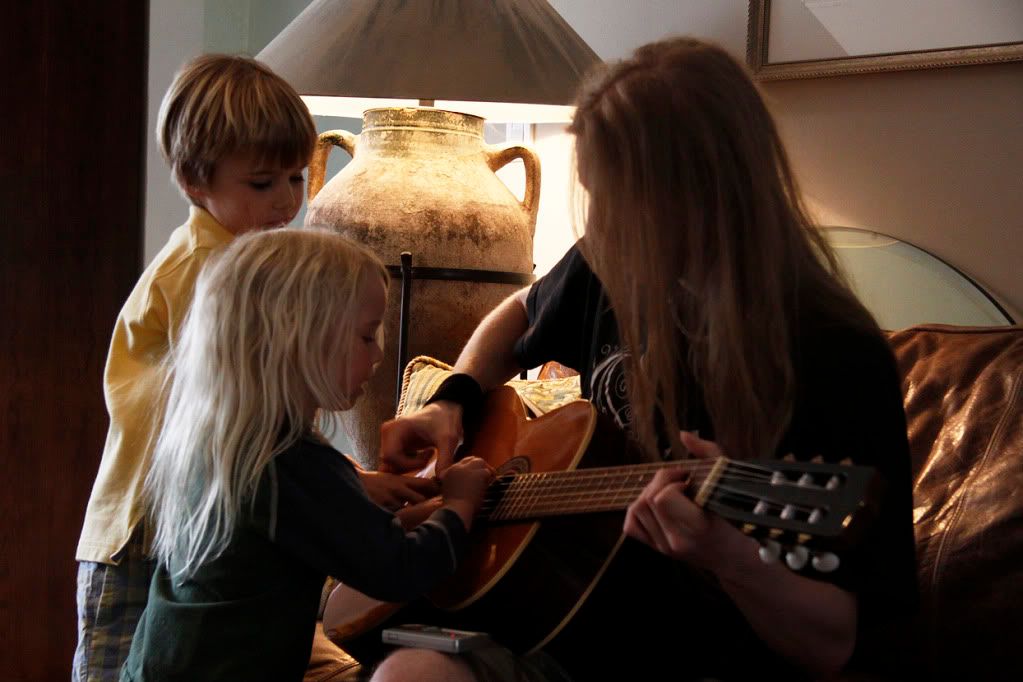 After brunch, there was a request by Ms. Chocolate Face for Alex to play guitar, so he borrowed Amanda's instrument and obliged. He had a little bit of help.
Quite a bit, in fact.
Shortly afterward, a couple of the men got into a bit of a standoff. Don't they look tough?
Someone was in top fashion with her lovely Easter chapeau.
It was a lovely afternoon spent enjoying family, fine food and good music. Thanks, Amanda and Colin, and the tiny cousins...





It was eggceptional!