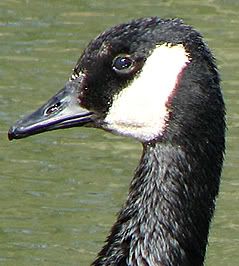 "When you defile the pleasant streams
And the wild bird's abiding place,
You massacre a million dreams
And cast your spittle in God's face."
~John Drinkwater

On Tuesday morning, while sipping tea, my phone rang. The voice which greeted me upon answering belonged to Nicky, one of my neighbours who so kindly helped me out when the orphaned raccoon kits, Sugar and Spike needed rescuing

almost a year ago.

Nicky is an ardent animal lover. She's a volunteer with the Toronto Wildlife Centre for our area, which means that when there's an animal in trouble in our locality, Nicky will get the call to see if she can locate, capture and transport an injured, sick or otherwise threatened creature to the wildlife centre. Just before she phoned me, Nicky got the call that there were a pair of Canada Geese in distress at our local pond.

This small lake collects runoff from drains in the neighbourhood, and a few times in the past, we have had serious problems with cooking oil spills.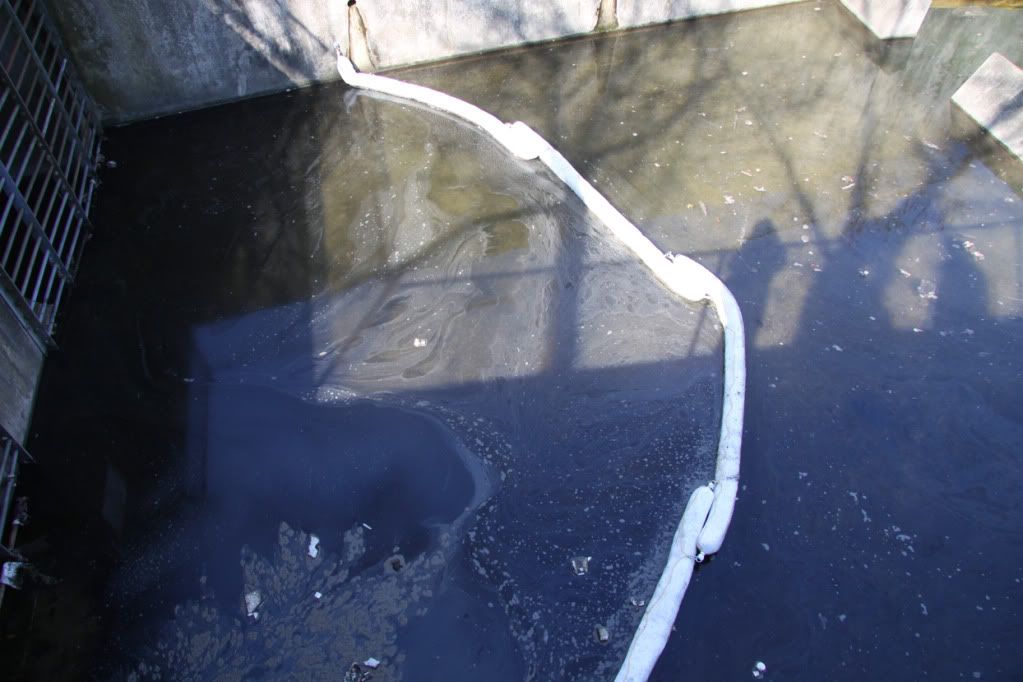 Presumably, a restaurant owner in a nearby strip mall has not taken the care to properly dispose of used oil, and has instead poured it into the drainage system, and ultimately into our beautiful pond. It has happened several times over the last few years.

In the past, Nicky has helped to capture ducks and geese whose feathers became coated with oil, so that they could be cleaned and released. One time, this process took over one week to get to all of the affected birds. A few died but most were treated and set free. This week was quite different.

Nicky's call on this day was to request my help to corral an ailing Canada Goose. More oil had been poured into our storm drains and was now oozing into the lake, causing problems with our waterfowl. I arrived to find the water eerily devoid of its usual dozens of ducks.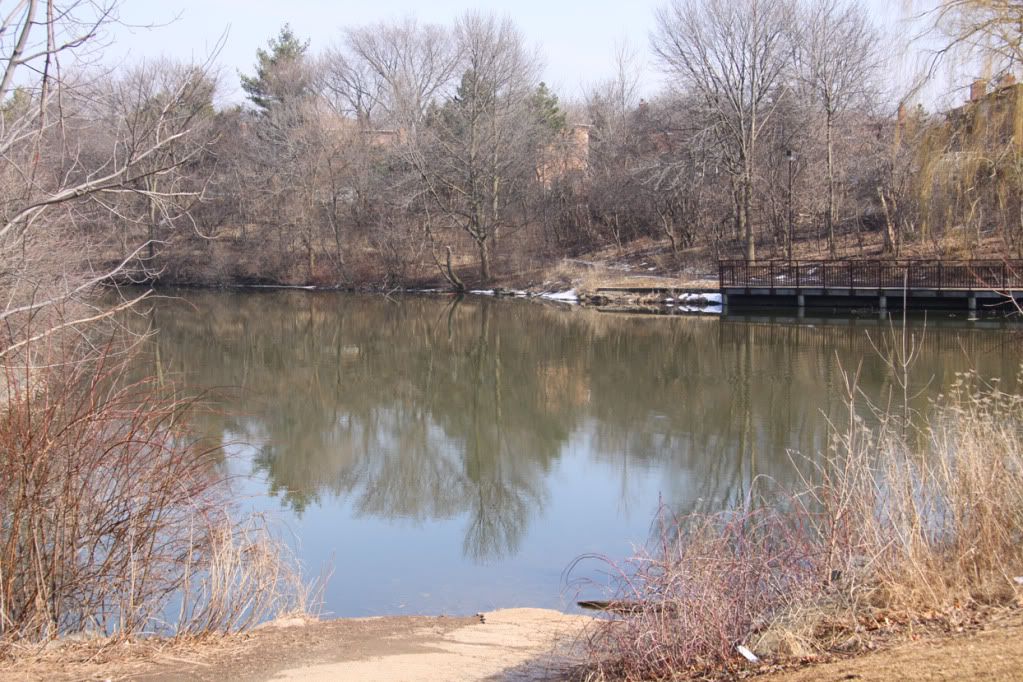 I met Nicky who was already scooping up a dead goose with her net. Someone from the parks department was there helping her.


All was done before I even reached the shoreline. They had one already-deceased bird in the net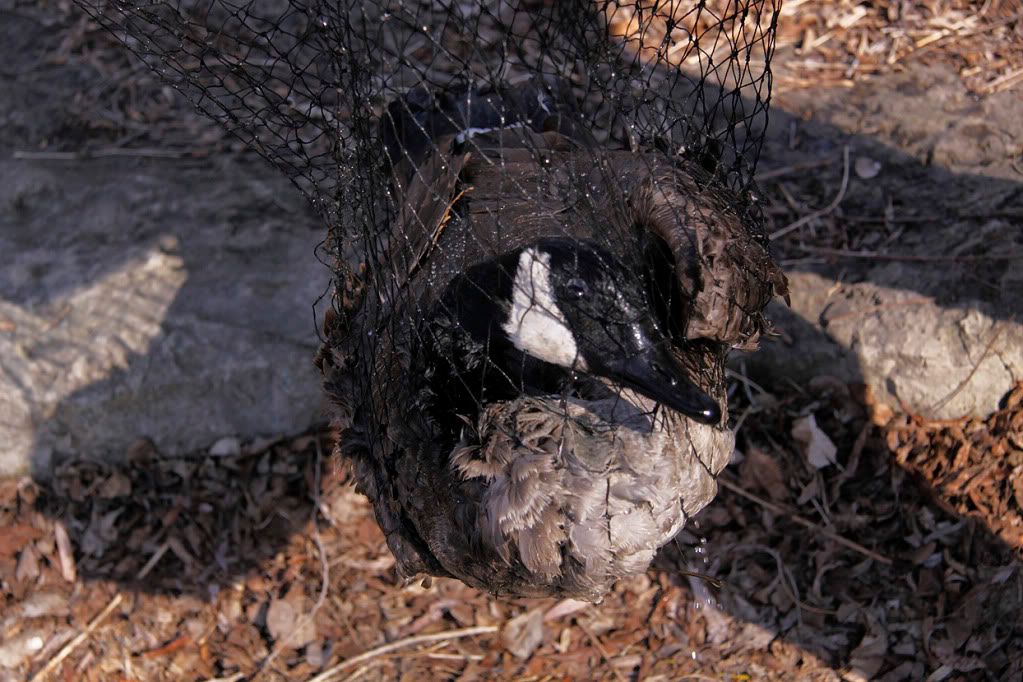 and one ailing goose in a small carrier.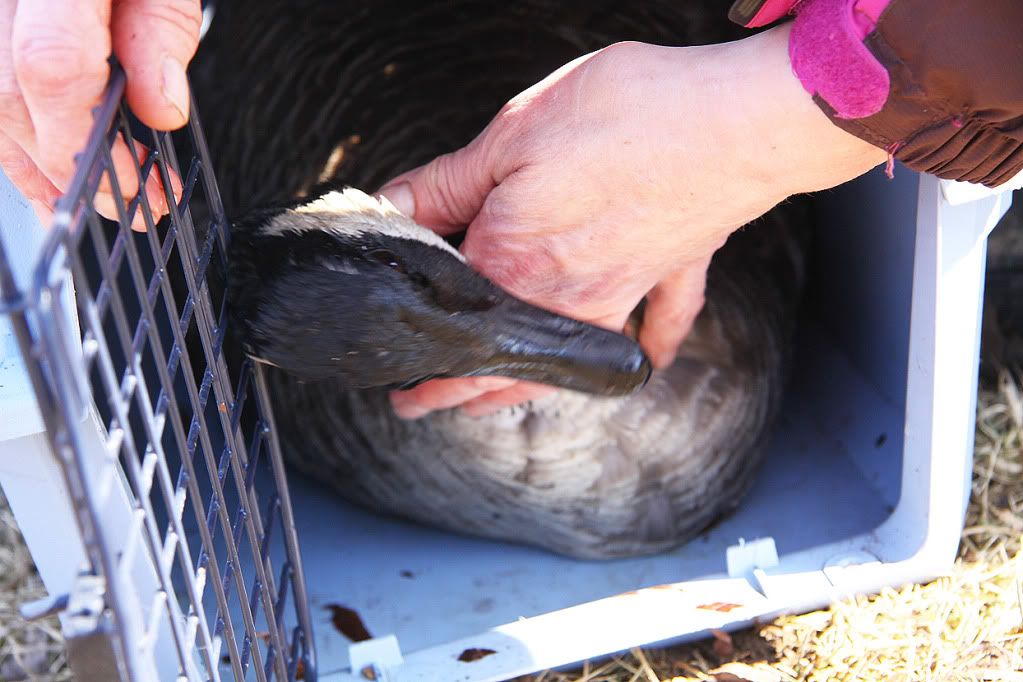 I accompanied Nicky and another neighbour, Lynne who drove us to the

Wildlife Centre in Toronto, about a half hour away.

Nicky kept the goose in a large carrier beside her in the back seat of the car. She needed to keep its head lifted so that it could breathe easier. We were encouraged at times as this lovely beast began flapping its wings with great strength. Lynne and I also had visions of the bird getting out of Nicky's control to fly around her small vehicle while we sailed along Toronto's busy 401 highway.

Our fears were unfounded. Shortly before we arrived at the wildlife center, this poor goose gave it her last fight and expired. We brought both dead birds into the center where they would be tested to determine what might have killed them so rapidly.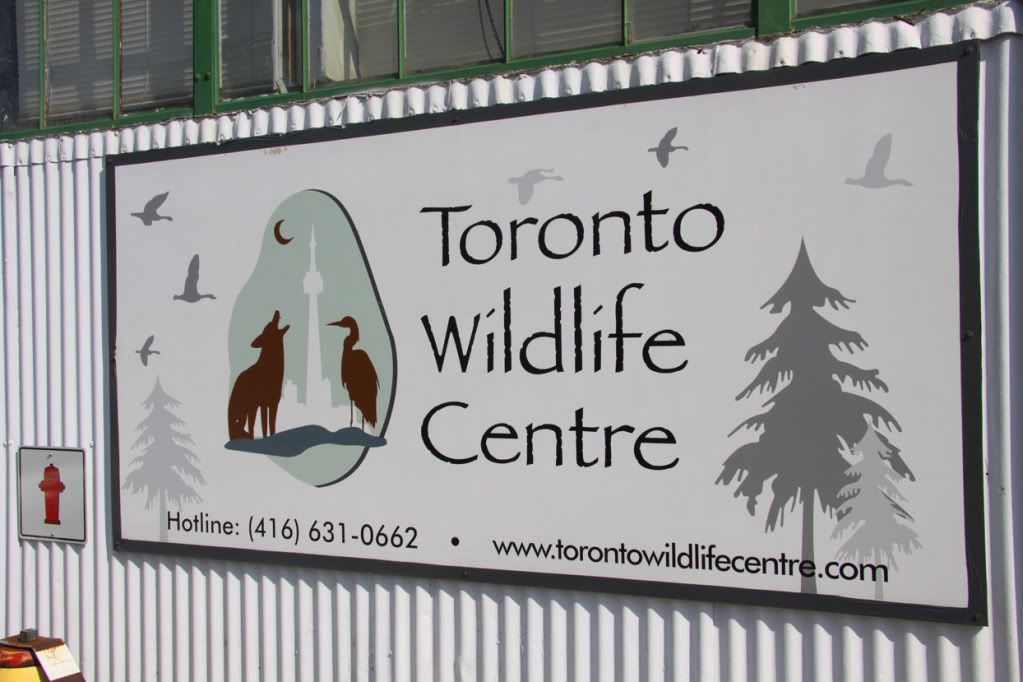 Home again, I headed back into the park to watch the cleanup crews collect water samples,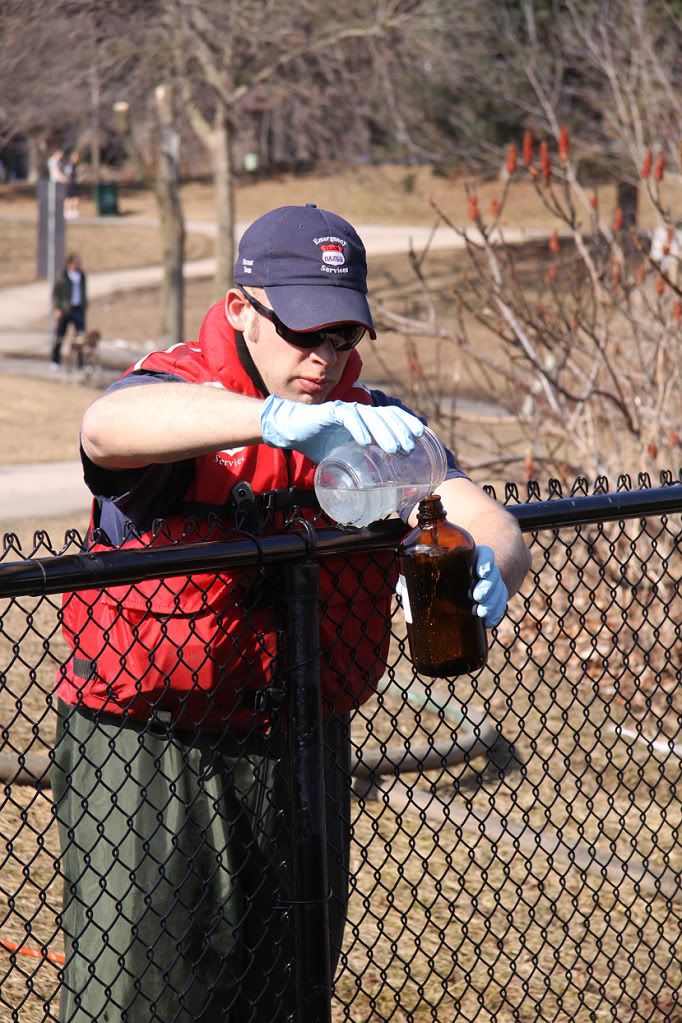 vacuum the oil from the lake


and replace the booms which had been in place since previous spills to filter and absorb the oil.

I unexpectedly met up with Nicky on yet another walk around the pond shortly before dusk. She informed me that there was a third dead goose on the other side of the pond and asked if I minded taking a photo of it. I obliged,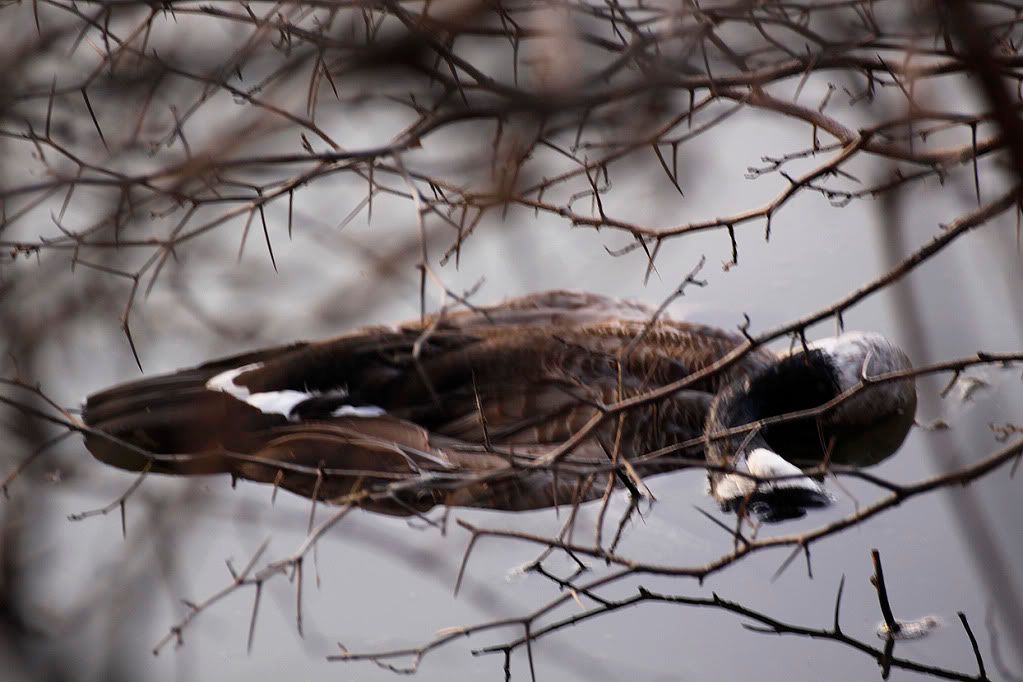 and was about to email it to her shortly afterward when she phoned me again. By this time, it turned out that the Toronto Wildlife Centre decided that it was necessary to involve Environment Canada on this issue. They had requested that Nicky now collect this third bird, so she was calling to ask for my assistance. I of course agreed and met Nicky in the park with my camera.

My help consisted of standing on shore while Nicky stepped on what appeared to me was a precarious low-growing bramble branch.


I did my part by saying encouraging words like "Are you sure you're not going to fall in?" "You're a braver woman than I am" and "Geesh, you're incredibly agile." Nicky netted this poor creature and we were able to take another, better photograph to send to our local newspaper which was now also involved in the process.


Within hours, a story appeared on the online pages of The Mississauga News

,

which included a couple of my photos. Today's hard copy contains a different photo of mine. It will probably take some time until we hear just what caused these geese to die so rapidly, and longer still until they conclusively determine the source of this pollutant.

In the meantime, our usual duck and geese residents are mostly avoiding our beautiful pond. We're worried about the ducks that had been swimming there earlier that morning and hope that they left before the polluted water could affect them. We're concerned about a small group of Kingfishers which appeared before dusk, and were seen fishing from the lake. We're troubled by what effect this might have on the fish population.

We'd like to know what can be done to help educate the community about how serious this problem is. We'd like to know that our wildlife can safely share this space with us. We want THIS...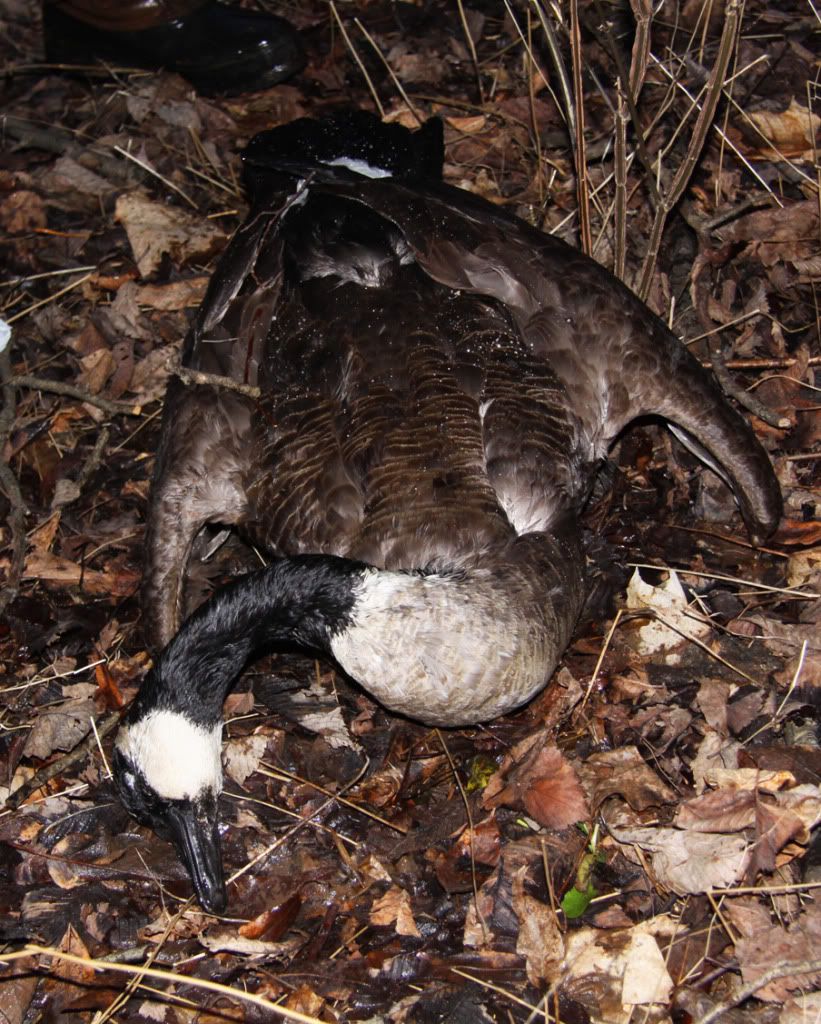 to stop NOW.



Reminder: This year, Saturday, March 27th, Earth Hour begins at 8:30 pm in Canada. You can find your country's local time and more information about this annual event by clicking

here

.