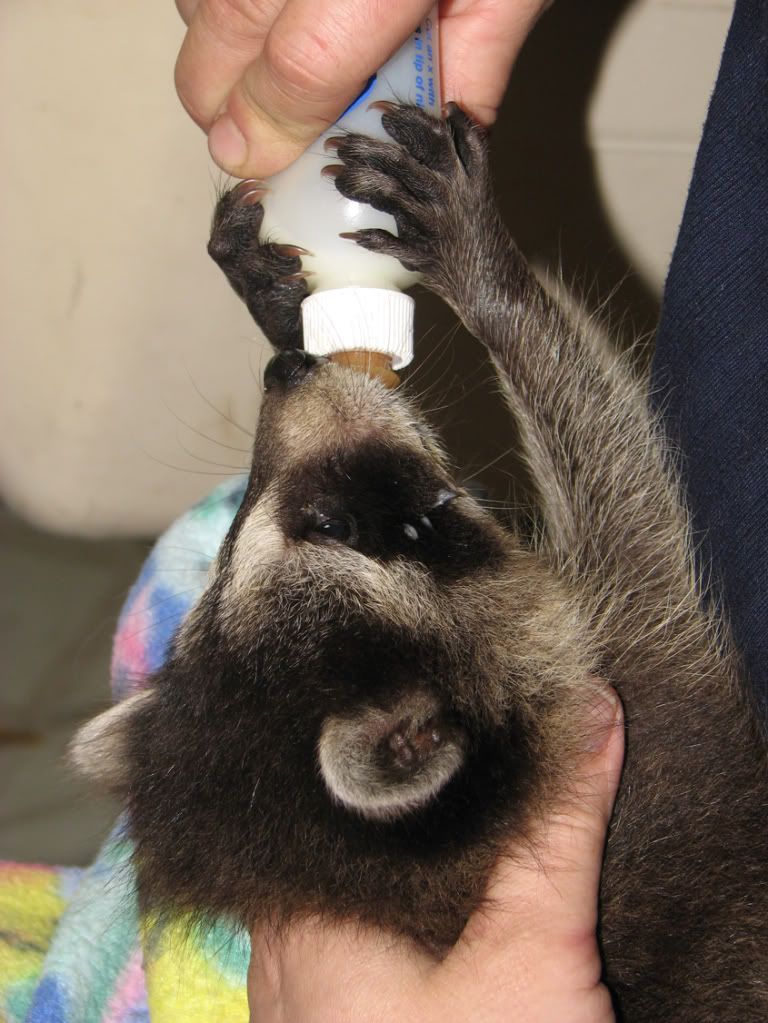 This is part two of Sunday's post about orphaned raccoon kits. Please read
part one
here first. All photos were taken the following day. Please remember to click on them to enlarge.
I opened my door to see my son kneeling on the deck, with a lovely, little raccoon kit nestled in his arms.
The raccoon kit had seen Jeffrey, and came to him when he called her. She waddled over, and sat on his feet, then tried to climb his jeans. She was cold, frightened and very loud. I phoned Nicky, and she and Sarah came over right away. They brought grapes, so that the kit could suck the juice from them and restore some of her depleted fluids. She was tired, somewhat dehydrated, and her little hand-like paws were cold to the touch but she was not a goner by any means. There was no doubt that she was orphaned.
Nicky had yet another wonderful resource - neighbour Lynn who had a small supply of infant animal formula (Mamalac) and tiny baby bottles - just perfect for a raccoon kit's mouth. Lynn hurried right over, and this little sweetie was drinking, regaining body heat and strength, and warming to the touch of her new human mamas.
Missing its mother, this raccoon kit rests on my lap to get a meal. They're messy eaters but the contents of this bottle filled a hungry belly. Photo credit goes to my neighbour, Caroline. Please click to enlarge.

Sarah's focus went directly to trying to encourage the sibling(s) out from under the deck. She worked tirelessly for almost four hours, calling to it, reaching her hand through the small hole around a drainpipe, and trying to nudge it out by sliding a stick through the slats of the deck. Nothing was working.
It was a very cold night and Sarah spent most of it flat on her belly, without her jacket, so that her arm could fit through the small hole in the deck. We had a heater set up inside of the garage to keep the kit warm, but Sarah wasn't having any of that for herself. For her, the raccoons came first.


At one in the morning, the three women each went to their respective homes for less than fifteen minutes. Lynn went to ready a cage so that she could take what she hoped would eventually be two kits home. Nicky went to find a crowbar to lift one or two of my deck slats, so we could get at the other kit(s), and Sarah accompanied her so she could warm up for a bit.



Immediately after their brief departure, the chatter of the seemingly-resistant kit was unmistakably closer. The sibling in my arms lifted her head and called back to him, and out popped another adorable face. Jeffrey and I held very still, and waited until he ventured far enough from the deck so that Jeffrey could block his return inside. Clad in gloves, Jeffrey bent over and picked this little guy up. He was a young spitfire, and he hissed, yowled and bit into his gloved hands to show his displeasure. Jeffrey sat down with him, crouched his upper body over him for warmth and darkness, and I placed a blanket over the little bundle. He immediately calmed down and went to sleep.




Still a bit fearful of human hands, the male snuggles close to his sister at the back of the cage.
Please click to enlarge.

Upon their return moments later, Nicky, Sarah and Lynn were thrilled to learn that we now had the second kit with us. Lynn gathered them up and took them to her home overnight where they would temporarily join her menagerie of amazing critters - six cats, three dogs, an amazon parrot, a ciaque, two prairie dogs, a snake, a turtle, a bearded dragon, a few dogs on loan for training and quite possibly a few others which I've either forgotten or didn't see. Lynn is one serious animal lover.
Sadly, no further sounds came from under the deck. If the third one was alive the previous night, chances are it was no longer so at this time. We could not locate it, and it was not in any state to make itself seen or heard. At least we were able to care for two reasonably healthy kits.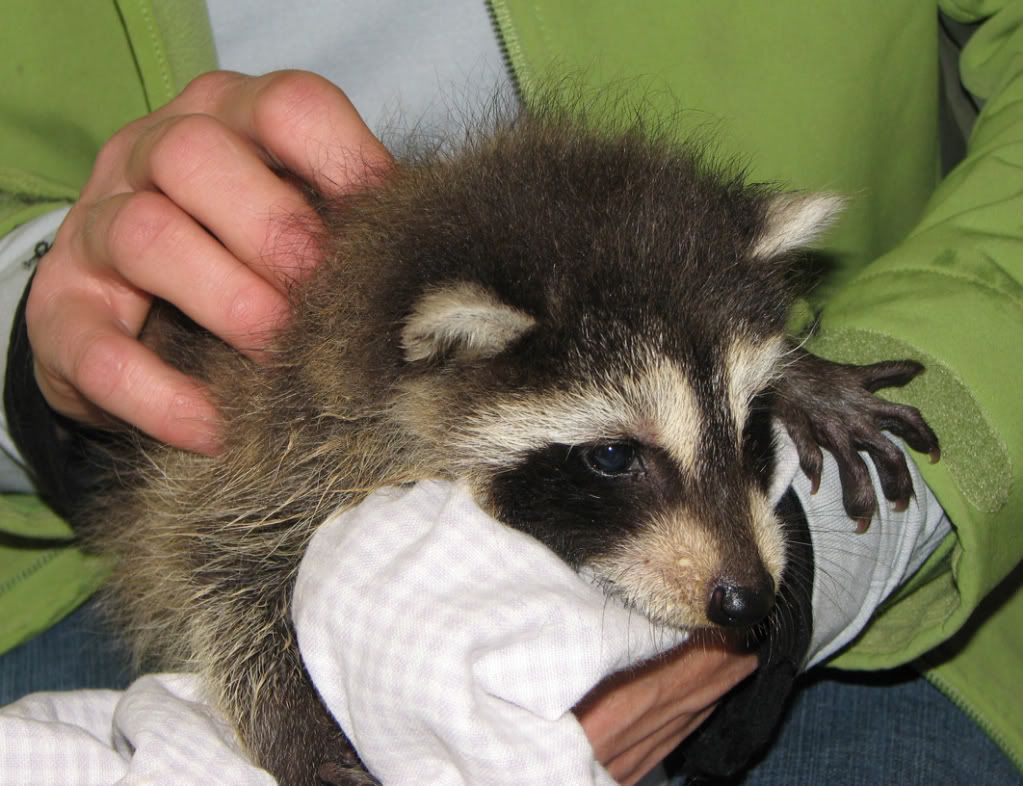 Much like a human baby, the kits needed to be burped after a bottle feeding. Caroline does the honours.
Please click to enlarge.
Nicky and Lynn each made a few phone calls the next day. They learned that the wildlife center was no longer taking any more raccoons at this time, and they suggested contacting a veterinarian located over an hour away. Lynn spoke to her and learned that she was willing to take the raccoons but Lynn found her condescending attitude off-putting. Lynn stressed to me that she was probably a fine care-giver but totally lacked people skills, and the ability to assess Lynn's voice of experience. In other words, she was ego-driven. And cash-driven. She insisted that a significant donation be made upon dropping these kits off at her location or she would not accept them. The donation in itself is not unreasonable, but demanding it up front seemed to show a lack of understanding that we had all put a fair bit of effort into protecting these babies. Essentially, there was discomfort (mine, mostly) with the notion of taking these babies to her.
Enter Theresa.



After a few feedings, the kits have come to trust human hands.. and shoulders a lot more. Theresa has shouldered the raising of many orphaned raccoons and squirrels.
Please click to enlarge.
Theresa is Frank's wonderful, big-hearted sister who has rehabilitated several raccoons (among other critters) in the past. I knew she had pretty much decided to at least temporarily suspend this practice but I figured that she might know of someone experienced who lived within a one-to-two hour's drive from my home. Frank put the call in to Theresa, and shortly afterward she phoned back with the offer to take these two babies on herself. What a relief! Not only would these sweeties be going to a home where they'd have experienced and dedicated nurturing, we'd also be able get updates on their status, and perhaps even visit them from time to time.



I knew without doubt that Theresa would be a great surrogate Mom to these critters, and that was reinforced not only by the look on her face when she first laid her eyes upon them, but by her reply to me when I thanked her for taking them on. "Thank you for bringing them into my life."
Please click to enlarge.
Jeffrey and I drove them out to her town, where Frank met us and directed us to her home. As soon as Theresa saw our little darlings, I knew they were home - at least for the next few months. They immediately settled in, climbed all over her in search of food with which she promptly obliged, and one showed its love and appreciation by pooping on her sleeve.

When they're mature enough, Theresa will eventually release them to a wildlife reserve, where they can roam free, but under the watchful eye of those who care. Food will always be available and they should have a good shot at a long, healthy, reasonably-normal raccoon life.



I'm sad for the lost mother (who might have been the same one who most unceremoniously entered my home last spring), and for the little sibling who didn't make it, but so grateful for Lynn, Nicky, Sarah and Theresa for being there for these two lovely animals who now have a great chance of surviving and thriving. They're good people and I have the world of appreciation for their kindness.
Please,

please

consider the potentially sad consequences when taking an animal out of its environment. An overturned trash bin can easily be cleaned up. An orphaned litter of kits deserve better than what these two went through.
Here are a few more photos, and a video of the raccoon kits who have been named Sugar and Spike.
Raccoons are good climbers and like to sit up high. The tallest point in this room was the top of Frank's head.
Please click to enlarge. (The image.. not Frank's head)
Curious, playful, sweet and cuddly. And so are the raccoons!
Please click to enlarge.
Below is a video which will give you an idea of just how small these little sweeties are. This was taken less than one week after Sugar and Spike came out from under my deck. They have clearly lost their fear of people and of dogs - both of which they're likely to encounter when they'll be released to the animal reserve in autumn. Notice how they follow every moving person or dog.


And here's a real quick one of Sugar climbing up my leg and under my camera's lens cap.