Just for today, no photos. I'm going to focus (no pun intended) on the Posts of the Week. I'll have some images for you coming up real soon though!
And now, without further delay, here are the
Posts of the Week
. The icon below is yours for the taking if if your blog post is named as a POTW.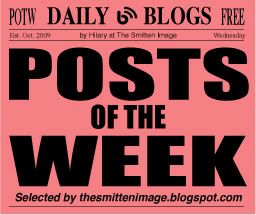 FUNNY
at Stuff from Ellen's Head
***
A GOOD READ
at Ye Olde Crones Gazette
at Under Wide Suffolk Skies
***
JUST PLAIN GOOD
at Gary's Third Pottery Blog
at She Who Carries Camera
***
PHINE PHOTOGRAPHY
Bring on the Weather
Fantasy Fest
***
READERS' CHOICE

Please drop by their blogs for a visit and leave a kind comment if you have the time. Also, please feel free to add your own choices (for any blog except this one) for a specific blog post in the comments section below, where others can see them.

Thank you