In early February, we had some very mild weather. That warm patch caused the creek near Frank's place to flood as it occasionally does through almost any season. The previous weeks had been typically cold so when the creek swept over its banks and onto the wooded areas and walking paths, it brought with it great chunks of ice.
Most of these giant ice cubes settled along the shoreline - like this but some of it obstructed my usual pathway.
This is what the path looks like in summer. It can be difficult to navigate in winter because these paths are never cleared of snow. The snow, melt, freeze process can make walking quite precarious.
But add giant ice cubes and a light dusting of snow to the icy path, and walking becomes a lot more difficult. Benny doesn't seem to be too bothered by it though.
Some landed on top of one another.
These are actually rather small compared to some I've seen in the past. They're also fewer and more spaced out than other times.
Four years ago
, some of the ice blocks were piled about four feet high.
Still, there was some heft to these.
And some places were totally impassable.
You might remember
this spot
from late last summer
though it looks a bit colder right now.
A few days after this photo was taken, it snowed rather heavily. This made it easier to get around because the snow raised the ground level to meet and even surpass the height of the ice blocks. Much of that has since melted and walking is precarious once again. This mother is hanging onto her child though I'm uncertain whether it's to keep him upright or her own self.
As the weather warms, these ice chunks will reduce in size. Until then walking these paths is more like navigating an obstacle course.
And now, without further delay, here are the
Posts of the Week
. The icon below is yours for the taking if if your blog post is named as a POTW.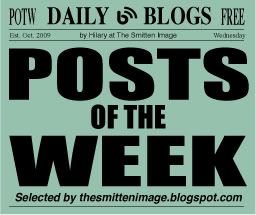 FUNNY
Dear Technical Support
by BoxerMama
at Boxer Bootcamp
Overheard....
by Ursula
at Friko's World
***
A GOOD READ
Black or African American
by Anita
at Beyond the Diapers and Spills
Triggers
by Joe
at Cranky Old Man
Lessons From a Squirrel
by Leah
at The Goat's Lunch Pail
***
CLEVER THINKING
Making the Best of What You Have
by Janie
at That Janie Girl
***




PHINE PHOTOGRAPHY





Red Umbrella




by Daryl




at Through My Eyes





Psst... Take a Look at This




by Daniel




at The Pixel Collective





Graylag Goose




by Bob




at Birds and Nature in the Forest of Dean





Roadrunner Wrap-up




by Theresa




at The Run*A*Round Ranch Report





Stepping Into A Magical Realm




by Tammie Lee




at Spirit Helpers




Please drop by their blogs for a visit and leave a kind comment if you have the time. Also, please feel free to add your own choices (for any blog except this one) for a specific blog post in the comments section below, where others can see them.

Thank you