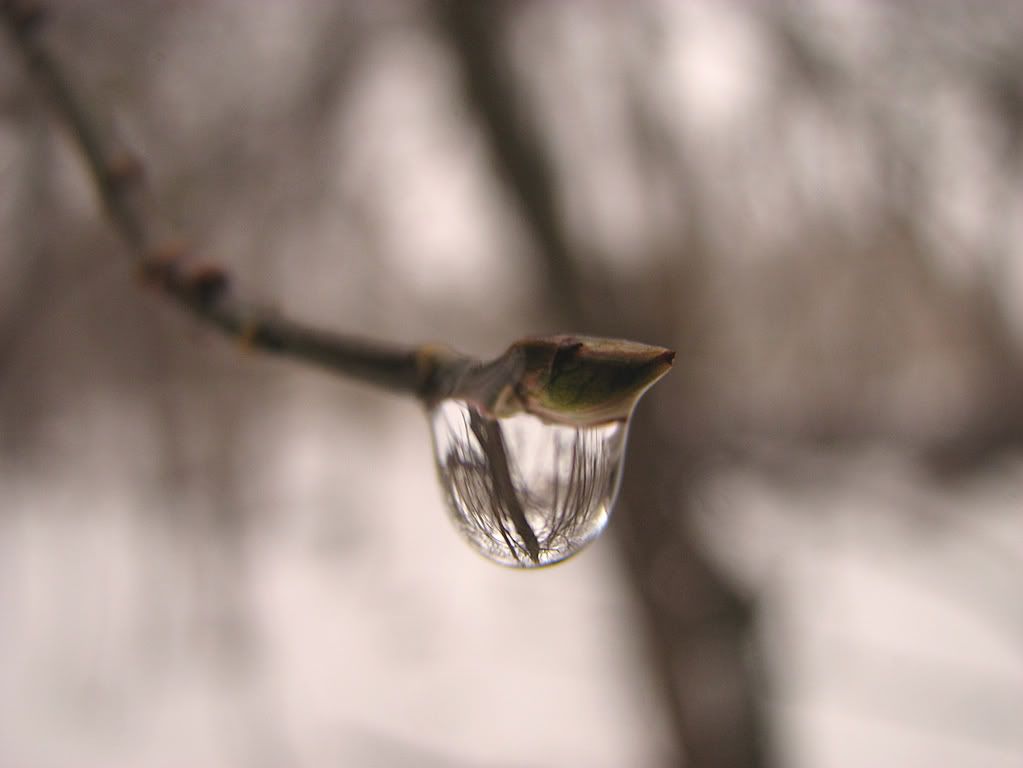 According to the website WhatIs.com, Serendipity is defined as "

the act of finding something valuable or delightful when you are not looking for it.

"
Last Saturday, Don (my kids' Dad) and I attended a family Bar Mitzvah. We were invited separately, but since neither of our significant others was able to attend, we went together. One of my Montreal cousins is the maternal grandmother of the thirteen year-old birthday boy. He, his parents and two siblings live in nearby Toronto, and we see them from time to time, at family occasions such as birthdays and Hanukkah.
The event was pleasant enough, and the luncheon which followed provided a wonderful opportunity for relatives who had not seen each other for a few years to get together and catch up. My Aunt Blanche is a very young 97 year-old, and she traveled in from Montreal to celebrate her great-grandson's special day, and to spend time with family whom she had not seen for awhile.
After the meal, several of us gathered at my cousin Marcy's (Mom of the infamous wallet-thieving JJ) house. We chatted, laughed, took multi-generational photos and enjoyed a relaxed, lovely family-oriented afternoon. This also happened to be Valentine's Day, and since Frank and I had plans for dinner, we said our "

good-byes

" fairly early. But not before Marcy and I had a most interesting chat in the kitchen.
She told me that she had stuck around until the end of the luncheon because the family wanted to take some photos before Marcy was to take her mother, (my Aunt Blanche) home with her. As the crowd thinned, Marcy recounted a warm conversation she had with the paternal uncle of the Bar Mitzvah boy - an extended family member whom she hadn't seen in several years. She told me the gist of their conversation and repeated several times that he's

such

a nice guy. She referred to him by his name, Carmi. It tickled my brain with a vague familiarity, and I figured that I must have met him at some event over the years, so I just smiled and nodded. It was only when she said that he and his family were on their way home to London, Ontario that the realization hit me like a lightning bolt.
I grabbed Marcy's arm and may have used just a wee, tiny, excited expletive. I repeated his name. Then I probably repeated the expletive, once again. She looked at me as if I was nuts. I realized that I hadn't remembered him from family mentions (or

menschens

as Carmi tends to write). I recognized his name from his blog - Written Inc - a place I visit regularly. I know by the names in his comments section, that several of you who are reading this right now, also visit him.
I quickly tried to recall details that I knew about the man whose blog I've been visiting for over a year. "He has a son!" I said.
"He has two sons and a daughter." came Marcy's reply.
Hmmm maybe I didn't exactly recall... "OK, he's from Montreal originally. He commented on my blog about some landmarks that I mentioned in a post."
"Yes, he's from Montreal."
"He's a really, really nice guy. He has a kind, caring heart and he writes very well. And he's a good photographer."
"Yes, he's a sweetheart. I just

looove

Carmi. And yes, he's a writer but I don't think he's a photographer. Maybe it's not him He's got lighter hair than his brother (father of the Bar Mitzvah boy). Does that help?"
"Hmmm, I don't know. I thought he had dark hair but it's so hard to tell with those little avatar photos."
And so it went.

I figured I'd send Marcy the URL to his blog when I got home but when I checked his site later that evening, he had written about returning home from a family Bar Mitzvah in the nearby big city, and I knew without a doubt that it was the same Carmi Levy.
We exchanged a few emails and expressed our surprise, and ultimate disappointment at being so close and yet so far from actually meeting. He and Marcy had already secured one another's contact information and have since reinforced the bond of friendship that they had known years earlier. We all determined that sometime in the future, we will undoubtedly get together, as it would seem that Fate has dictated we must.
I wore an amused smile for the rest of the weekend.
Below are a few photos from last week. After several very cold days, temperatures rose suddenly overnight. Following a lovely sunrise, it rained a bit later in the morning, after which fog began to form and thicken throughout the day. I went out around the pond a few times to enjoy and photograph the mist. I hope you enjoy it too. Please remember to click on each photo to enlarge.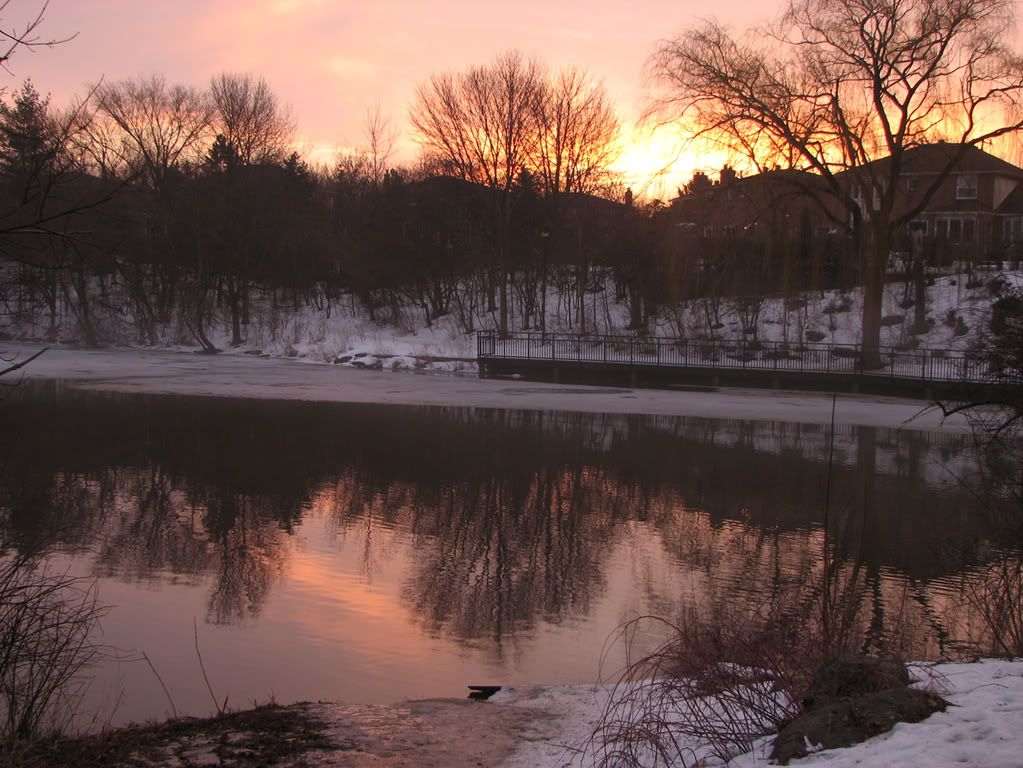 I awoke to see a brilliant golden orb peek through my window. I took less than five minutes to get my early morning act together and head outside to the pond where this view greeted me.

(please click to enlarge)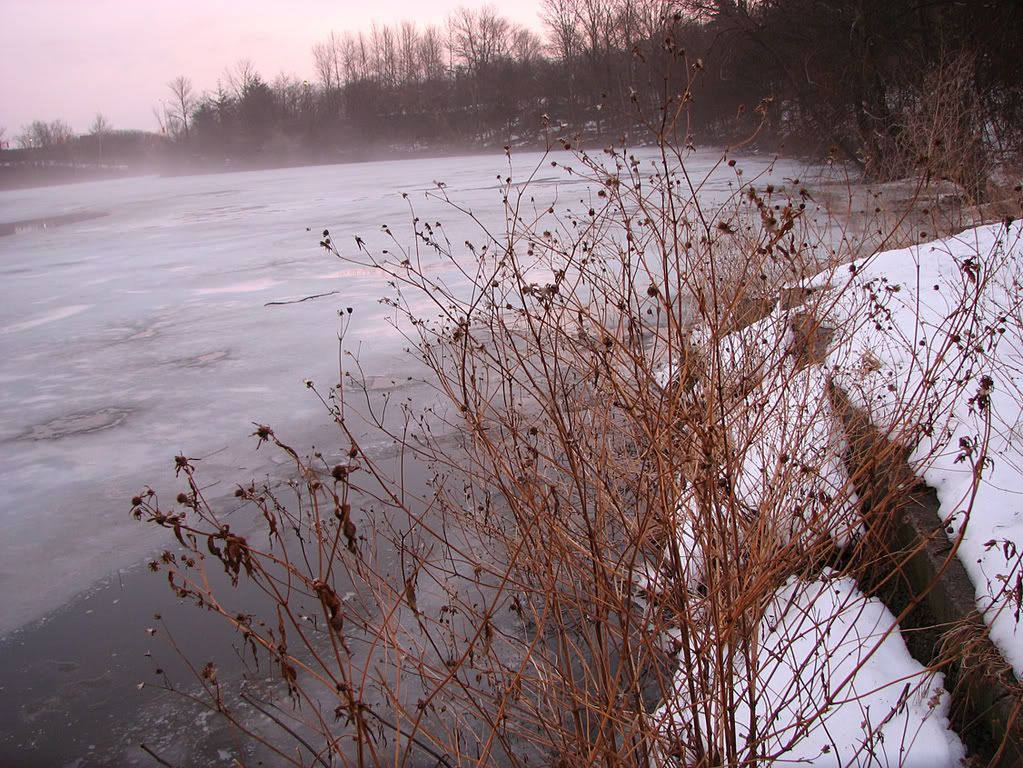 Moments later, I made my way around to the opposite shore of the pond where I could see that a soft fog had begun to form on the surface of the water.
(please click to enlarge)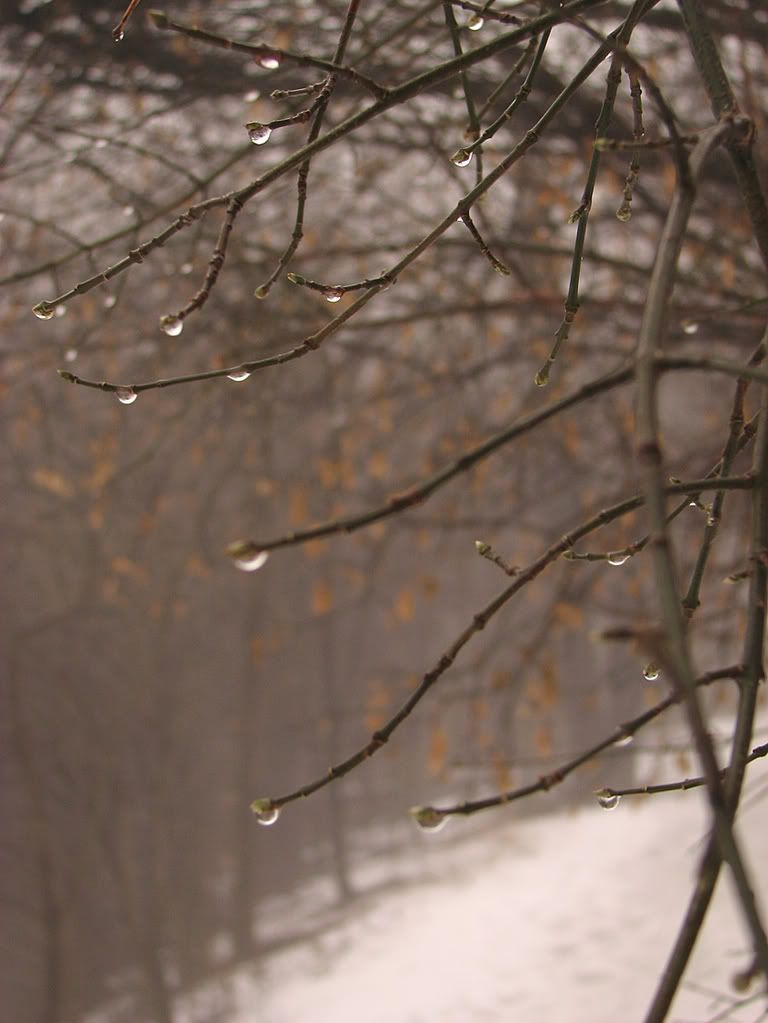 As the day progressed, it rained and the fog thickened. The air remained humid, and the water droplets hung heavily on the branches.
(please click to enlarge)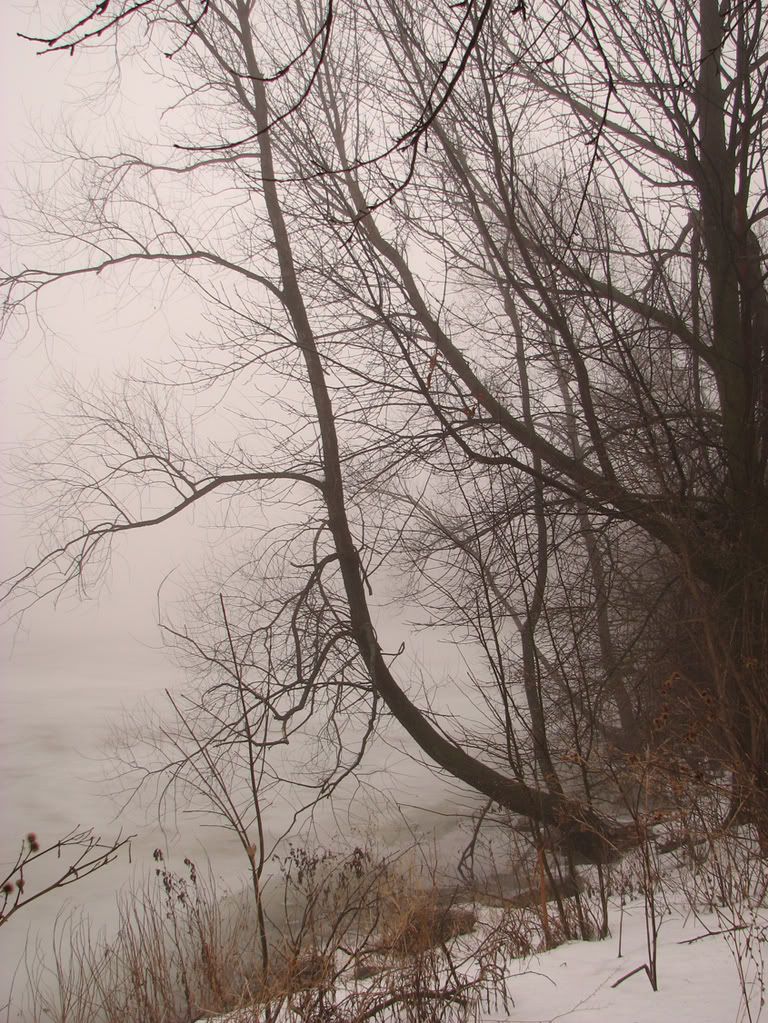 A curved tree reaches out over the pond as if to peer out into the fog.
(please click to enlarge)
The fog creates a soupy background for this tree. It slowly seeps forward to envelope its branches.
(please click to enlarge)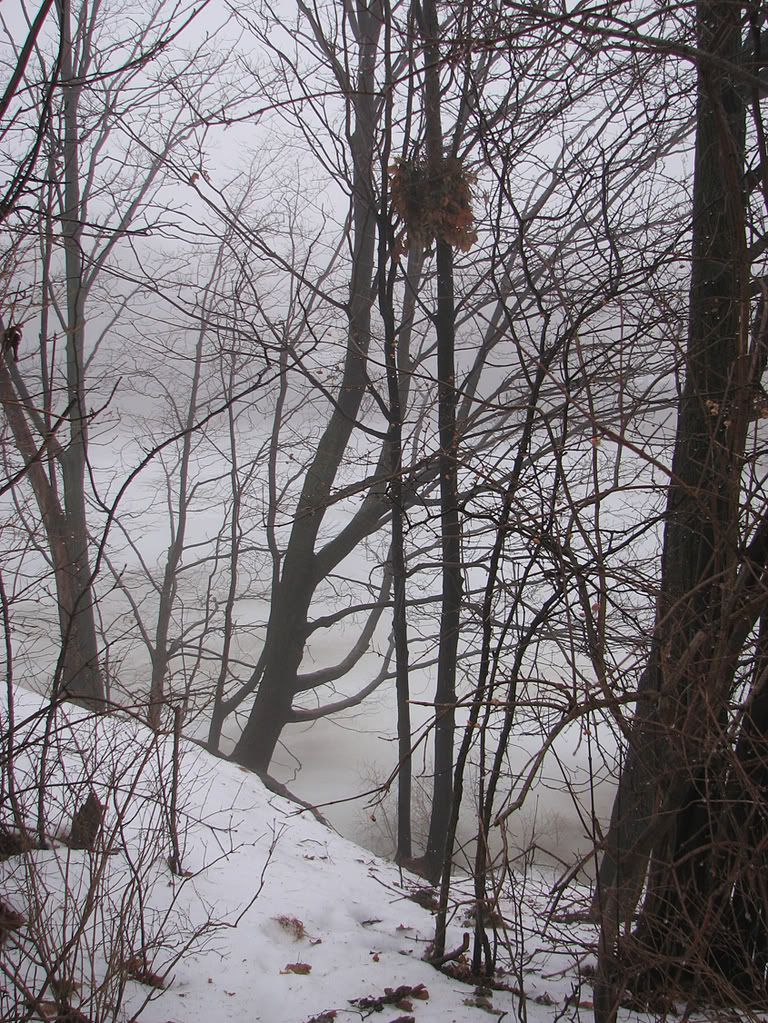 The gentle slope of the shoreline balances its trees at precarious angles, allowing some to dip their branches into the fog-covered water.
(please click to enlarge)
Trees intertwine as if to orient themselves against the misty background of the opposite shore.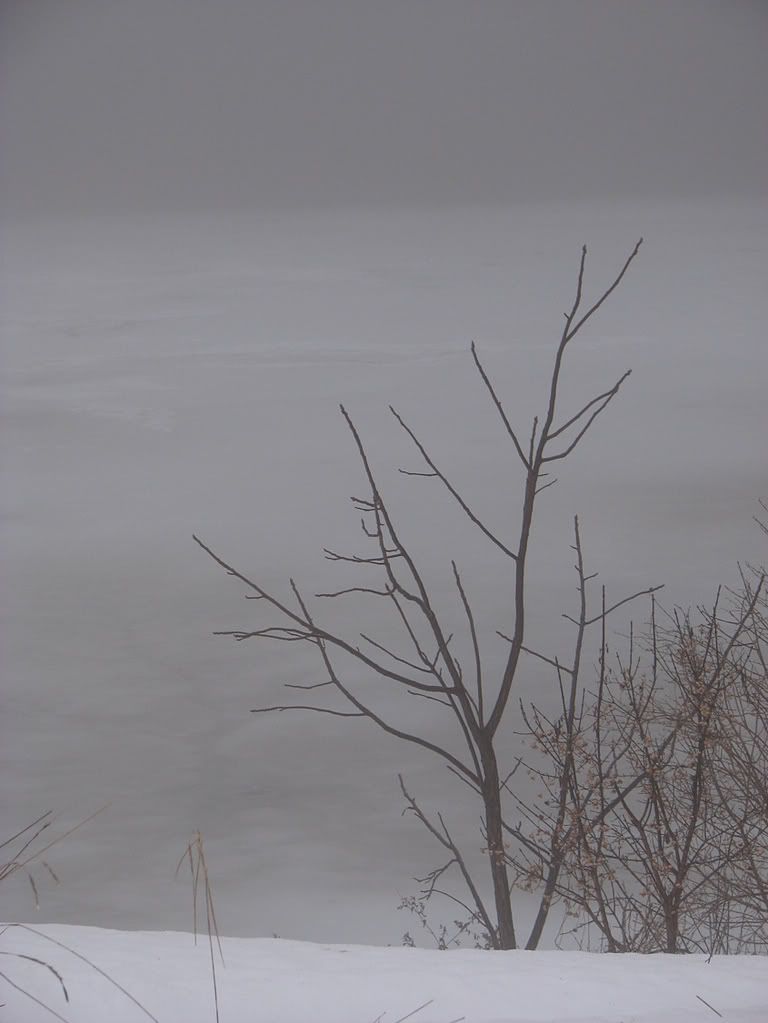 The fog-covered pond seems to provide a layered backdrop for these lonely branches.
(please click to enlarge)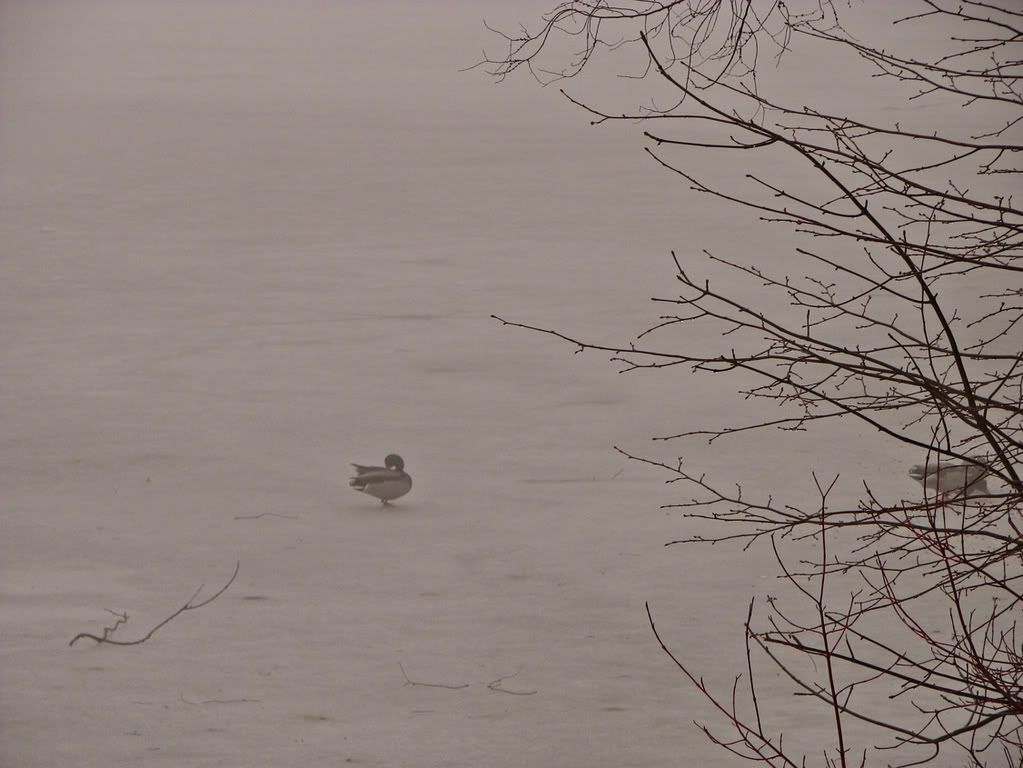 Unconcerned with the reduced visibility, a lone duck preens on the still-frozen surface of the pond.
(please click to enlarge)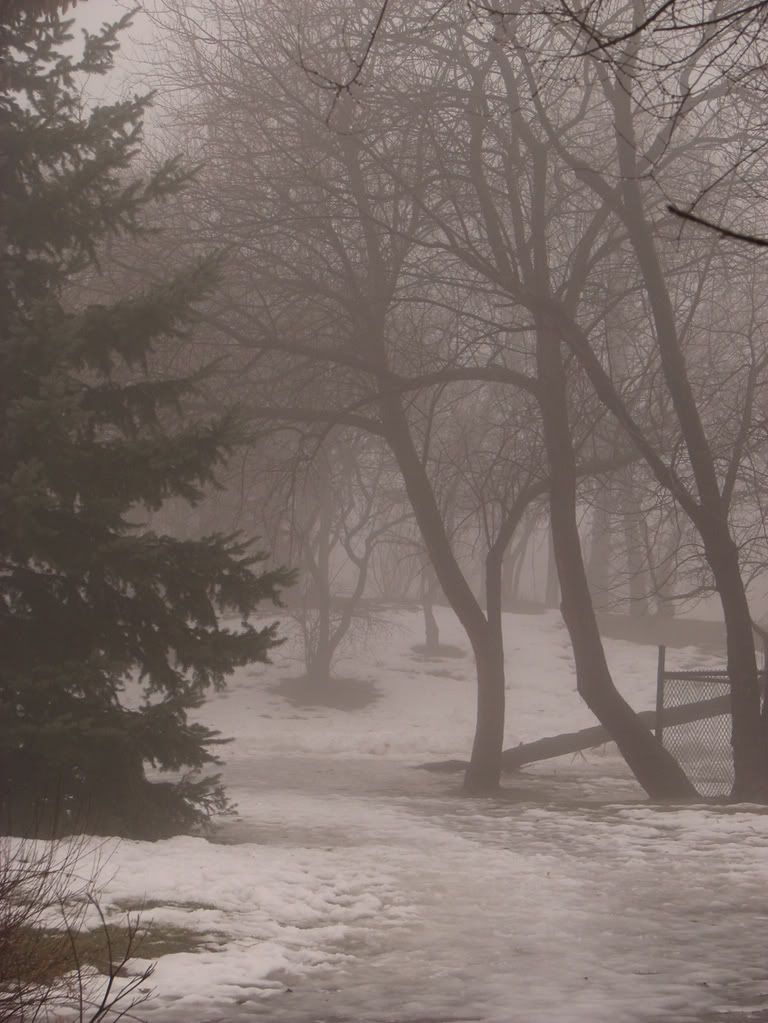 Perspective changes greatly at times. The fog seemed to make this ordinary portion of the pathway appear new to me.
(please click to enlarge)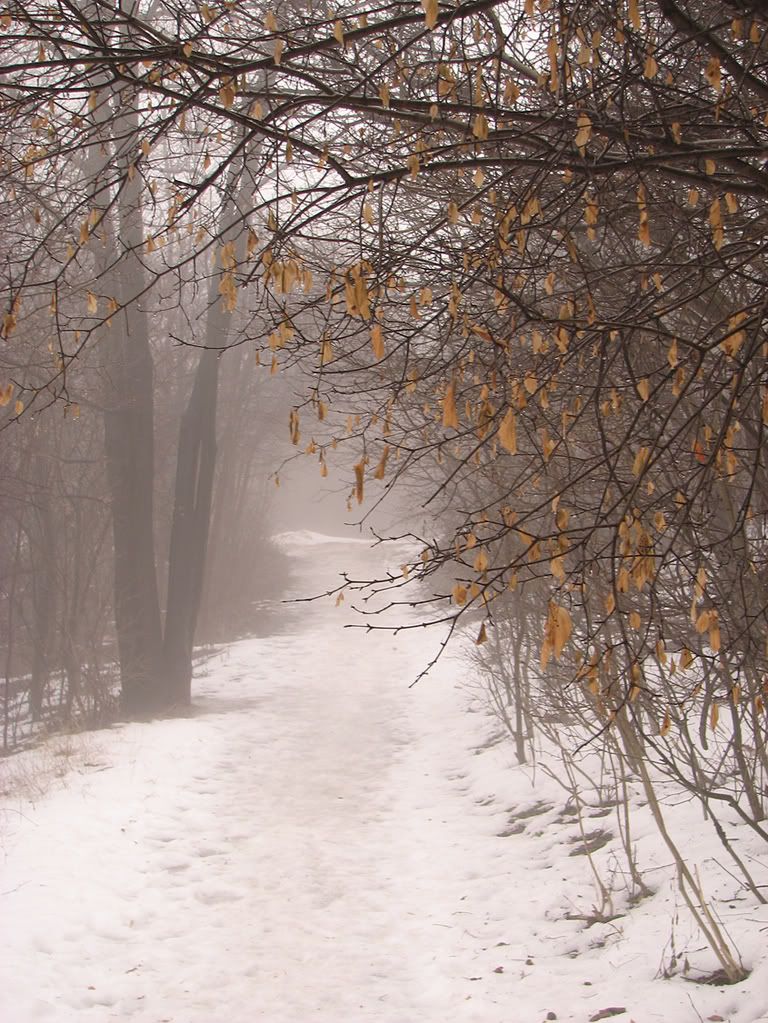 Old leaves which still cling to this tree create a colourful contrast to the hazy background, while droplets of rain dot the branches.
(please click to enlarge)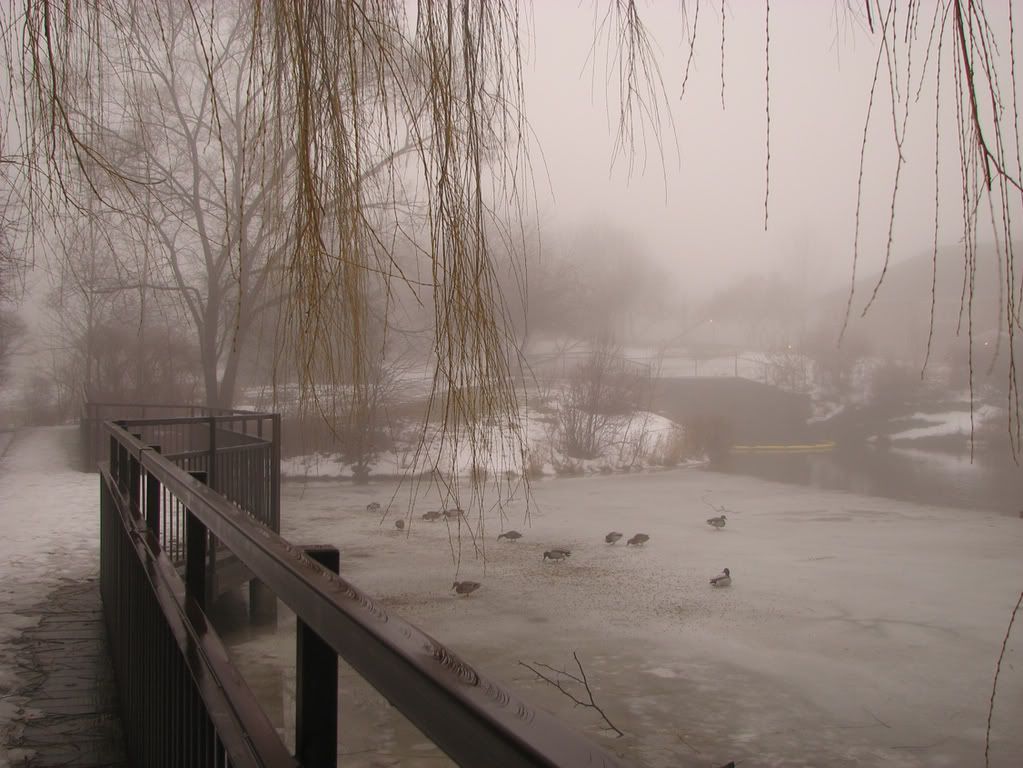 This view is from the dock, beneath the weeping willow. The sun rose from behind it early that morning. It's opposite in perspective from the first photo in many ways.
(please click to enlarge)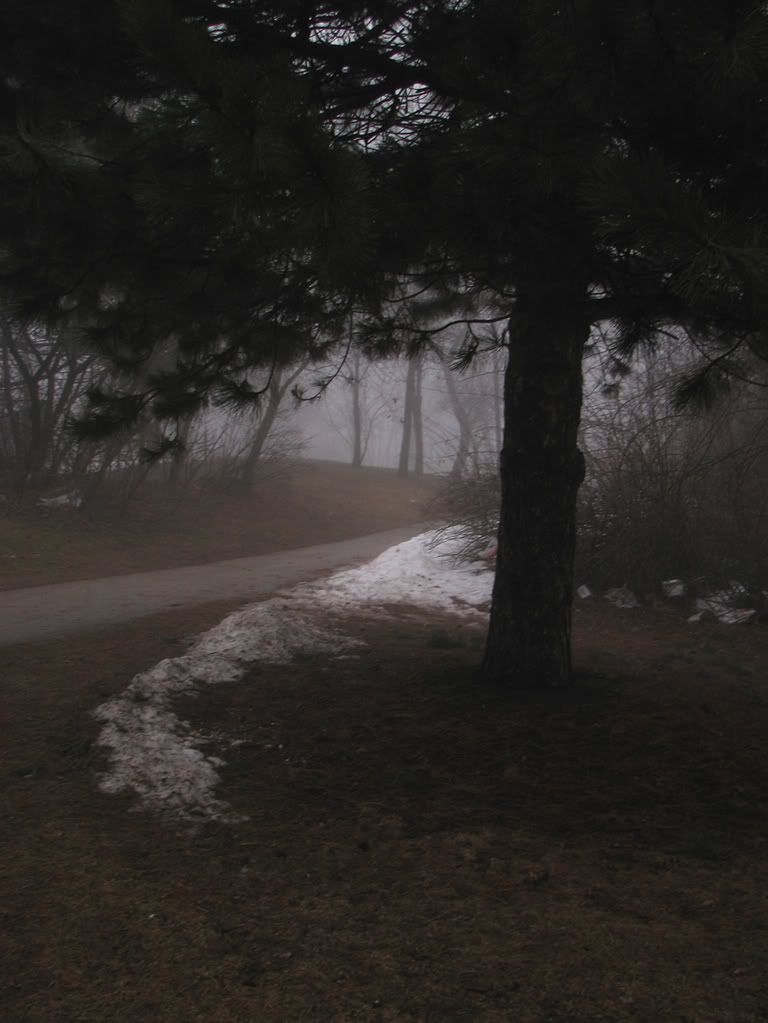 One last stroll around the pond. Late in the day, snow has almost fully melted and the fog feels even moodier in the near-darkness.
(please click to enlarge)