Last week, I visited my cousin and good friend, Marcy for dinner. Sadly, someone in her family is a kleptomaniac.
Marcy and I had our usual evening of chatting, laughing, eating and drinking - enjoyable as always. Her daughter was out for the evening so it was just the two of us and her three critters.
Ziggy, the oldest, is a cat who is a tad ornery, and has been known to hiss at company for no apparent reason. He's never treated me with anything better or worse than bored disinterest. Mostly he keeps to himself.

JJ is her large, goofy English Pointer. That's his photo up above. He's not the brightest bulb in the chandelier (his dimmer switch is perpetually set to low-lighting) but he loves everyone and everything on two legs or four. And he loves attention. JJ can sit in front of me for hours trading off paws. When I'm doing anything other than giving him my undivided attention, he'll lift a large, clumsy paw and rest it heavily on my forearm. Once this gets to be tiring (after 3 seconds), I'll remove his paw and plant it securely on the floor. He'll immediately lift his other paw and replace the first one with that. He can go on like this for as long as I can endure it, never tiring of this activity before I do. Eventually, he'll realize that I've had enough (when I'm curled up in the fetal position in the corner), and he'll wander off to chase Waffle.

Waffle is the newest member of the household - a fluffy orange kitten who thinks she owns the joint. Playful and rambunctious, as a feline should be, she torments Ziggy and keeps in step with JJ. It's a tad chaotic when JJ gallops through the house in hot pursuit of this little fur ball, but it's fun and endearing to see them play, while Ziggy watches from beneath the table, hoping that they'll just leave him alone.
At one point in the evening, I asked Marcy for a particular phone number and she wrote it down for me on a small slip of paper. I have a tendency to misplace small items like that, so I decided I'd best put it in my wallet immediately. We continued chatting and enjoying our Cuzzie time for a while, but eventually it was time to go. I grabbed my purse and found it to be unusually lightweight. Hmmm. a quick look inside confirmed that I didn't appear to have replaced my wallet. I began looking for it in the kitchen, which was where I accepted that phone number. It wasn't there. Marcy has an average-sized home. It's neat and uncluttered, and I hadn't been in too many rooms, so my wallet shouldn't have been hard to find. A first, second and third check of the dining room, living room, kitchen and bathroom did not reveal my misplaced wallet.
I began to wonder if I had even brought it with me. Perhaps I'd left it out at home, and I never even put that phone number into it. I didn't actually recall handling it, and neither did my cousin remember seeing it. In that case, the phone number would mostly likely be in one of my pockets, but they were empty. No, I had my wallet - it was just missing. Eventually, it occurred to Marcy that however unlikely, maybe JJ stuck his nose into my purse and took it. As a last resort, we went upstairs to where she keeps his crate and looked inside. There, along with a tissue and a small stuffed animal, was my missing wallet.
It turns out that JJ is a lot smarter than I thought, and Marcy has him trained well. Imagine what she could do with a pet monkey.
Below are a few photos taken from the last couple of weeks. Please remember to click on them to enlarge.
Mid-morning, the sun was hazy as it peeked through the branches of the trees. The surrounding grey-blue sky gave it an eerie glow.

(please click to enlarge)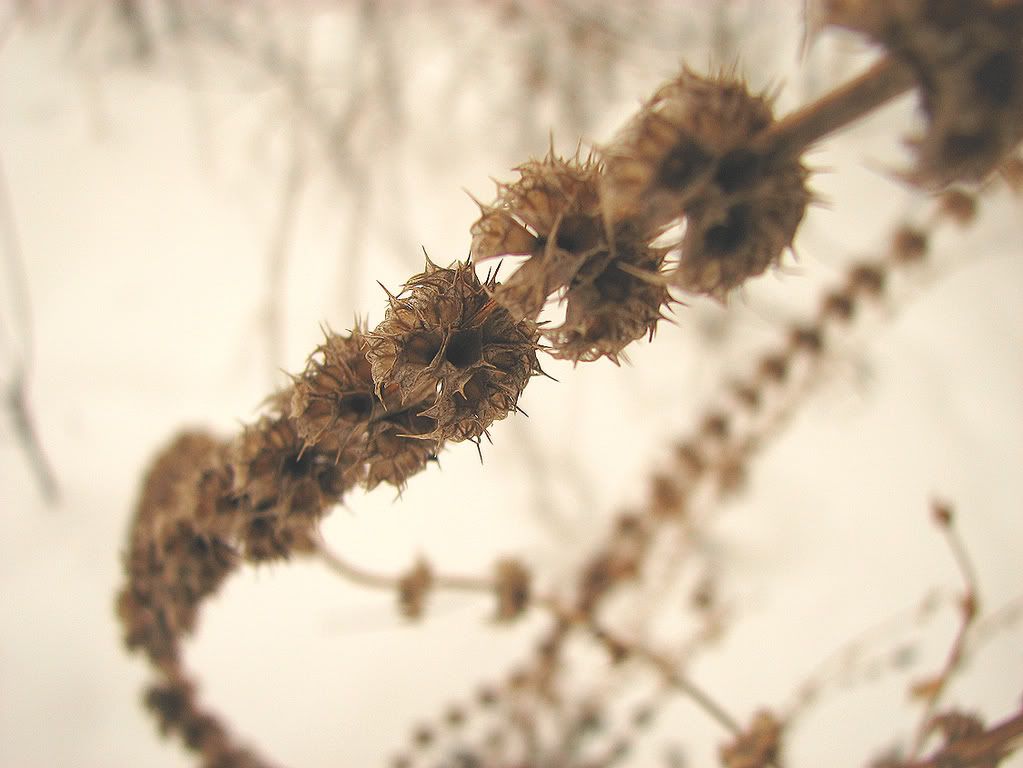 I was having a bit of fun with the macro setting. I found this string of dried out seed pods beside the pond and thought it made an interesting shot.
(please click to enlarge)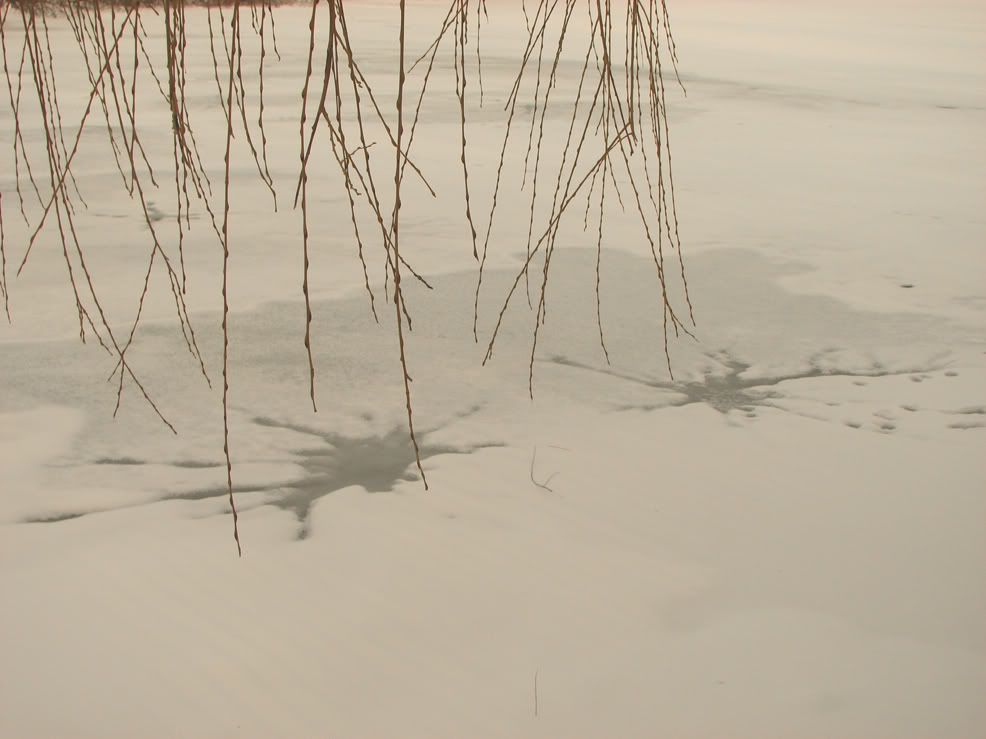 There's a lovely old willow tree which grows across the dock and suspends over the pond. A few of its branches are in the foreground of this image which shows some unusual crack-like shapes on the surface of the snow-covered pond.
(please click to enlarge)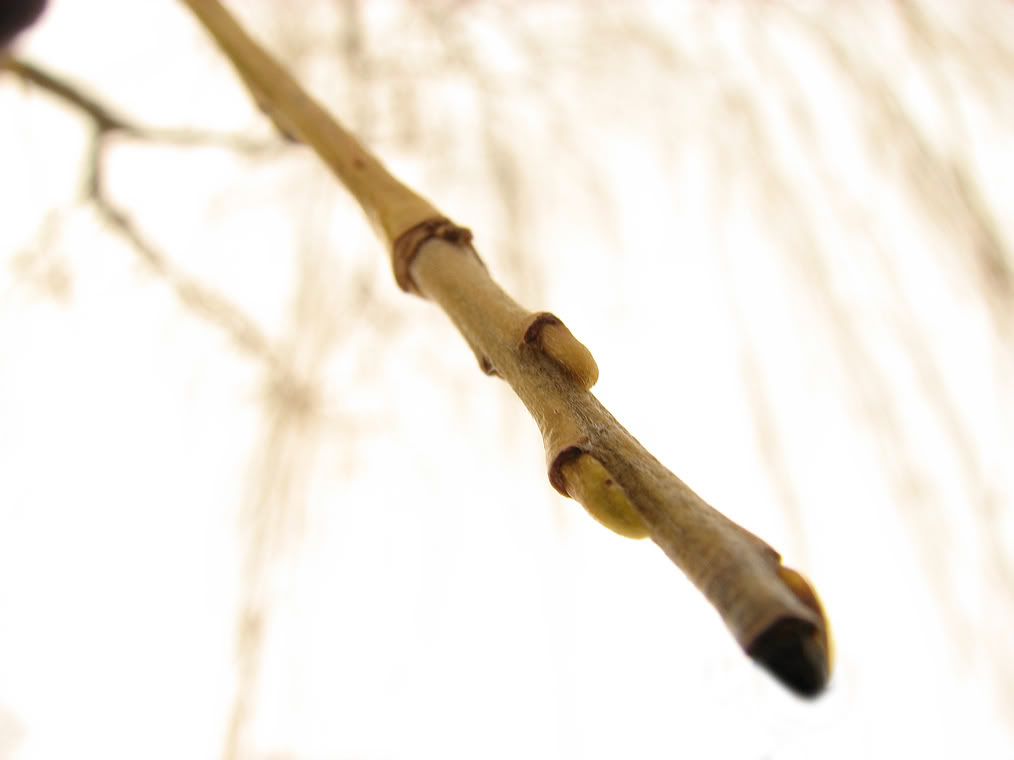 A hanging willow branch as seen from directly below.
(please click to enlarge)
This wayward branch reaches out over the lake and away from its surrounding brush to find sunlight.
(please click to enlarge)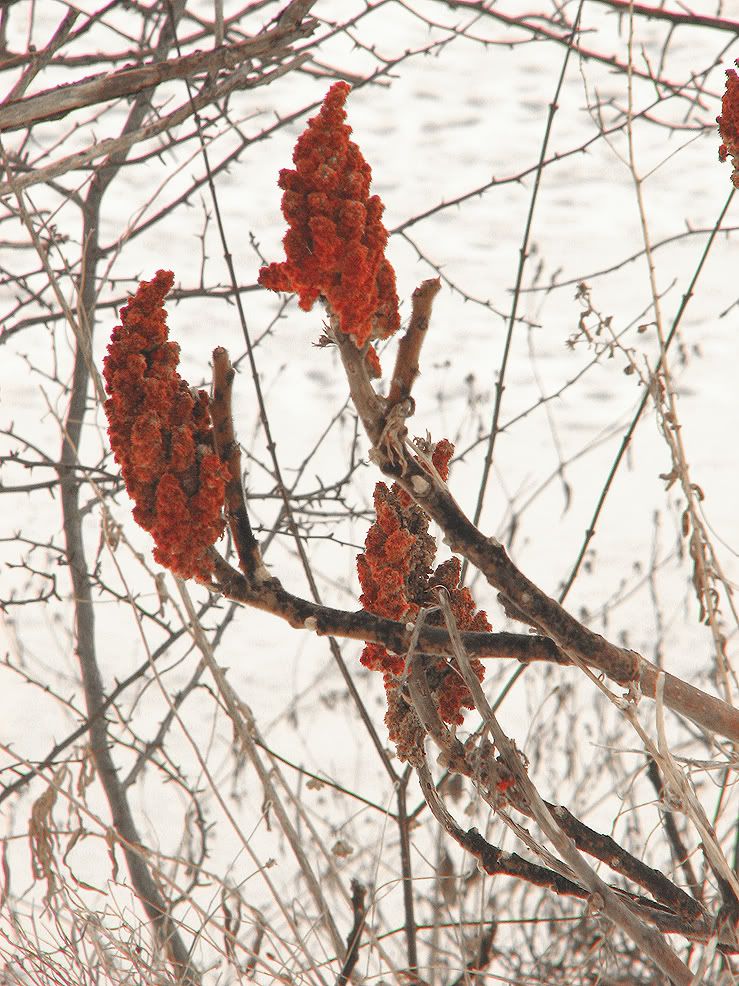 Cardinals and Sumac seem to add a splash of natural red to the winter landscape. Last week I posted Cardinals. Today the Sumac proudly flashes its colour against the backdrop of the icy pond.
(please click to enlarge)
That hazy orb of golden sunlight rays reflects in the duck pond.
(please click to enlarge)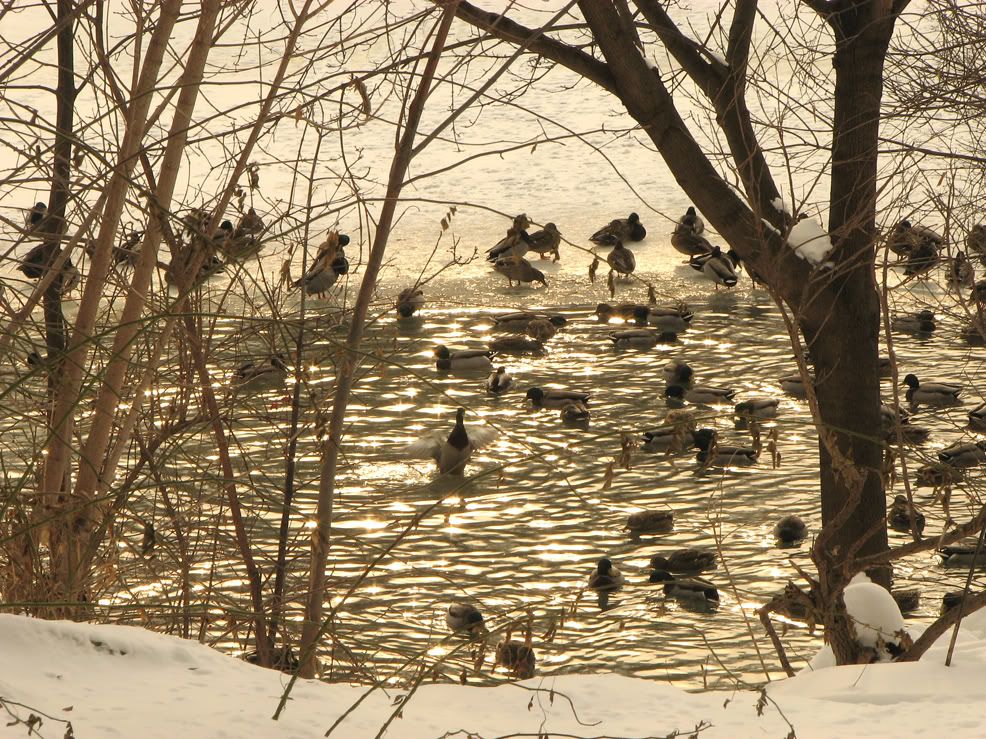 Zoomed in a little closer, you can see one of the ducks having a good wing-flap in the water.
(please click to enlarge)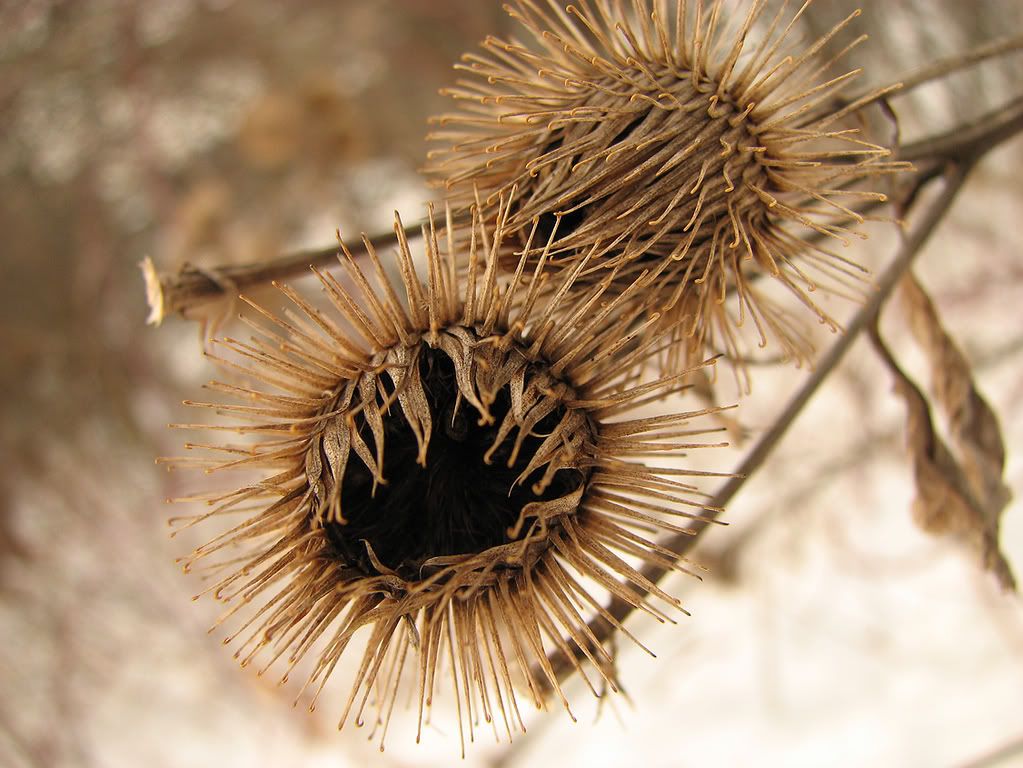 Back on the macro setting, you can see the little barbs at the end of these spiky burrs. No wonder they stick to clothes like Velcro.
(please click to enlarge)