Walking and photography go hand in hand for me. I only need two hands to operate the camera but the challenge comes into play when Benny joins me. Now, ordinarily Frank handles the leash, and he endures the arm-jerks which signal Benny's desire to forge ahead. I can roll my eyes through his quickly-executed run-jump-tackle sequences which he does with all four paws when he's impatient and wants to move on, but his Herculean tugs and jolts make sharp pictures an impossibility. This past weekend, Frank wasn't feeling tip-top, so I was dog-walker and frustrated photographer rolled into one.

The snow poses yet another difficulty where Ben is concerned. When walking alongside me, he looks at every wayward bit of snow my boots kick up, as a contest. In his frenzied little doggie mind, he believes he has to consume each and every flake. So he hovers near my left foot, and watches each time it lifts a clump of snow. Then he pounces on the newly-landed white stuff, and devours it. That was how the first third of our walk went. Hover. Pounce. Devour.

The second third consisted of him shivering uncontrollably and stopping every three minutes to pee what appeared to be enough urine to overflow from an elephant's bladder. And yet he managed to repeat that shaky stream no less than three times over the next ten minutes. When he wasn't peeing, he was barfing. That crazy little pup was filled to capacity from one end to the other and his body did what it could to expel the volume of snow he ingested. Shiver. Pee. Barf.

During this same phase of our walk, I tried to distract him and keep him moving, so that he'd warm up. Benny can't resist a stick. If I have one in my hand, he wants it. He'll jump alongside me, trying to clamp his teeth down upon it. Once he gets it in his possession, he'll challenge me to come get it back, stick at his front paws, tail wagging, head cocked to the side and eyes locked on my hand. If I make a move toward it, he's off like a shot, prize in mouth. In fact, the only way to get it back from him is to find another. Once he sees the new one, he'll drop the first, leaving it forgotten while he tries to master a new conquest. I kept him occupied this way, occasionally allowing him to chase it down and trot along with his trophy. Jump. Chase. Trot.

On the final third of our walk, Benny had warmed up considerably. He was no longer shivering, and both his stomach and bladder seemed to be devoid of melted snow. This of course meant that he was ready to go back to hover-pounce-devour mode. The cold discomfort he suffered minutes earlier was already forgotten. Such is the nature of a terrier. Silly. Little. Twit.

Despite Benny's antics, I still managed to take a few shots of our snowy surroundings. Please remember to click on each photo to enlarge it.




Here's Benny, tromping through the snow, waiting and watching for when I take my next step so he can kill that clump of snow. His face is all frosty from this activity. (please click to enlarge)





The tree branches were weighted down by the snow but the tips of its pine needles glistened in the sunlight.
(please click to enlarge)
There wasn't enough snow to disguise this recent branch break.
(please click to enlarge)
There are many apple trees along the path. This one has seen better days but it's probably been sitting here since autumn.
(please click to enlarge)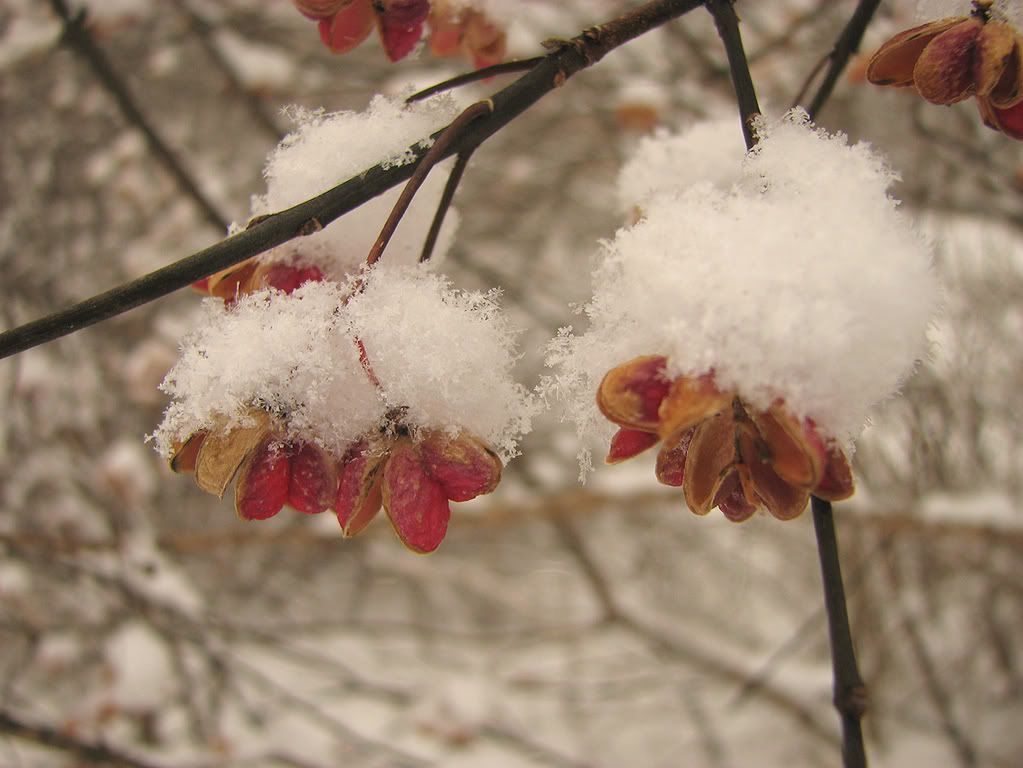 The pink pods of the Spindle tree have faded since autumn, but they still contrast strongly beneath their white caps of snow.
(please click to enlarge)
Back at home, the fresh snowfall drew several Cardinals into my yard. This beautiful male watched me through the glass door - his mate partly hidden behind him.
(please click to enlarge)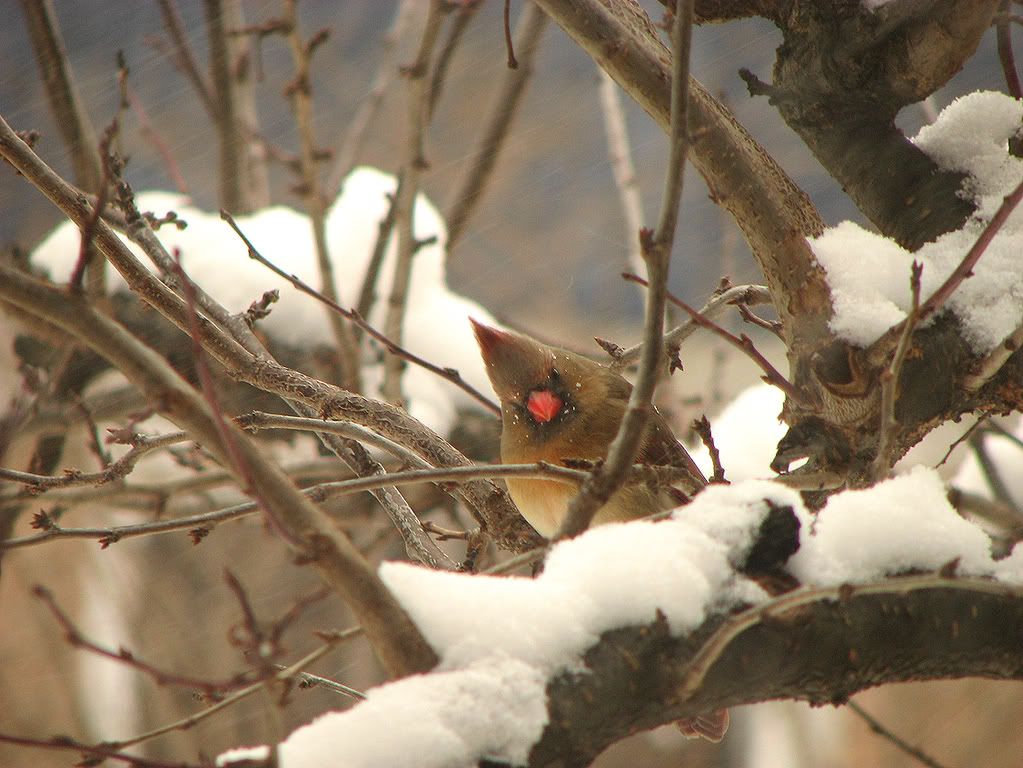 When the male moved to the feeder, I could see the female, looking inquisitive and bright. Despite her subdued colours, I think she's even more lovely than the male.
(please click to enlarge)
More snow later in the day. I had seen the apple
on one of the trees to the left of this path
.
(please click to enlarge)
Big, fluffy flakes.
(please click to enlarge)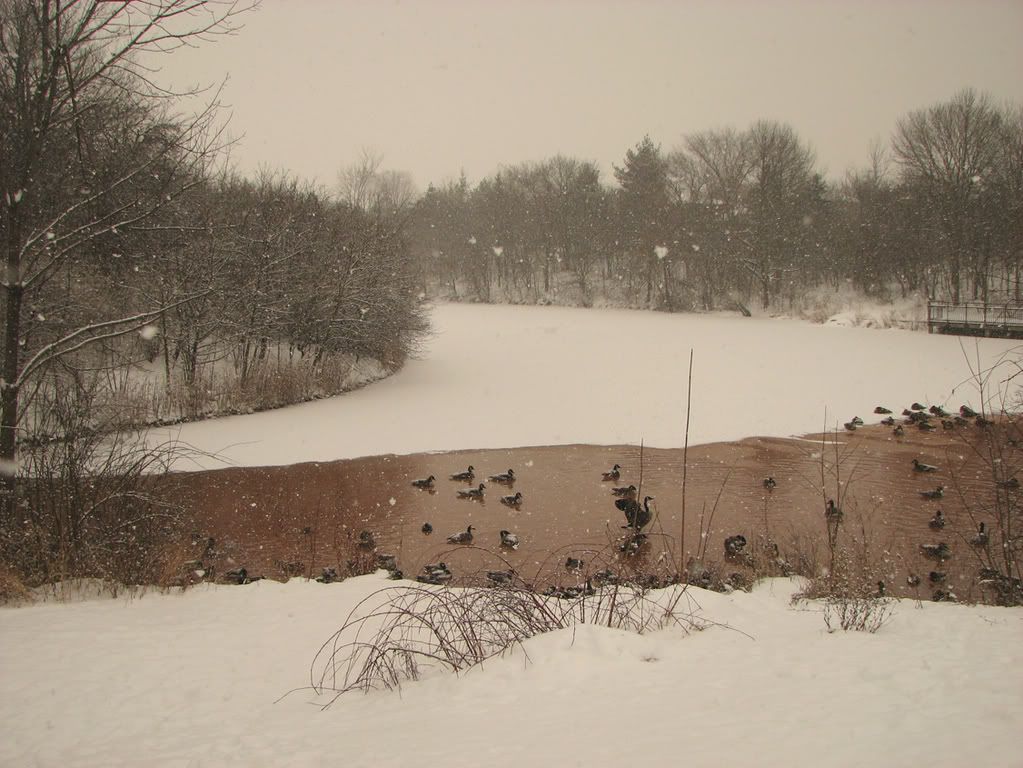 The only open water in the pond seemed to have a dull, pink-hued colour. I don't know what caused it but it cleared up by the next morning.
(please click to enlarge)
The geese appeared quite unaffected.
(please click to enlarge)