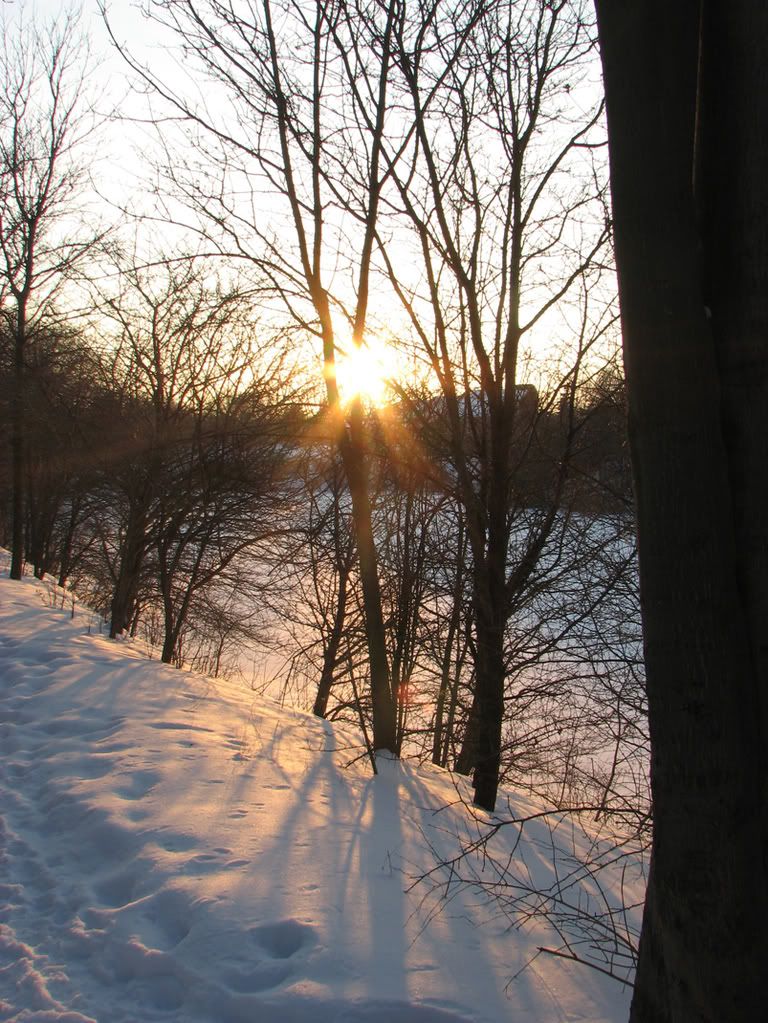 "No one can make you feel inferior without your consent." ~ Eleanor Roosevelt
Last week, on the bus, I saw a woman whom I found disturbing. As I watched her, she angered me, though my ire eventually dissolved into a sad awareness that her mental stability was most likely precarious at best. Clearly, she'd had a very difficult life - at least her last twenty years or so. I judged her current age to be late fifties to early sixties. After she paid her bus fair, she took her seat up at the front, opposite from, but close to the driver. She was speaking with irritation in her voice, and I thought she was still conversing with the bus driver, but he was not paying any attention to her.
I was sitting a few seats back, across the aisle. In front of me, was a young man in his late teens or early twenties. He spoke to her, and I realized that they were together. He was offering suggestions on how they would arrive at their destination on time for an appointment. He was encouraging her to consider transferring to a different bus at some point, rather than remain on this one. She scowled at him. "We can't take another bus. I only have two more tickets and we need them to go home."
He stood and walked over to her and tried to explain something. She told him to get away from her. When he sat back down, she berated him. "It shows how stupid you are. I can't walk in this cold and you want me to spend more time out there? It's all your fault that we're late anyway. You always make me late. Just wait until I tell (insert any of about four different names she used as the object of that threat)." And then I felt the icy fingers of her words grasp my own heart when she hissed "I should have put you in a group home."
The young man had Down syndrome, though from what I could tell, he was high-functioning, and he impressed me with how well he handled his mother. She never once threw him off-balance. He turned to the side and smiled at her. He told her that she didn't understand what he was trying to say, and his face showed subtle signs of amused superiority. Finally, he stood up, gently insisted that she show him her transfer and then pointed out the time stamp which would allow them to continue riding any bus for the next couple of hours. He named the bus line that he thought they should take next, and calmly continued to speak over her protests until she understood. The driver, who was now listening to their conversation concurred that his plan was sound.
She sat quietly for a few seconds and then continued her steady complaints about the weather, his tardiness and his intelligence. Perhaps his diminished intellectual capacity buffered his self-esteem from the onslaught of venomous words. Perhaps her own decreased mental ability was what triggered her tirades and gave her words malice. In any event, the boy appeared unaffected by her behaviour. On the way to his seat, her son shook his head, smiled and said "You see? Sometimes I am just smarter than you!"
I wanted to hug that boy.
Below are a few photos taken over the past week from before and during our recent thaw. Please remember to click on them to enlarge.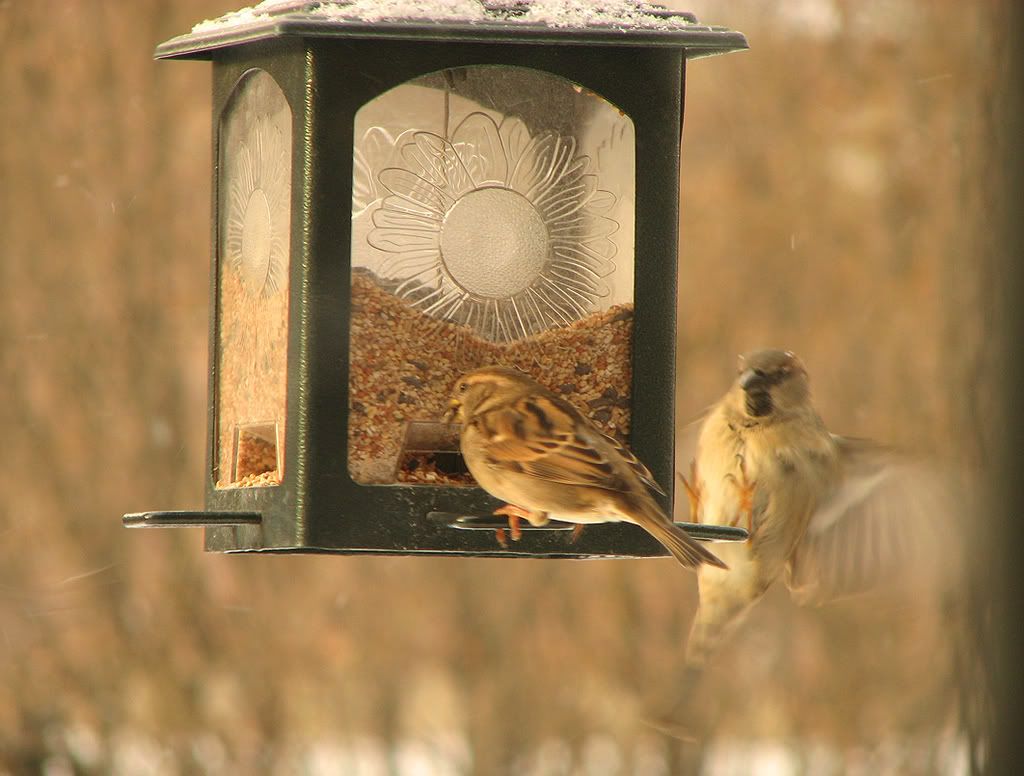 My backyard feeder has been filled countless times this winter - sometimes as often as three times a day, depending on the weather.This isn't a very sharp image, but I did like that I happened to catch this little bird as it was about to land.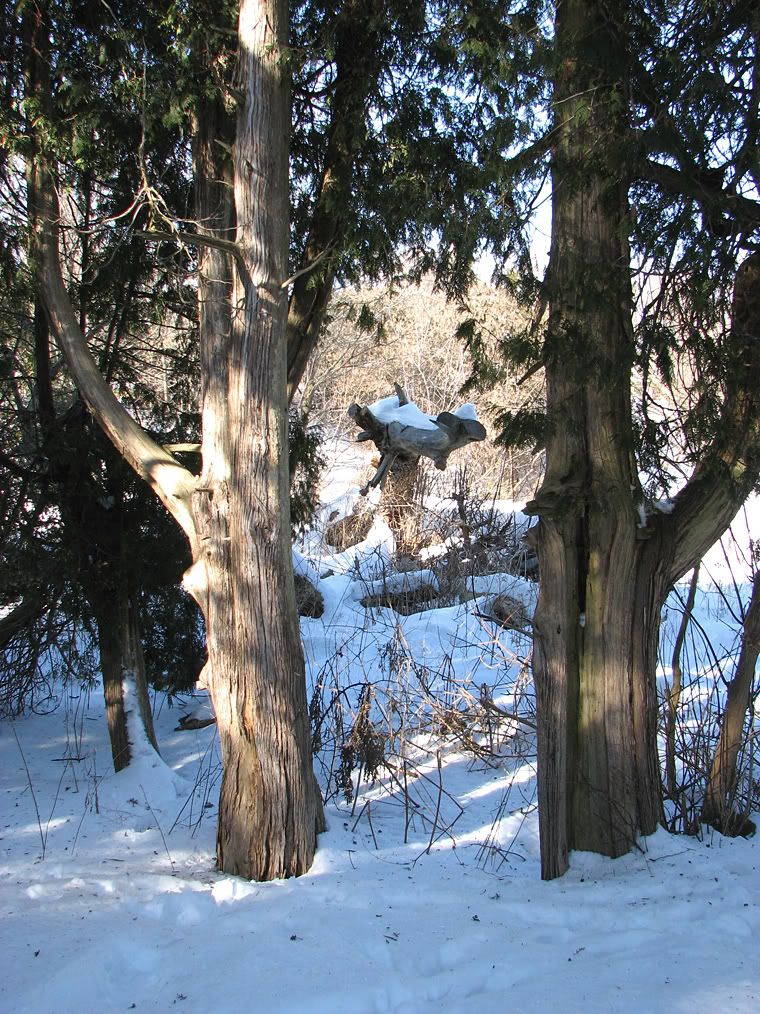 At Frank's place, an early morning walk revealed a fresh snowfall, as a peek between these two trees would indicate.
(please click to enlarge)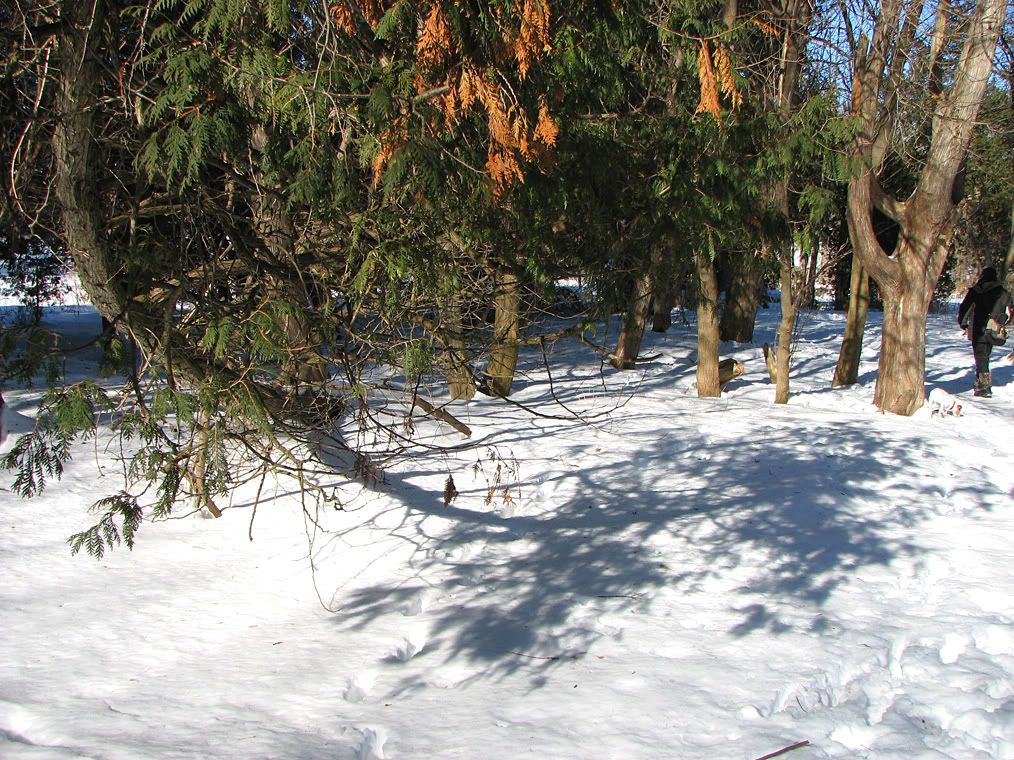 The bright morning sun created sharp shadows like this one of a cedar branch.
(please click to enlarge)
More shadows from the cedars as they lean into early morning chitchat with one another.
(please click to enlarge)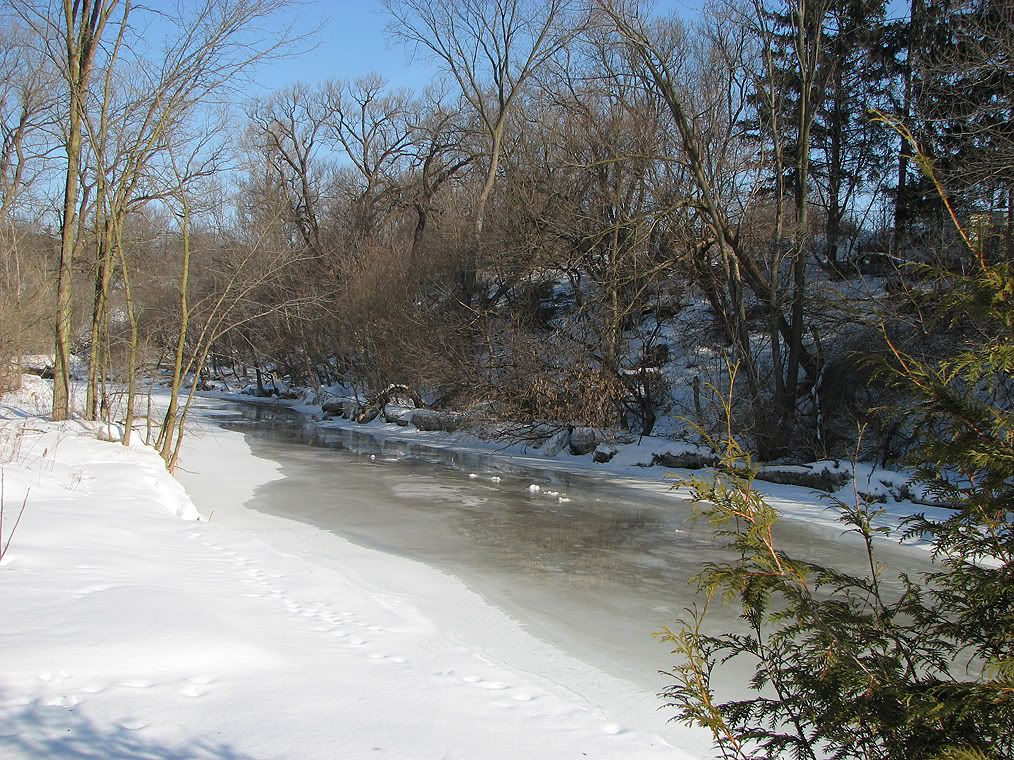 The creek was crisp, clear, cold and beautiful.
(please click to enlarge)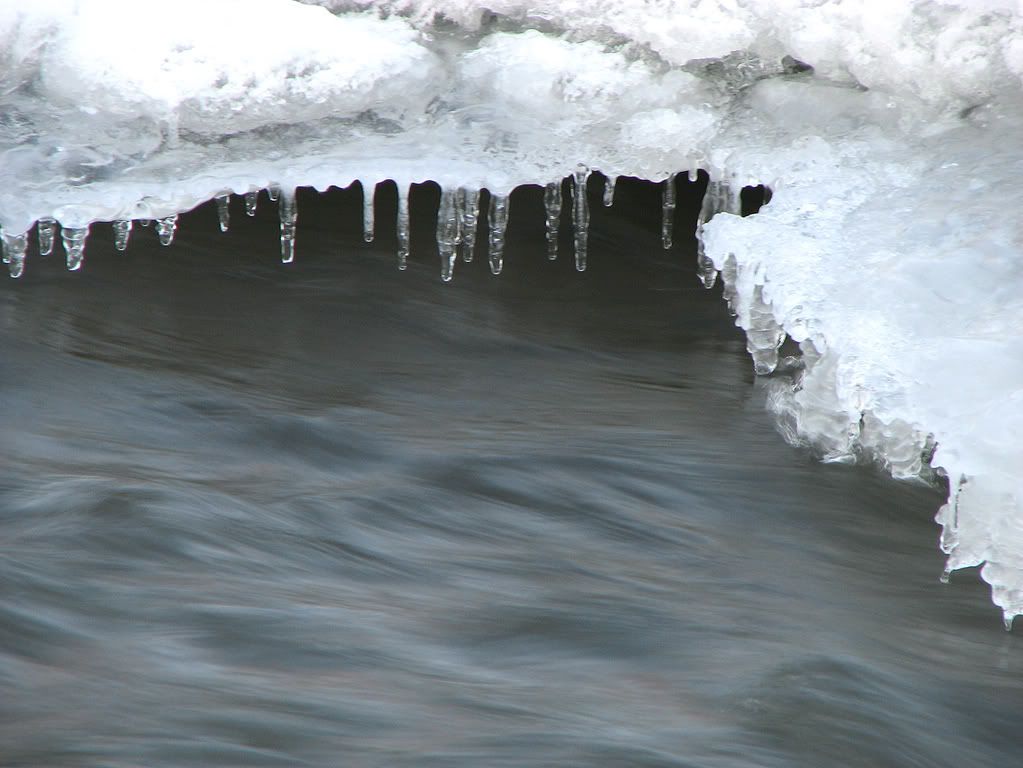 On the opposite bank, at a bend where the water ran swift, small icicles had formed on the overhanging shelf of snow.
(please click to enlarge)
The next day, we stopped the car on our way to take a look at a pretty little spot - one of Frank's favourite fishing holes of yesteryear.
(please click to enlarge)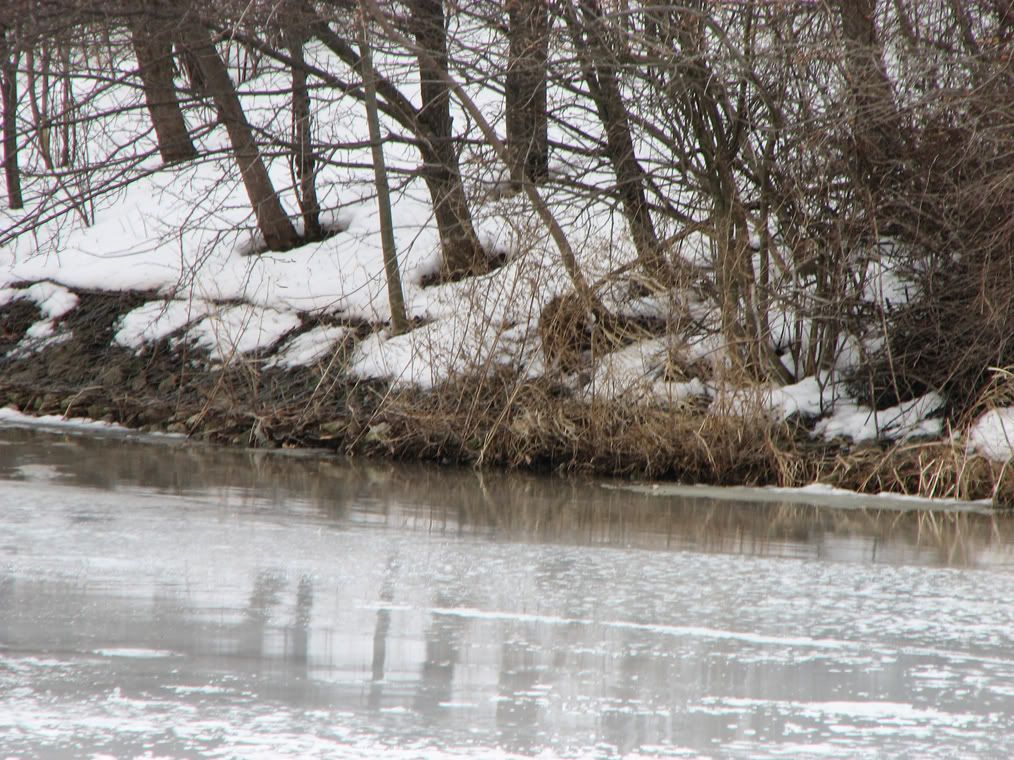 Back home again, the weather warms, and shoreline trees reflect in the melting pond.
(please click to enlarge)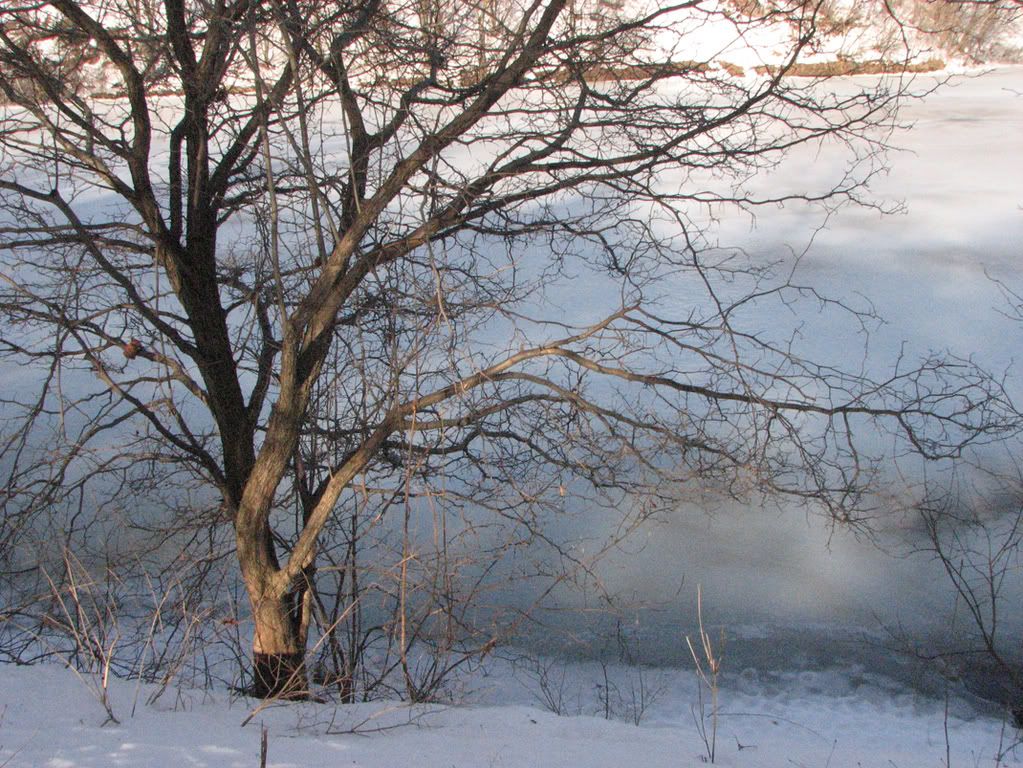 A subtle fog rises from the lake for a muted, smoky effect.
(please click to enlarge)
Sun and shadow combine to create soft shades of blue, pale green and gray upon the icy thaw.
(please click to enlarge)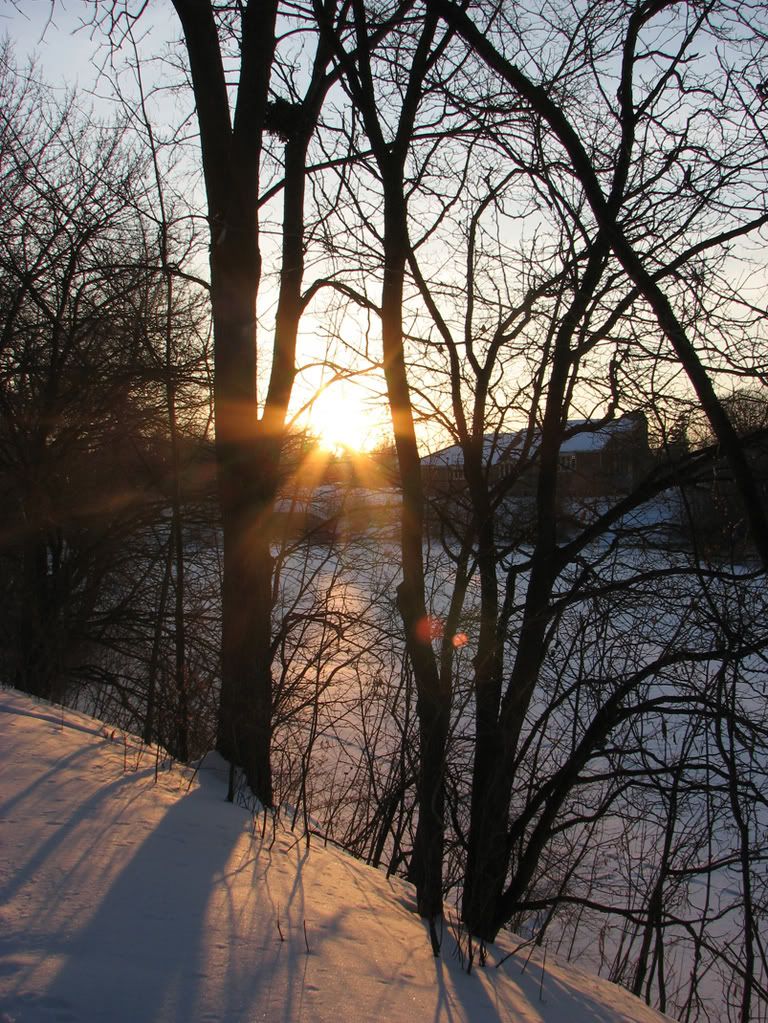 Late in the day, the sun drops to meet the horizon and paints the landscape with golden warmth.
(please click to enlarge)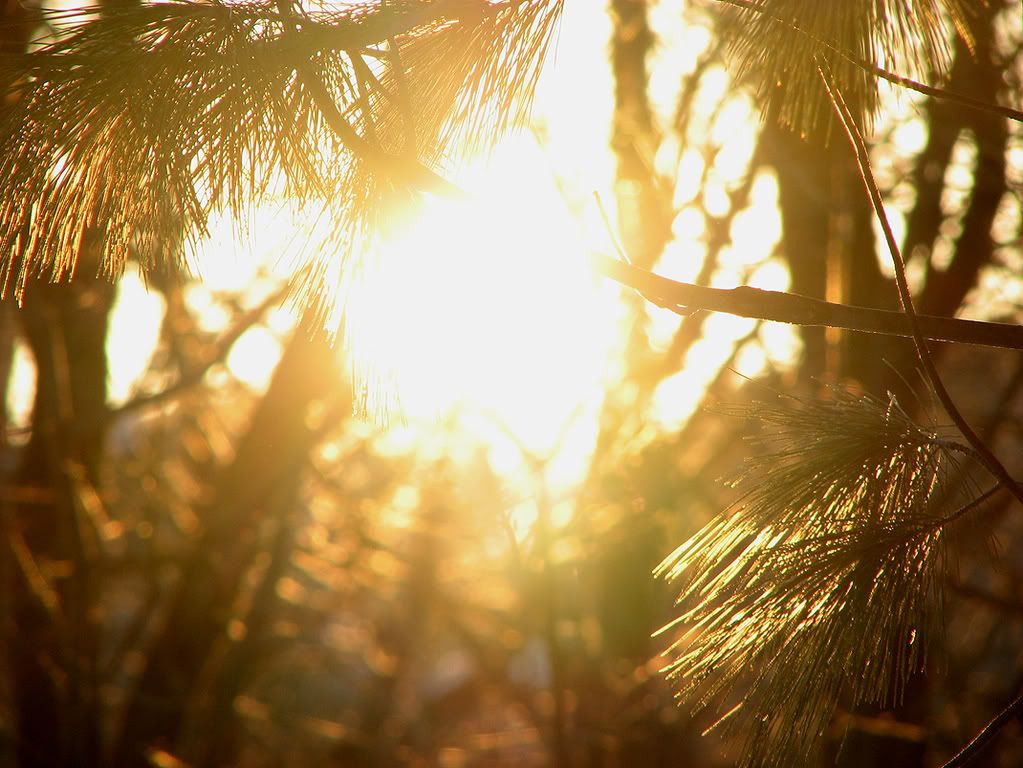 Gilded pine needles absorb the sun, and glow with the promise of spring.
(please click to enlarge)