I know that a lot of you folks who so kindly read my blog and comment regularly were born in North America during the 1940's, 50's and 60's. If you're at all like I am, television became a big part of your daily entertainment throughout those latter decades and beyond.
If you heard the names Lucy Ricardo or Hawkeye Pierce, you'd immediately be able to tell me that they are characters from I Love Lucy and M*A*S*H respectively. But how familiar are you with television's more obscure roles? Those background characters who appeared routinely, but never obtained starring role status. They have hauntingly familiar names but if you heard them today, could you connect them to their television show? Of course Google could probably provide you with all of the answers, but please try using your own brain power to remember these names, and the shows which gave them life. So, how many do you know?
I'm going to turn on comment moderation so that your answers won't appear below until a few days later, so that everyone has a chance to play. Have fun!
1) Otis Campbell
2) Consuelo Lopez
3) Pinky Tuscadero
4) Agnes Dipesto
5) Gil Chesterton
6) Jenny Piccalo
7) Georgette Franklin
8) Joe Gerard
9) Gladys Kravitz
10) Dr. Alfred Bellows
11) Earl J. Waggedorn
12) Kelly Kapoor
For those of you who are too young to remember, or don't wish to play along, here are some photos taken over the past few days. Please remember to click on them to enlarge.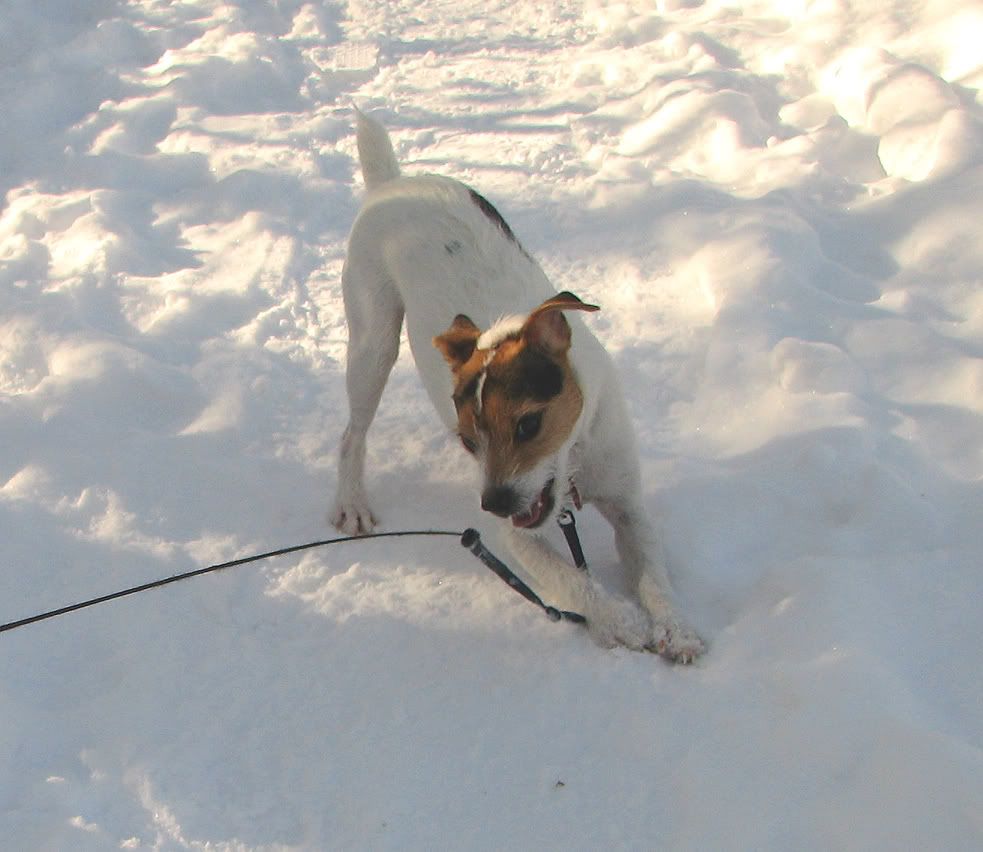 A typical shot of Benny while out walking. He's the canine definition of perpetual motion. If he's not chasing sticks or wayward clumps of snow, he's wrestling with his own leash, achieving his dominance over it. Crazy dog!
(please click to enlarge)
Although many snowfalls have dusted this oak, it still manages to cling tenaciously to a couple of its leaves. It shares the mindset of a Jack Russell Terrier.
(please click to enlarge)
In summer, this picnic table is an inviting place to sit and watch the animal life on the lake. It's just a tad less hospitable in winter, but still nestled in a scenic location.
(please click to enlarge)
This branch hangs a bit heavy after repeated snowfalls. It gently sweeps the snow below it as it sways back and forth in the breeze.
(please click to enlarge)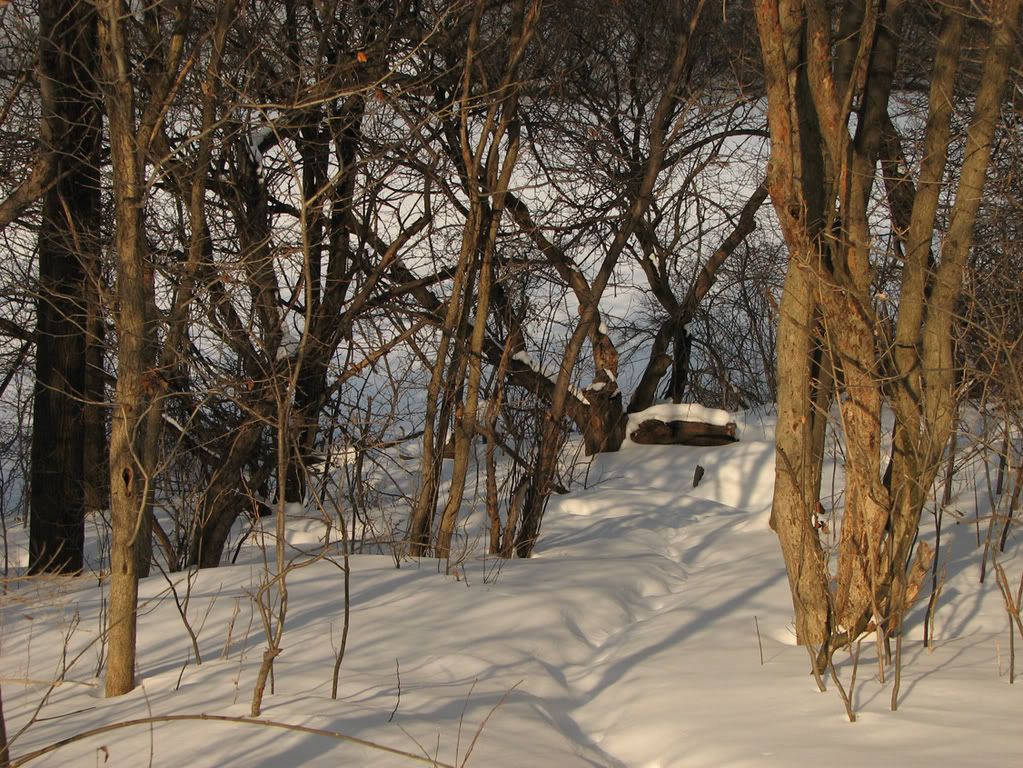 Another popular spot in summer. Young and old tend to stop by that rock at the bottom of the hill, to watch the water (or ice) in any season.
(please click to enlarge)
Amid the usual cluster of Sparrows, Cardinals, Mourning Doves, Juncos and Chickadees, this little bird and its mate were new visitors to my feeder. I believe it's an American Goldfinch dressed in its winter garb.
(please click to enlarge)
I keep a heating sheet on the roof of the house to prevent a buildup of ice under the shingles, as we experience thaws and refreezes. This ice was formed after snow melted and dripped off of the roof, and refroze onto the downspout and wood pieces below.
(please click to enlarge)
Before plugging that sheet in this year, the late-day sun reflected off of icicles which hung in front of my son's bedroom. This was taken through the screen and two panes of glass - hence the multiple reflections.
(please click to enlarge)
And here's Ymir (a.k.a. Frank) - the Norse frost giant, doing a fine imitation of his pal, Thor.
(please click to enlarge)
As the day winds down, the sky came alive with soft hues of peach, pink and mauve. Winter sunsets are often so striking.
(please click to enlarge)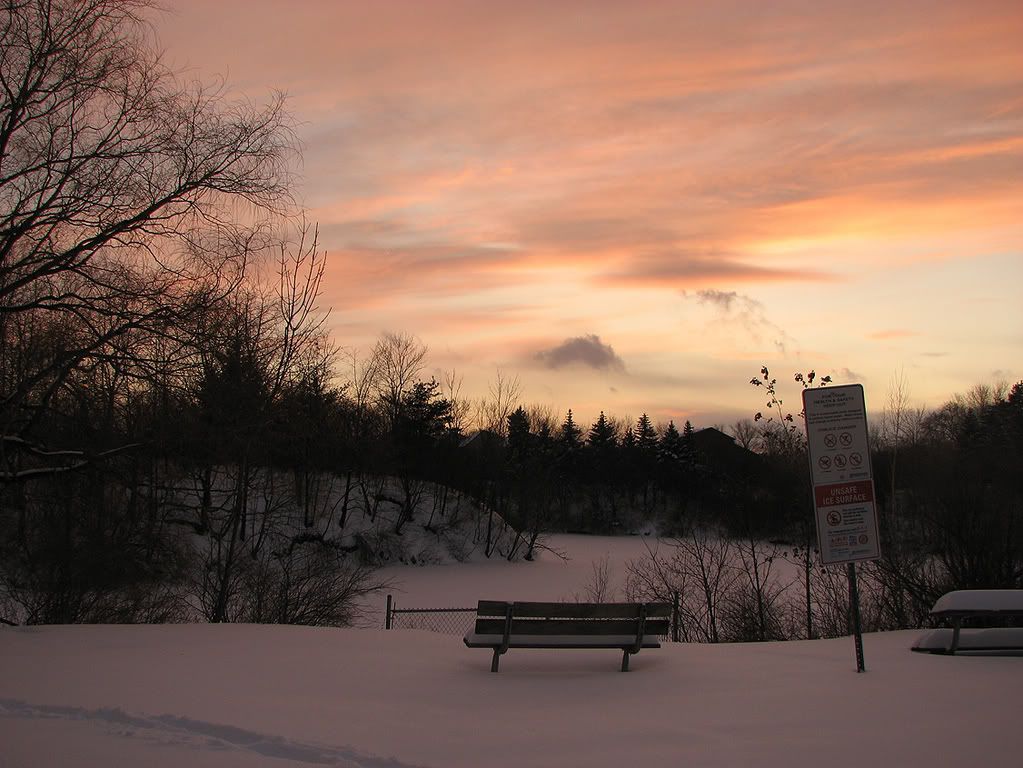 The setting sun reflects in the snow and ice as seen from behind a park bench overlooking the pond.
(please click to enlarge)
Behind the weeping willow, the sky has changed to deeper shades of purple, pink and gold which bleed into the snow below.
(please click to enlarge)
I'll release comments in few days along with the correct answers for the names listed above. Thanks for playing!