Thanks to everyone who played along with "What's In A Name", and to those of you who left such lovely comments on my previous blog post. Those comments have now been posted and I'll reply to them shortly.

It looks like between all of you, you knew all but one character, and some of you were stumped by a few. The answers, as well as a few new photos are below. Please take the time to click on some links. You may just find a new blog to love.
1)

Otis Campbell, played by Hal Smith was the town drunk on The Andy Griffith Show, also known as Mayberry. He regularly drank to excess, and when even he deemed himself intoxicated enough for arrest, he used his own key to put himself in jail. Equally absurd was Detective Barney Fife's (Don Knotts) ineptitude in handling his gun. As a matter of safety, Sheriff Andy Taylor (Andy Griffith) insisted he keep his lone bullet in his shirt pocket.
Many of you knew who Otis was, but Dawno was the first to get this answer correctly. Dawno is a long-time writing board (Absolute Write) friend of Frank's, and she makes beautiful beaded jewelry which she sells on her Etsy site. You can find her wonderfully-crafted pieces by following the link from her blog.
2)

Consuelo Lopez, played by Elena Verdugo was Marcus Welby M.D. (Robert Young)'s loyal nurse, secretary and confidant. The show also stared James Brolin as Dr. Steven Kiley.
Also new to my blog is The Accidental Bavarian who was the first to guess this answer correctly. She has an interesting blog which covers her travels with her husband through much of her home state of Washington, and beyond. She has traveled to 38 cities in 6 countries. I'm glad to see that one of her favourite destinations is Niagara-On-The-Lake right here in Ontario, as it's also one of mine.
3)
Pinky Tuscadero, who was played by Roz Kelly appeared in the show Happy Day as a love interest for The Fonz (Henry Winkler). The character's sister Leather Tuscadero was played by rock singer Suzi Quatro known for a few songs, my favourite of which is Devil Gate Drive.
The Accidental Bavarian was also first to name this character but next was NJ of The Path of Least Resistance. She is a fellow Canuck and an empty nester who lives in Napanee, Ontario. NJ likes to knit, and she takes some lovely photographs. Her blog gives us simple, warm and inviting glimpses into her life.
4)

Agnes DiPesto played the quirky receptionist to private detectives Maddie Hayes (Cybill Shepherd) and David Addison (Bruce Willis) in Moonlighting. The character, who usually answered the telephone in rhyming lines was played by Allyce Beasley.
Dawno was also the first one to name this character, but a close second was Tired Dad a first time commentator over here, and a blogger after my own heart. His site, A Tired Dad's Ramblings always includes a Pun of the Day, for those of us who are gluttons for Punishment.
5)

Gil Chesterton. Nobody knew this food critic from Frasier, who was played by Edward Hibbert.
6)

Jenny Piccalo was Joannie Cunningham (Erin Moran)'s best friend and partner in crime on Happy Days. As Suldog stated in his comment, she wasn't actually seen on the show for years, but for the last few seasons, she did become more than just a reference, and was played by actress Cathy Silver.
Leah was the first to answer this one correctly. Her blog, The Goat's Lunch Pail is a treat. Leah is a fine writer and photographer who has also shared some delicious recipes with us, so I know she's a great cook too. Join her for Gratitude Monday, Photo Finish Friday and everything in between. You won't be disappointed.
7)

Georgette Franklin was Ted Baxter (Ted Knight)'s dizzy, soft-spoken girlfriend who eventually became his wife on The Mary Tyler Moore Show. She was played by actress Georgia Engel during the last several years of the show's existence.
Once again, Dawno was first to identify this character but Russell of Iowa Grasslands dropped by shortly afterward, and also named her. Russell's blog is warm and welcoming. He lives in an old farm house out in rural Iowa with his wonderful dog, Bailey. He teaches law at a community college, has an affection for farm machinery and is a fine photographer. You'll always feel comfortable over at his blog so do yourself a favour and give him a visit.
8)

Joe Gerard, played by David Groh, was of course married to Rhoda Morgenstern (Valerie Harper) of The Mary Tyler Moore Show and Rhoda fame. As with many real life couples, their marriage ended in divorce, which gave a bit more flexibility to showcase the Rhoda character, and her sister Brenda (Julie Kavner, also the voice of Marge Simpson).
Accidental Bavarian and Leah did answer this one correctly but Suldog came along with the right answer shortly afterward. If you've never read his blog, do yourself a favour and subscribe to it right now. I guarantee you'll be entertained. Sully's stories are chapters of his own life, or are about family members who he brings to us in living colour. He's warm-hearted, clever and very funny. Just don't give him an award - it's kind of like feeding a gremlin after midnight. And don't let him fool you into sending naked photos of yourself. He's also very sly.
9)

Gladys Kravitz was everybody's favourite snoop. She was the busybody neighbour who lived across the street from Samantha (Elizabeth Montgomery) and Darrin Stephens (Dick York and Dick Sargent) in Bewitched. Gladys was always peeking through the curtains at the Stephens household because she knew something strange was going on - something she told her husband Abner (George Tobias) every chance she got. In his comment, Suldog suggest that Gladys had been played by two different actresses, just as the character of Darrin had been portrayed by two actors, and he's right. The first performer, Alice Pearce passed away in 1966, and the role was taken on by Sandra Gould.
Dawno, Leah and Suldog all answered this one just before Daryl
came along and also replied correctly. Daryl's blog, Out And About In New York City is a daily stop for many more than 45 of her readers, despite what her hubby seems to think. ;) She's a talented photographer and artist who has regular photo themes such as Waiting Impatiently, Sky Watch, Wordless Wednesday and Thursday In The Hood. She also entertains us with Toonsday Husbandisms - her cartoons featuring her hubby, which has women everywhere nodding with understanding. Daryl is a polished gem in city of New York. Give her a visit and see for yourself.

10)

Dr. Alfred Bellows was the NASA psychiatrist on I Dream Of Jeannie. Much like Gladys Kravitz in Bewitched, Dr. Bellows, who was played by Hayden Rorke, was

convinced that Major Tony Nelson (Larry Hagman) was crazy, and was forever trying to figure out what was going on between Tony and Jeannie (Barbara Eden). He never did though, and Major Nelson's job as an astronaut remained safe.



Dawno, Suldog and Tired Dad all answered this one, but then along came Phyllis. So many contaminated foods have been responsible for various illnesses throughout the world recently, particularly salmonella. How are we to know which products are not safe for consumption? Phyllis' blog eFoodAlert.com has all the answers. She posts daily updates of food product concerns, wherever they occur around the world. Her tag line says "

Your dependable, independent source for food safety news and information

" and you can count on Phyllis to live up to that statement. Mark her page as "

must-read

" if you have concerns about food safety in your area. Oh yeah, she also happens to be my cousin.



11)

Earl J. Waggedorn was the best friend and downstairs neighbour of Corey Baker (Marc Copage), the only child of Julia (Diahann Catroll) on the sitcom of the same name. Julia was a nurse who worked for Dr. Morton Chegley (Lloyd Nolan). Earl J. Waggedorn was always referred to by his full name. He was never just Earl. The adorable red-haired kidlet was played by Michael Link.



Only one person knew this character, and I'm

so

impressed! Sully, you didn't let me down. I expected my sister to know this character name, but

she

didn't play. I'm glaring at

you

, Andi! ;)

12)

Kelly Kapoor is the somewhat unstable, immature, shallow chatterbox who works as a customer service rep in the current television program The Office. She's played by actress Mindy Kaling who also writes and produces the show.





Accidental Bavarian and Suldog both got this one correct.





Thanks again for playing along everyone. Below are some recent photos. Please remember to click on them to enlarge.






Until a couple of days ago, we've had quite an accumulation of snow. I live in a townhouse with a single car garage, so our driveways are narrow. This will give you an idea of how high our piles have grown with the numerous snowfalls.
(please click to enlarge)
A branch which extends over the pond after yet another overnight accumulation.
(please click to enlarge)
On the weekend, the temperatures warmed up and everything began to melt. When the night air dropped down again, thin layers of ice formed on the recently thawed surfaces.
(please click to enlarge)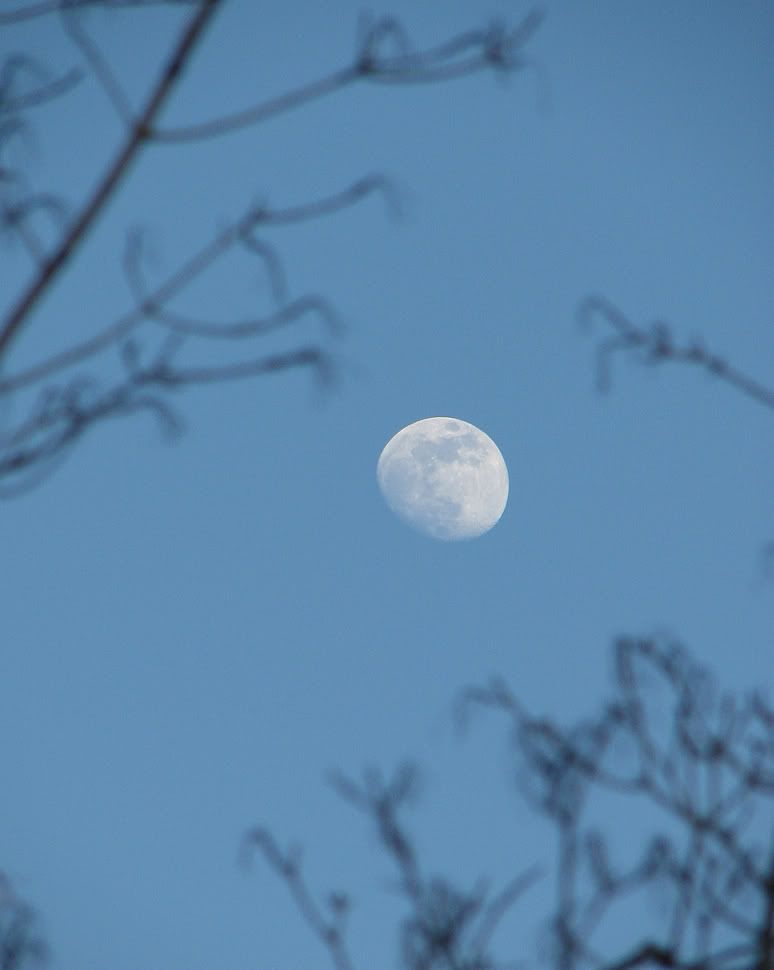 A near-full moon as seen late in the afternoon - before the sun even set.
(please click to enlarge)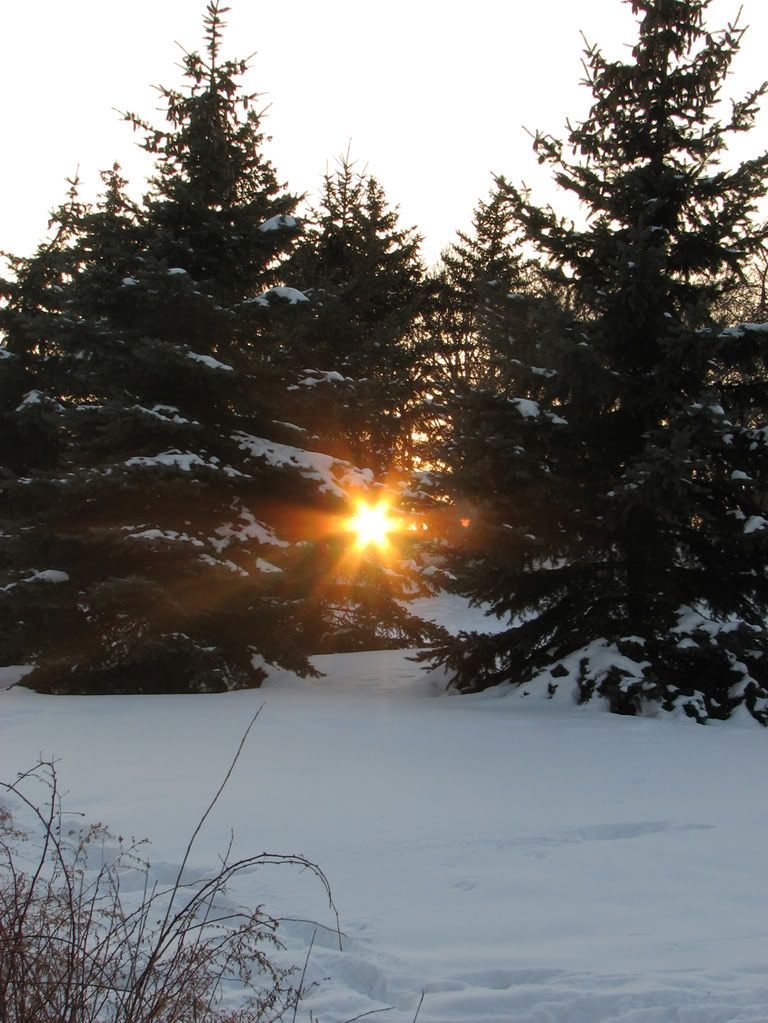 The setting sun shone brilliantly as if to remind us that Spring isn't too far off. It peeked at me from between these evergreens.
(please click to enlarge)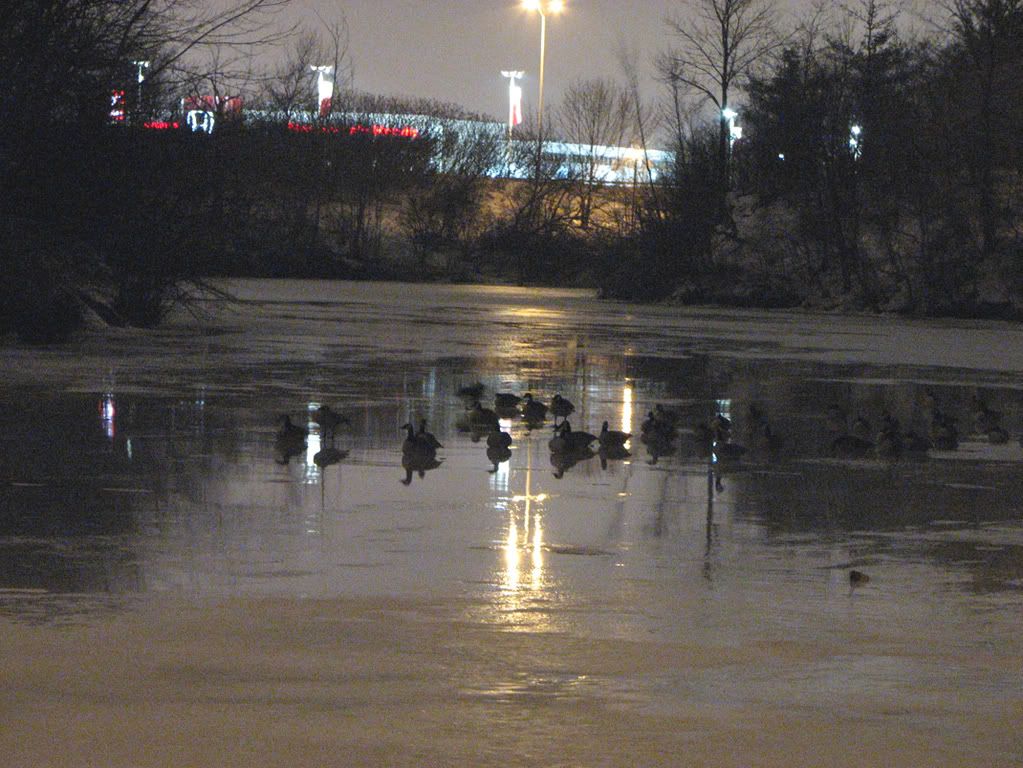 A late night walk takes us around the pond which began its melt earlier in the day. These ducks were relaxing on the surface of refrozen glass ice. The Honda dealership across the road joins their reflections.
(please click to enlarge)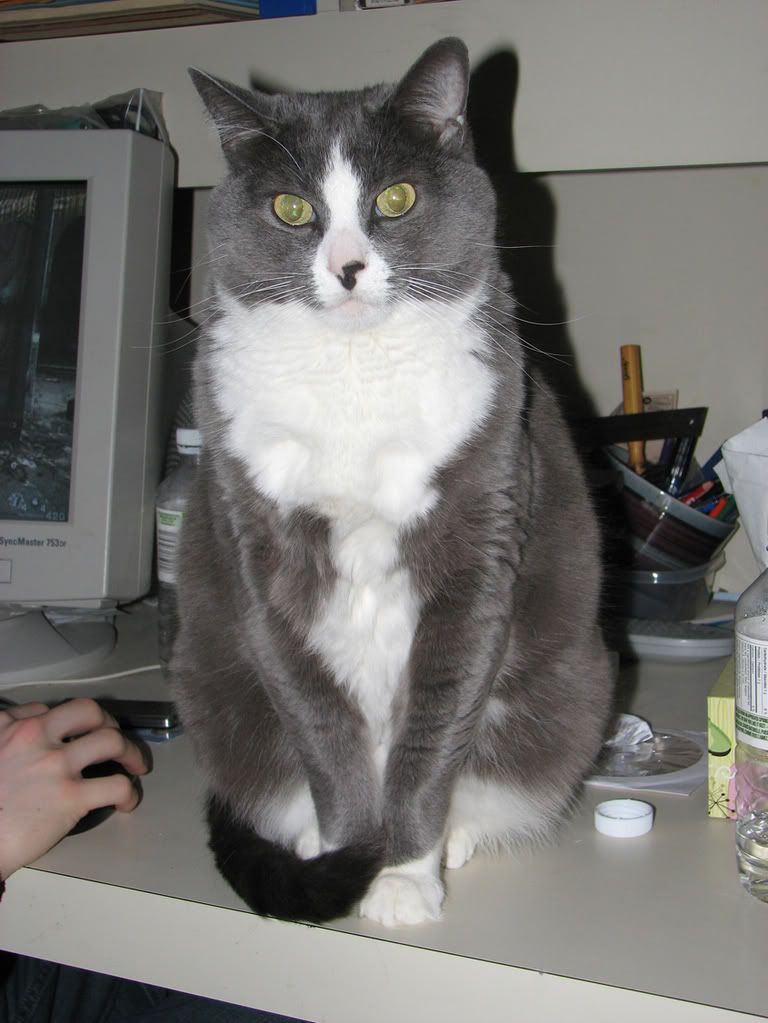 Zephyr sits close to Alex and watches me as I prepare a blog post. How long do you figure it was until that bottle cap was on the floor?
(please click to enlarge)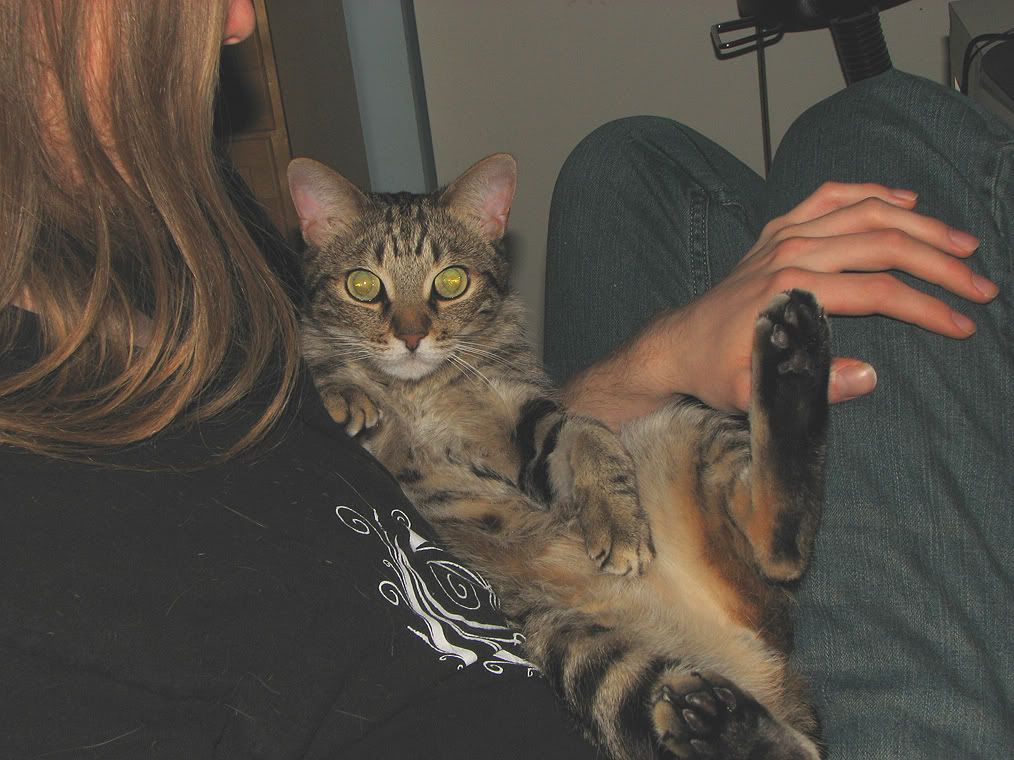 Skittles moves in even closer to one of his favourite people.
(please click to enlarge)
Over at Frank's place, Lucy, his African Grey helps us play Cribbage.

(please click to enlarge)