Summer rain, kidlets and a crazy little dog. Enjoy!
The world is mud-luscious and puddle-wonderful. ~ E. E. Cummings
Imagine a puddle waking up and saying: 'This is an interesting hole I find myself in. Fits me rather neatly, doesn't it? In fact it fits me staggeringly well, must have been made to have me in it! ~ Douglas Adam
"Anyone who says sunshine brings happiness has never danced in the rain." ~ Unknown
Life isn't about waiting for the storm to pass, It's about learning to dance in the rain. ~ Vivian Greene
Don't threaten me with love, baby. Let's just go walking in the rain. ~ Billie Holiday
And now, without further delay, here are the
Posts of the Week
. The icon below is yours for the taking if if your blog post is named as a POTW.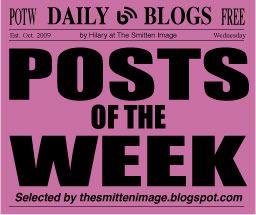 Please drop by their blogs for a visit and leave a kind comment if you have the time. Also, please feel free to add your own choices (for any blog except
this
one) for a specific blog post in the comments section below, where others can see them.