A few weeks back, I was walking along the creek near Frank's place with my friend, Carol Anne. We arrived at the dam where the path exits to an opening before continuing a bit further ahead.
Ordinarily there's not too much to see here, unless it happens to be early spring when the trout are jumping. Or autumn when the salmon take their turn at making their way upstream. Or you might spot a Great Blue Heron resting between his fishing excursions.
On this day in early summer, there was none of that. We did however happen upon someone's very clever artwork made from sticks, stones, leaves and flowers. Some were completely obvious upon sight but others took a bit of neck-craning to figure them out. A couple of them were too large to get the perspective properly with the lens I had on the camera, that day (100 Macro). But I did snap a few of the smaller ones. Here they are below.
I think this was going to be a Monarch butterfly but they either ran out of dried leaves with which to colour its wings or the wind had a hand in the paint job.
This was a little harder to discern, at first but we concluded that it must be a fish.
Who framed Tommy Turtle? This just had to be a terrapin inside a octagon frame.
Last but not least, a heart - proving that this impromptu art in the park was a gift of love to all those who saw it. I hope the artist comes upon this blog post, one day. I'd like to let her or him know that their work brightened our day.
And now, without further delay, here are the
Posts of the Week
. The icon below is yours for the taking if if your blog post is named as a POTW.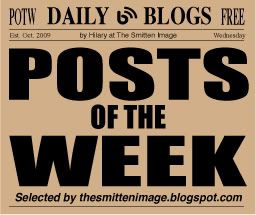 Please drop by their blogs for a visit and leave a kind comment if you have the time. Also, please feel free to add your own choices (for any blog except
this
one) for a specific blog post in the comments section below, where others can see them.